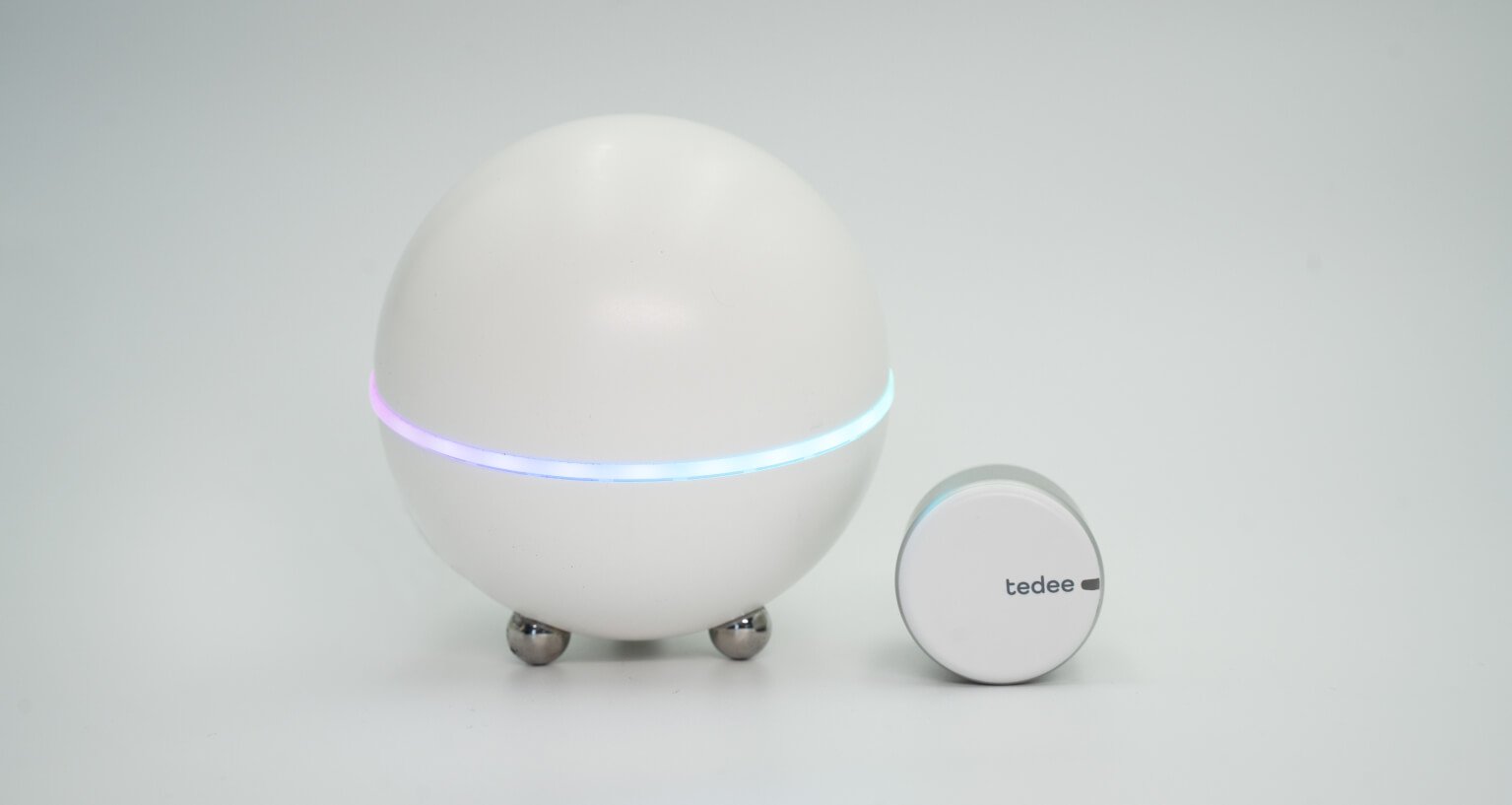 < Go back
Smart lock for Homey: how it works with Tedee
Using Homey with Tedee works similarly to other smart home platforms. But it lets you easily integrate your smart lock with devices that use local and wireless – not cloud-based – connections.
Learn how to connect Tedee with Homey >>
Tedee smart lock is so far compatible with at least 15 smart home standards around the world. Amongst those are four cloud-based platforms: Apple HomeKit, Google Home, Amazon Alexa, and Homey. Click on their names above to learn more about these integrations. You can read about Homey in the article below.
What is Homey?
Homey is an independent cloud-based smart home system. It is based on wireless technologies, the internet, and more advanced wireless technologies. These allow smart home devices at your place to integrate with the central hub without using the internet, but such wireless connections as Zigbee or Z-Wave.
Two ways of using Homey
The biggest upside of Homey is that it easily joins both cloud-based connections and wireless but local technologies. And the latter is a factor often unavailable to the most popular cloud-based smart home platforms, like Google Home or Apple HomeKit.
Dedicated smart bridges may be required to efficiently control some devices with Google Assistant, Apple HomeKit, or Amazon Alexa. With Homey, many devices may use Bluetooth, Zigbee, Z-Wave and others to connect directly to the Homey Bridge or Homey Pro hubs.
This leads us to two ways of using Homey: with or without Homey smart hubs.
Learn more about Homey smart hubs >>
Be aware that when writing the article, using Homey without the brand's dedicated smart hub is in its beta testing stage. Joining the waiting list for the beta version is available. The author of this article, in June 2022, has received the beta access on the same day they joined the list, so you probably can, too. There is no expected date for the final launch available at the moment.
The app works free of charge using Homey without their hub and with five smart devices or fewer. If you wish to integrate more equipment, the service costs €/$/£ 2,99 per month.
Should I use Homey with Tedee?
It depends whether you use other smart home devices and if they can be connected to Homey Pro or Homey Bridge hubs locally, without the cloud. You can see the list of compatible devices and their details here >>
Suppose your devices integrate using local wireless technologies, such as Zigbee or Z-Wave. In that case, Homey with a hub may be the easiest and cheapest of smart home systems to choose for your place.
If you only use cloud-connected smart devices, the benefits of Homey would be very similar to those of Apple HomeKit, Google Assistant or Amazon Alexa.
Homey does not have its own voice assistant. Still, it is compatible with Apple Siri, Google Assistant, and Amazon Alexa on their enabled devices. This can give you additional features, even when using your favourite smartphones, smart watches, or apps.
What do I need to use Tedee smart lock with Homey?
You only need a smart lock, an internet-connected Tedee smart bridge, and the Homey app. Neither Homey Bridge nor Homey Pro devices are required.
How are Homey and Tedee connected?
Homey connects to Tedee via the cloud only. Every time you use Homey to control a smart lock, the Homey app uses the Homey server in the cloud to connect with the Tedee cloud and then the smart lock through its bridge. You can see this flow illustrated in the table below.
Cloud
Homey

server

⇄

Tedee

Server

 

 

⇅

⇅
Hubs
Homey app / Homey Bridge / Homey Pro

Tedee smart bridge

 

⇅

⇅

Devices

 

Smart device/voice assistant
Tedee smart lock
Do I need a smart bridge?
In the case of Homey and Tedee, we need to consider two types of smart hubs, as both devices may use their own type of bridge.
As in the table above, Tedee integrates with the Homey system via the cloud on the internet only. Smartphones with the Homey App or the Homey hub do not connect to Tedee smart lock directly. Tedee smart bridge must be paired with your smart lock to obtain this cloud-based connection.
On the other end, Homey offers two types of smart home hubs, different in features or built-in connections. These are useful (or necessary) when connecting other devices via Bluetooth, ZigBee and other wireless technologies. But again, as Tedee integrates via the cloud, no Homey hub is required to use with Tedee.
How is that? Homey offers a free mobile app for iOS and Android. Working on your internet-connected devices is enough for the full range of Tedee compatibility with Homey.