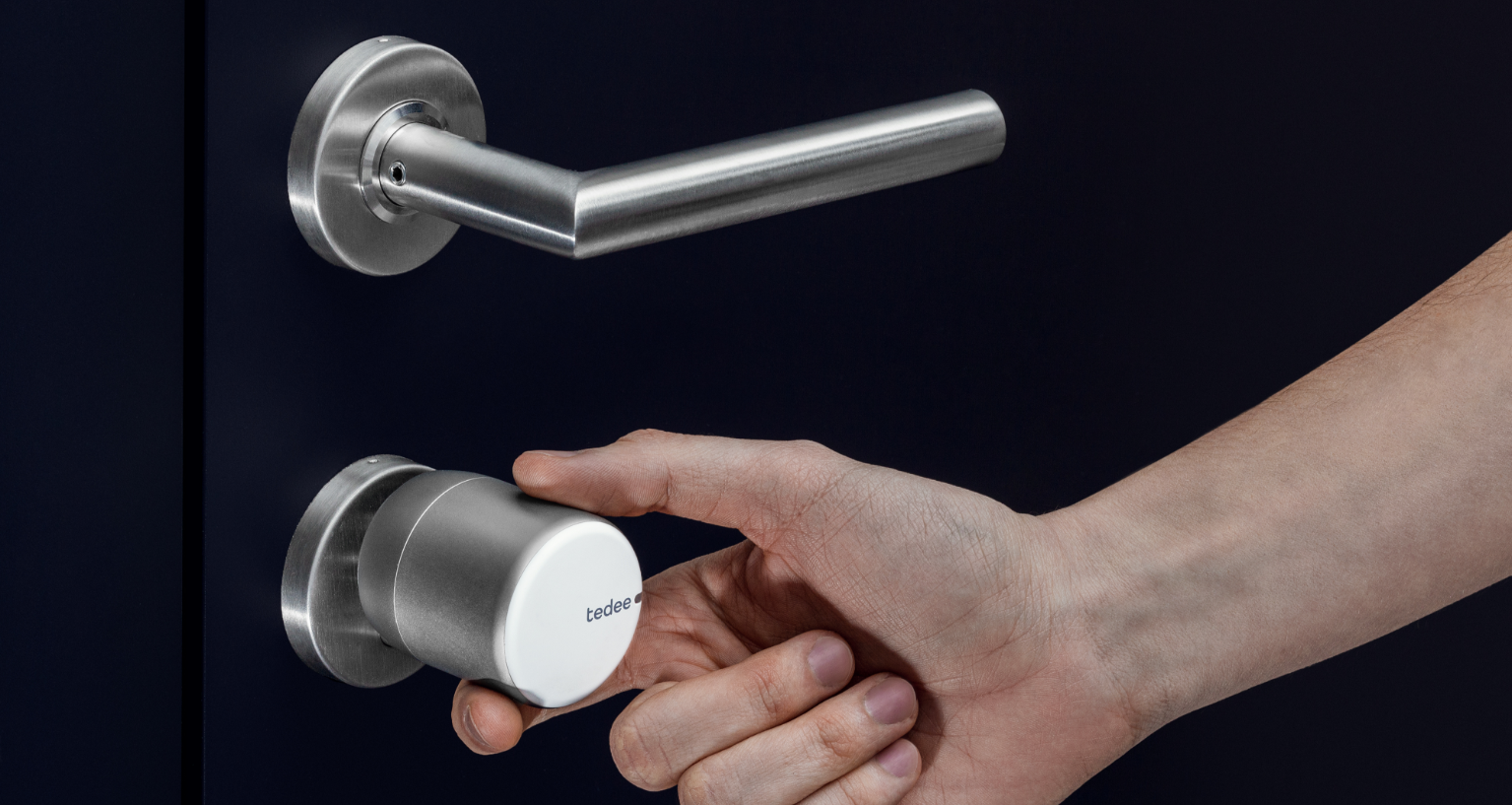 < Go back
Can I install tedee smart lock?
Check and measure if tedee fits your door.
Does a smart lock fit my door? We answer this question every day, and we want to keep it simple. Please, follow the steps below to learn if tedee is a fit for you.
If you still have doubts or believe your door is non-standard, please check our blog post When Does tedee NOT Fit Your Door. If your measurements are ambiguous, contact us at [email protected].
Step 1: What is your lock type?
Please, check your lock cylinder. What shape is it? Use the table below to compare it to three types that work with tedee
| | | |
| --- | --- | --- |
| | | |
| European | Nordic | Swiss |

If your cylinder is not here, we're sorry. Subscribe to the newsletter to be notified about our latest products: we're constantly working on making tedee compatible with more lock types.
If you live in the United States, your door probably uses a deadbolt lock. We recommend other smart lock brands for these kinds of setup, such as LEVEL, August, and Schlage.
Step 2: Does your door open inwards or outwards?
When leaving, do you push or pull the door open?
| | |
| --- | --- |
|  Pull | Push |
| Inward opening door | Outward opening door |
If your door opens inwards, it's great because it allows easier compatibility. But there's one more thing if your door opens towards a wall. Keep in mind that tedee may hit it if a smart lock sticks out from the door more than a handle. You can easily solve this by installing a door stopper.
Move to the last step to choose your installation method.
If your door opens outwards, please measure two dimensions:
1) the door frame width – dimension of the gap in the entrance, with the door open.
2) the distance between the cylinder centre and the door frame.
Illustrations below present what dimensions to focus on.
​
From the inside with the door closed:
the distance between the cylinder center and the door frame.
Door frame width:
gap available with the door open.
Once you measured the distance between the frame and the center of the cylinder, compare it with the table to learn your compatibility.
Less than 30mm
30-35 mm
More than 35 mm
We're sorry, but tedee would most likely hit the door frame when opening. We advise you not to install it.

For your door, we may suggest checking out such solutions as EVVA Airkey, Dormakaba Digital Cylinder, ISEO Libra Smart, or CES Electronic Cylinder.

Everything is fine as long as your door frame inner width is a standard 90cm or wider. If that's correct, you can move to the last step.

If it's less than 90cm wide, the distance between a keyhole and the door frame should be 35mm or more. If it is – move on to choosing the installation method.

If this dimension is less than 35mm, don't hesitate to contact us at [email protected]. We will check your setup individually.

Great! Move to the last step.
If you're unsure of the measurements or your results are close to minimum values, please send us the photos of your door and lock at [email protected]. We have fitted our products on thousands of doors and would be happy to help you, too. Sometimes we can come up with a suitable, non-standard solution.
Step 3: Which installation method would you choose?
You've already determined your lock type. See the installation options available for your lock below.
European
You may install tedee in two ways:
with a dedicated modular cylinder, compatible with all Euro-profile locks on the market. Our certified cylinders are made by trusted GERDA and M&C brands. You'll be able to select and adjust it to fit your lock.
If you decide to purchase one, you'll find a guide to choose your hardware in this post.
2. with a European adapter, allowing you to keep your old keys. However remember, that it requires cutting one key at a local locksmith. Follow the next step to make sure the adapter fits your door.
Read about the difference between the cylinder and adapter setups in this blog post.
Nordic
Installation is easy with a Nordic adapter that requires no extra steps and takes no more than 15 minutes to set up.
Go to the last step to make sure it fits your door.
Swiss
You can install tedee smart lock on a dedicated adapter. The setup is easy. However, it requires a visit to a locksmith shop to cut one key.
Follow the last step to make sure your lock works with the adapter.
Step 4: Does a tedee adapter fit your door?
Go to the step dedicated to your adapter type.
European and Swiss locks
There are two requirements, the same for both Euro- and Swiss-profile adapters.
Make sure your cylinder has an emergency function – sometimes called a double-clutch cylinder.
It's a feature where you can rotate one key inside a cylinder, even when there's another key inserted on another side. It's crucial to operate tedee and still be able to unlock the door with a key.
To check if your cylinder works this way, insert keys simultaneously on both sides of the lock. If it is possible and rotating one key also moves the other – you're now ready for the last measurement.
If you can't insert two keys simultaneously, we're sorry. We advise not installing tedee. It would make it impossible to unlock with a standard key after installing a smart lock.
2. The last thing to check is if your cylinder sticks out of the escutcheon for at least 2mm.
Such distance makes a space for the adapter to fit. Here's the dimension discussed.
If it sticks out more, you'd be able to install tedee securely. You can now order an adapter for your lock and enjoy smart lock benefits soon.
If your door opens outwards and the cylinder sticks out more than 5mm, or the escutcheon is more than 3mm deep, we advise ensuring that the keyhole-to-frame distance is at least 35 mm. It is the dimension we measured in the previous step. In closer setups, the smart lock may hit the frame when opening.
Suppose your European or Swiss cylinder protrudes less than 2mm or features a built-in thumb turn on the inside. In that case, default adapter installation is not possible. However, you may ask your local locksmith to contact us at [email protected]. They will be able to adjust your old cylinder to tedee with our range of customized replacement shafts.
Nordic lock
To install tedee with a Nordic adapter, the rosette around the keyhole or a thumb turn must be separate from the handle backplate. Here you'll find examples of both setups. Compare to one on your door and determine if it's compatible.
| | |
| --- | --- |
| | |
| Compatible | Incompatible |
Unfortunately, single plate escutcheons are not compatible with tedee. It's best to contact a local locksmith and ask about possible ways to alter your setup – there might be an easy way to solve this.
If your lock is compatible, you're ready to order tedee. It's also the right moment to decide if you need a bridge. It's a small device that allows connecting your lock to the internet and enables most remote features. Learn more in our blog post: What Is a Bridge, and Do I Need It?
Should you have any questions at all, we're always happy to help and available at [email protected].