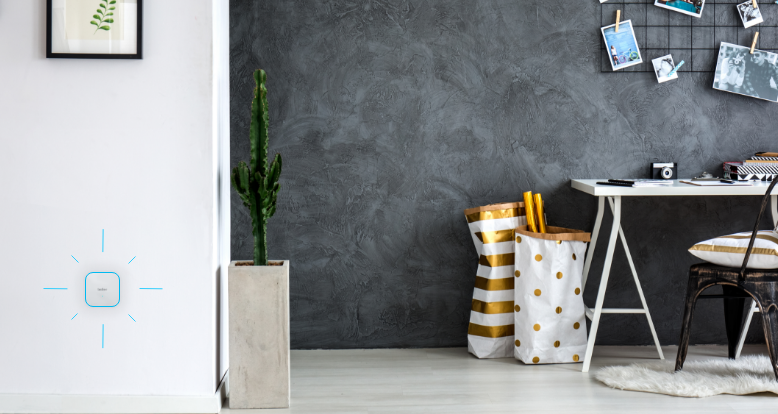 < Go back
What Is Bridge, and Do I Need It?
50% of our customers buy this soap-sized plug. Why? Learn what a smart bridge gives your smart lock – that's a lot of remote features.
So you decided to get a smart lock, but then there's one more decision to make! We should put it out of the way: a smart bridge is not nesesery. It is an extra €99 that maybe you don't have to spend. A smart lock is a smart lock anyway: it opens with a click, auto-locks and unlocks, and you can share its access through the app. But a smart bridge is a small device that enables so much more – especially if you're interested in remote features and smart home integrations.
What is a smart bridge?
As the name suggests, a smart bridge is a device that sets a connection between your smart lock and the internet. It connects to a smart lock via Bluetooth and your local network via Wi-Fi. You plug it into a power socket up to 2m away from the door and add it to your mobile app. Despite the 24/7 connection, it won't make your energy bills go much up – it consumes a maximum of 1,5 watts of energy.
What does a smart bridge do?
A steady internet connection allows you to access your lock wherever you are.
You can open your door remotely, even from the other side of the world, like when you're on vacation, and somebody's watering your plants.
You can always check if you locked the door and never worry about that again!
Smart bridge gives you a real-time view of your lock's work. The unlock history is always up-to-date, and you can enable push alerts about every event – like when your child's back from school.
Internet connection is necessary for integrating your lock with cloud-based smart home systems, like Apple HomeKit, Google Home, and Amazon Alexa. These enable unlocking the door with Siri, Google Assistant, and Alexa. Read more about smart home integrations.
Smart locks undergo systematic firmware improvements. Permanent internet connections give you automatic updates. Without a bridge, you'd need to kickstart an update manually, being close to the door. It is important, as current software gives you the highest available levels of reliability and security.
In extreme cases, if your front door is a heavy, steel construction that may obstruct Bluetooth to pass through, a bridge lets you bypass it through a cloud.
Why are all these features not already included in a smart lock?
Smart locks need to be small and last on a battery as long as possible. Hence miniaturization and energy saving make it reasonable to "outsource" Wi-Fi into another external device connected with low energy Bluetooth.
Is it safe to permanently connect a smart bridge to the internet?
You may have heard about hacked smart fridges or bathroom scales, whatever that means. But these are not security devices – unlike a smart bridge, built and certified for maximum protection.
For example, while connecting to the internet, a tedee smart bridge uses encrypted HTTPS protocol, just like logging in to online banking. Microsoft cloud services provide another layer of authentication. While connecting to the lock via Bluetooth, a smart bridge uses a secure TLS 1.3 protocol with the 256-bit encryption key.
These are technical details that might seem hard to understand, but you don't have to trust us as the makers of these devices. You can trust an independent German research institute for IT security AV-TEST, which approves tedee smart bridge as a secure smart home product. You can access an in-detail review here.
What if I don't get a smart lock bridge?
You still can use many smart lock features in the offline mode, working via Bluetooth only. You get to open and lock the door with a smartphone, you can share its access through an app, and automatic locking and unlocking are always there. It's going to be great anyway!
However, a smart bridge is an upgrade, making the use of smart locks more advanced. Thanks to the internet connection, you get access to remote features, as well as integrations with smart home systems and voice assistants.
You can compare all features of the tedee smart lock available with and without a bridge in the table.
| | | |
| --- | --- | --- |
| Feature | With a smart bridge | Without a smart bridge |
| Remote locking and unlocking | Everywhere in the world | Only in Bluetooth range (up to 2m) |
| Auto-unlock | Available, works 80% more effectively | Available, might take some time |
| Auto-lock | Available | Available |
| Access sharing and removal | Instantaneous | Removal not instantaneous |
| Push notifications | Available | Unavailable |
| Automatic updates | Available | Unavailable |
| Apple HomeKit | Available | Available |
| Hey Google | Available | Unavailable |
| Amazon Alexa | Available | Unavailable |
| Smart home integration | Available | Unavailable |
| Mobile widgets | Full functionality | Less responsive, no real-time feed |
| Real-time activity log | Available | Unavailable |
| User access level management | Available | Available |
| Business portal management | Available | Unavailable |
 Five things you need to know about a tedee smart bridge
It needs to be plugged into a power socket up to 2m away from your smart lock.
It's powered with a direct socket plug (included in the box) or a standard micro USB cable (not included).
It requires a permanent Wi-Fi connection to the internet.
You can connect several smart locks to one bridge, as long as they're in Bluetooth range. It's useful in corridors etc.
It costs €99 and is not necessary for enjoying fundamental smart lock features. You can always get it later and install it in 5 mins. Shipping is free anyway.