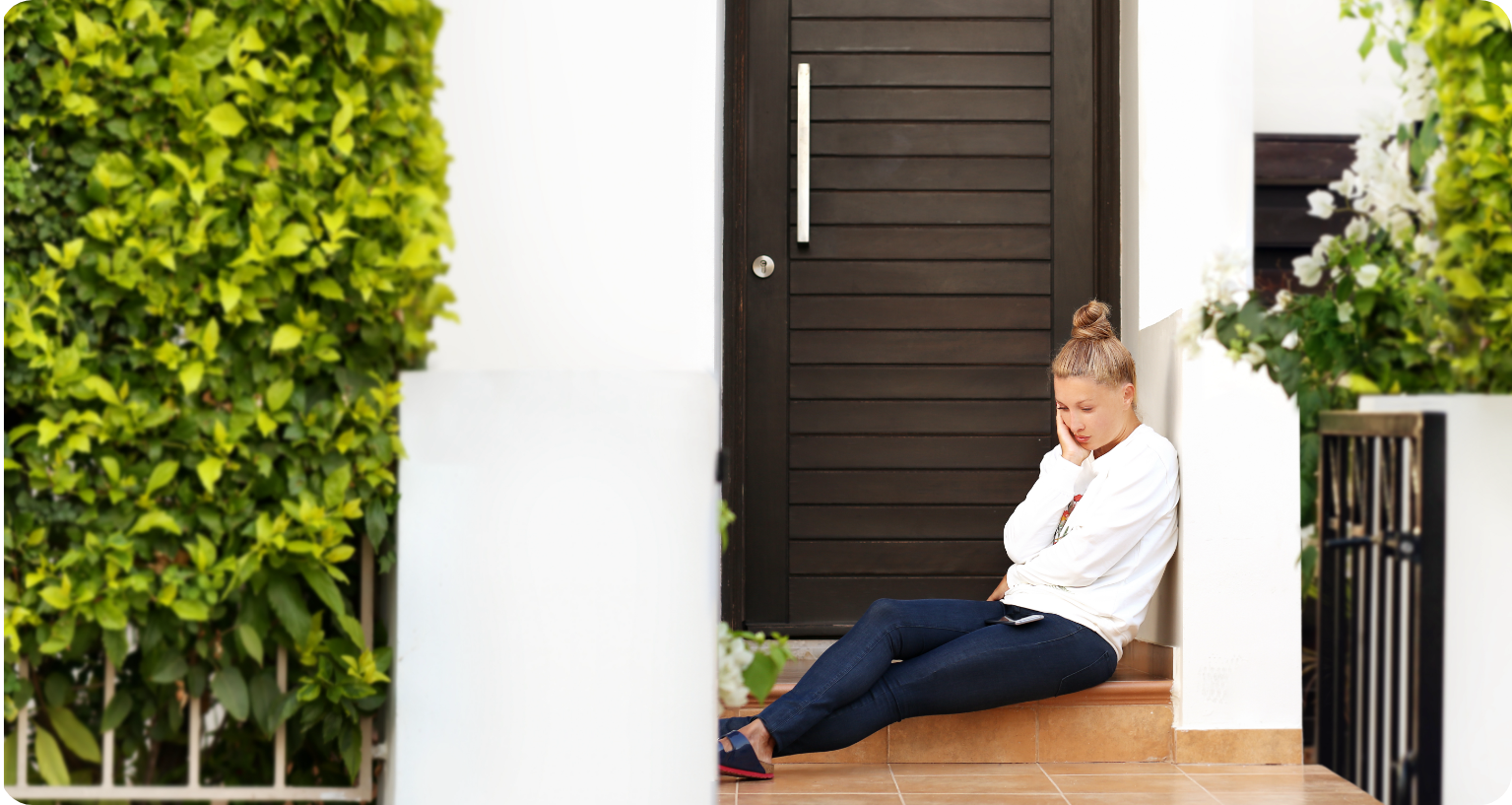 < Go back
Top 10 Smart Lock Doubts, explained
Smart locks are a new thing. Questions about them are natural! Designing our products, we give extra care even to the most extreme situations. Read more: it's not scary anymore after you know it.
Modern technologies can be pretty scary sometimes, and smart locks are security devices, after all. You want them trustworthy, reliable and durable. As the makers of tedee, every day, we get questions on how it works when something's off. And these are absolutely valid: opening our eyes to new angles or suggesting what needs more explanation. 
We made our mission to clear all the doubts and put a smart lock on every door. Remote control means not only safety but also convenience. Here you'll find a list of top 10 "what if" questions future smart lock users have. If you see something unclear or need more information, please don't hesitate to let us know! You can always find us at [email protected].
What if I lost my phone? Can anyone open my door?
First of all: your smartphone usually takes care of itself. The device can be secured with a fingerprint scanner, face scanner or PIN code – and you need to unlock a phone to unlock tedee. 
To secure your smart lock further, you can log into your account on any smartphone or our website for a desktop browser. There you can revoke access to your door from any authorized device.
The last step: an app requires an extra password before gaining full functionality, adding new users etc. Using the auto-unlock feature, you can choose to confirm every opening by unlocking the phone for maximum safety.
What if you hit a smart lock with a stun gun? Does it unlock?
Everyone may be afraid of burglary and wonder if electroshocking a smart lock will let thieves enter your home. Don't worry: it doesn't work that way.
The lock is installed too far from the outside: there's a lock cylinder and the front door in between. Consequently, there's no possibility to open the lock by such a method.
What if the house is on fire? Will I be able to leave?
Safety is key, and we prefer to be prepared even for extreme situations. It's worth discussing.
First of all, a smart lock is not flammable and does not impact the door hardware in any way. In a rapid evacuation, one can open it from the inside by rotating the lock, just like a classic doorknob.
What's more, is that it can be beneficial if anything like that ever happens. Why? Because you can use it remotely and open the lock from any place. You may unlock the door before you get near or let somebody else inside from a distance.
What if my smart lock gets wet?
To clarify: tedee smart lock is an electronic device. It is not waterproof and shouldn't get wet at all. We designed it for indoor use.
However, don't worry if you grab the lock with a damp hand or open the door in the rain. The lock won't break down or shock you.
If it gets significantly wet, you should try to dry it out. Unmount the lock from the door and pat it with a paper towel. If some issues persist after a couple of hours and reinstalling, contact us – we hope we can assist.
What if the smart lock gets super loud? Is it normal?
The lock should be relatively quiet. You can hear when it's rotating, but it's never loud. If you feel that something's off or the sound has recently changed, maybe it's because of an incorrect installation. 
What you can do is uninstall the lock off the door and mount it again, precisely following the manual or video tutorial. What's more: in the box of your cylinder, you will find stickers that can smooth out some of the rattlings.
If there is still anything that disrupts your keyless access, we'd be happy to hear from you. Record a short video with your lock rotating and send it to our support – we will watch, listen, and help!
What if the smart lock opens by itself? Is it possible? 
The short and simple answer is: no. You need to manually use the key (or turn the knob from the inside) or use the tedee app to open the lock. Unlocking a smart lock with the former is a multi-step process, including advanced encryption and authentification in the cloud. It won't rotate without these.
If you want to know when the lock is open while you're outside – by anyone else or with a key – you can connect it to a bridge and enable notifications.
What if my phone is dead? Is there any hope?
It's the most common question – and a common problem! The most important thing is that you can always open the lock manually. Our dedicated cylinders open with a single flat key that easily fits your wallet. 
If you have other mobile devices with you (laptop or tablet), you can log in to the tedee web portal to access your lock. Or anyone else's smartphone, too.
What if a smart lock battery dies? How do I enter?
You would have to treat it just like a standard lock. From the inside, you can open it by turning the knob. From the outside, you can use a key.
To keep it from happening, you can always check the battery level in the app. We also suggest enabling notifications: the app will remind you when it's time to charge.
What if electricity is out? How about a sketchy Wi-Fi?
The lock does not require directly connecting to electricity or the Internet since it operates via BLE (Bluetooth Low Energy) and has a built-in battery. 
However, if you use tedee with a smart bridge, Wi-Fi and electricity are required for remote features. In this situation, you can use it only with an app when you're near. A temporary power cut doesn't affect your lock. It connects to the bridge and built in Wi-Fi when the connection's back to provide remote access.

What if I forget my keys and phone? What do I do?
It's a tricky situation no matter what lock is on your door. While there's no easy way to open a standard lock without keys, with a smart lock, there is.
You can get access to your door on other devices: laptop, tablet, another smartphone, with an app or browser dashboard. Maybe ask a neighbour to use their phone?
Another great option is installing a keypad that lets you open the door with a PIN. We are working on releasing the tedee keypad in the coming months – if you buy a smart lock now, you'd be able to add it soon. If you need a solution right now, you will easily find other brands offering smart locks with keypads.