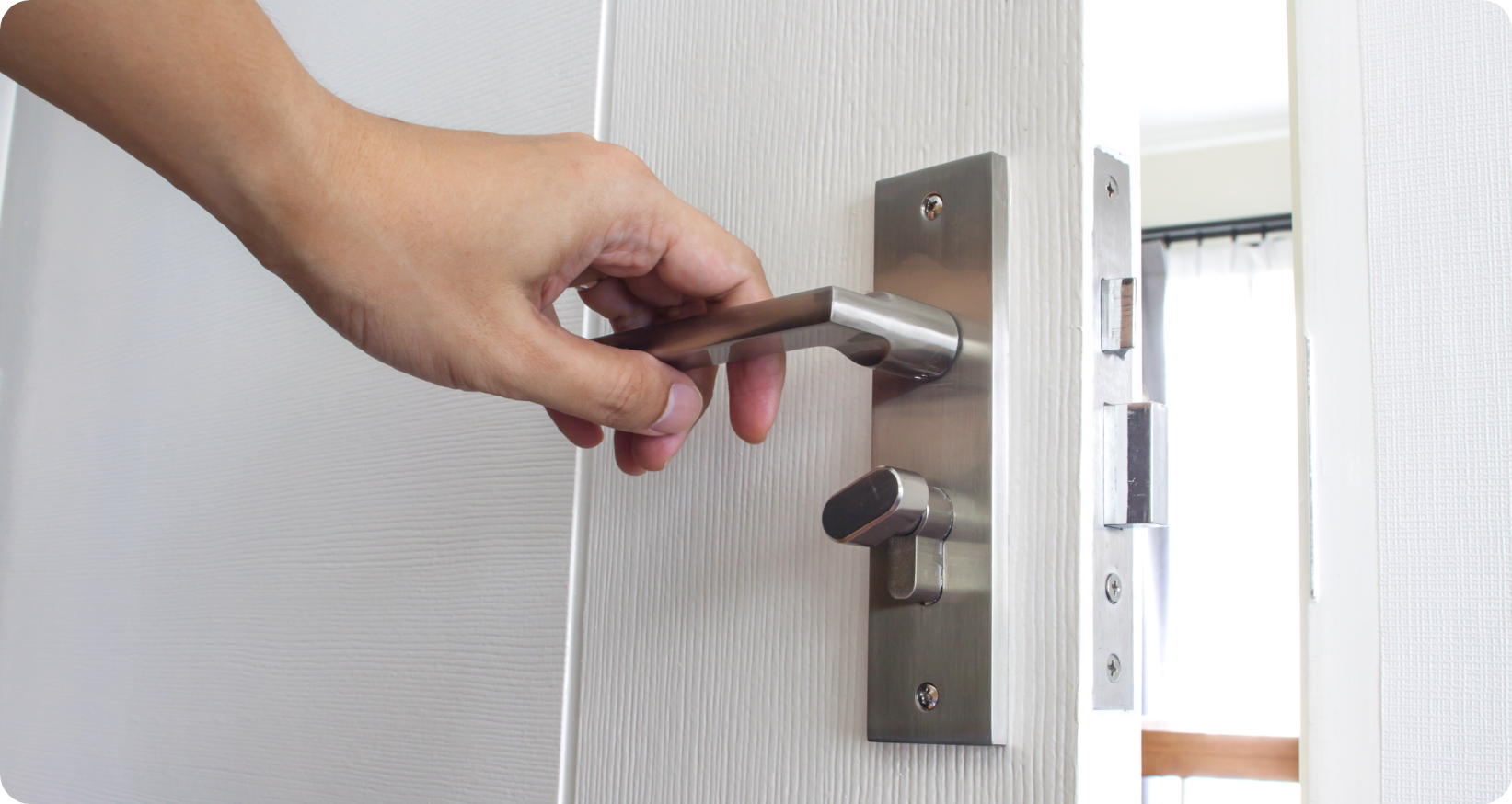 < Go back
When Does tedee NOT Fit Your Door?
Have you checked if you can install it on your door and something's not quite right? Yes, there are some limits to installing a smart lock. Check if your setup is the case – and if we can do something about it.
You're now interested in getting a tedee smart lock – we're so happy! However, if you're reading this, we understand our "Does tedee fit your door" post has left something unclear. It's worth saying that, unfortunately, it may not be for you. There are some limitations in dimensions and mechanics.
tedee smart lock was co-designed by GERDA, a manufacturer of door locks, and security hardware that millions of European households have used for the last 30 years. Hence, we have access to some of the best industry know-how, and we're always happy to share and assist.
See below if the type of door or lock at your place may be problematic. In some cases, we can help. In others, we may suggest another solution. If you still don't see your hardware in this post, send a few pictures to: [email protected]. We have fitted our locks on thousands of doors and have access to rare accessories that may still make it possible.
Surface-mounted RIM locks
These consist of a RIM cylinder on the outside and a metal thumb turn case on the inside. Yes, these are very popular, versatile and easy to install. We're sorry, but they do not work with tedee.
If you'd like to use tedee on your door, it would be necessary to replace your RIM lock. A mortise lock with a standard euro-profile cylinder may be a good choice, but it should be consulted with a local locksmith.
GERDA S- and SX-type high class anti-burglary door
These door types use unique RIM-6000 cylinders. They are called asynchronous: turning the key on one side doesn't rotate a key or thumb turn on the other. This makes tedee not work as it was designed.
tedee is made to detect the position of the lock cylinder and requires initial calibration. This allows for checking the lock status, whether it's unlocked with a key or an app.
Apart from these cylinders, some S- and SX-type doors use an additional mortise lock with a European cylinder. It is possible to install tedee on that one. Still, it does not give your door's full protection capabilities, secured by anti-burglary certification. It may be an option for short errands near home, with manual closing the full mechanism when leaving for longer.
Anti-panic locks (anti-panic mortice locks)
Anti-panic doors unlock from the inside just by pressing the handle – without turning any key or a thumb turn. This type of mortise lock is often used on fire-rated doors or in buildings with complex escape plans – they almost "unlock by themselves".
This mechanism makes tedee unable to control the position of the lock. We're sorry, but we do not advise using tedee with anti-panic door hardware.
Dierre POD-KEY and Mottura locks
Dierre doors usually use mortise locks opening with pod-keys that look like old-fashioned keys for safe deposits. It's not what tedee was designed for, but not all hope is lost!
Lock cassettes in Dierre doors can be replaced for Euro-type locks – such as Dierre Cylindro or Cipierre models. It's an additional paid service provided by professional installers – don't do it yourself. It also requires changing the lockplate and escutcheon. After that, you'd be able to use full tedee capabilities with no problem at all.
Please note that many Dierre POD-KEY doors have an additional Euro-type lock, working with a single bolt – not the multi-point locking system. It is possible to install tedee on this default mechanism. However, it disables full anti-burglary protection. Maybe that's an idea if you often leave your place just for a moment and would rather not look for keys every time?
The same situation applies to Italian Mottura locks. You can contact your locksmith for possible lock replacement. Also, you can check a dedicated Mottura X Technology line of smart devices.
Outward-opening aluminium or PVC doors
Opening outward helps to save space inside. These types of doors are often used in public premises, like stores and offices. Their common feature is a slim aluminum profile.
First, you need to check the main tedee installation requirement: if the distance between your lock cylinders axis and the frame edge is at least 30mm. If your door is narrow – less than 90cm wide – it should ideally be at least 35mm.
While opening, tedee must fit between the door leaf and the frame – not to hit its edge. If the distance between the keyhole and the edge is too small, there is a controversial solution: filing the door frame.
Be aware that it is a small but irreversible alteration. You need to literally cut a little piece off the frame! It may be an issue if your place is rented and you are not the landlord.
If you decide, we strongly advise asking a professional fitter for help. They might have access to more advanced tools and techniques, making the end result appear smoother. Also, removing a lock rosette and installing tedee closer to the door leaf can allow for less filing needed. But we assure, that in the end, tedee will work great.
Doors only unlocking when the handle is lifted
These are aluminium, PVC, or wooden doors with a special kind of multi-point locking system. Their lock cylinders rotate to lock only when the handle is lifted.
You can still install tedee and benefit from automatic unlocking. However, some features – like auto-lock – will not work without lifting the handle manually.
Don't see your door? Let us see it!
If you don't see your lock described in our posts or find identifying your door unclear, we'd be happy to help you at [email protected].