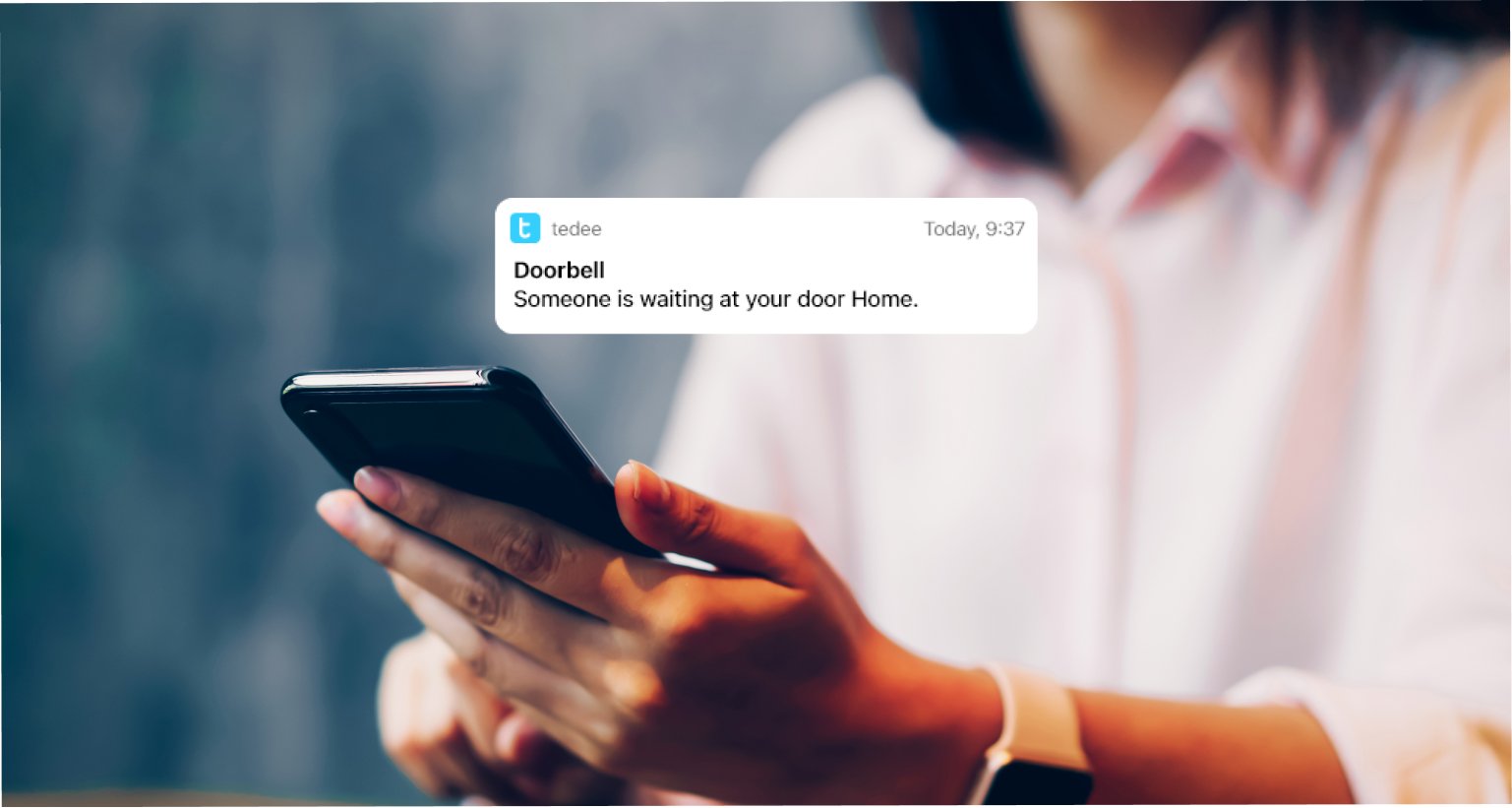 < Go back
Smart lock alerts: what push notifications can I get?
The smart lock gives you constant control. With Tedee, you can always check if it's locked, the battery level, and who and when has entered. But what if it went the other way – and the lock notified you about what you're interested in?
What is a push notification?

It is a message sent from an app to a smartphone, displayed on top of other apps or on the blocked screen.

Why should a smart lock app send notifications?

It protects your door, after all. With alerts sent straight to your smart devices, with sound or vibration alerts, you may always monitor the state of your smart lock in real-time.

You may choose from all kinds of push notifications: regarding firmware updates, battery level, or status of your devices.
What you need to know
The Tedee smart lock must be connected to an internet-connected Tedee smart bridge for push notifications.
The settings described below are the settings of what notifications are issued by the Tedee app.
For them to be displayed on your screen, you must enable the Tedee app notifications in your smartphone's global notification settings.
Tedee app notifications are separate from notifications issued by smart home integrations, such as Apple HomeKit.
When using Tedee smart lock as a part of a smart home system, you may consider turning some of the Tedee app's notifications off to avoid double alerts.
Lock settings vs app settings
Notification configuration is available in both the global app's control and a particular lock's settings. How are they different?
If you enable notifications in the app settings, they will inform you about all of your devices. You can then go to the device's settings and disable them individually if you wish not to receive them all.
From the other side, you may enable notifications regarding just the device you want.
In short:
Want the notifications to inform you about all your devices? Go to the app settings.
Want to enable notifications about a particular one of your smart locks? Go to its individual settings.
How to enable and manage push notifications
In the app settings

In the smart lock's settings

Turn on the sidebar menu and choose Settings.
Tap on the Notifications button.

Enter your device's control screen and tap on the Settings icon – the central button at the bottom of the screen
Scroll down to the Other section and choose Notifications
In the passages below, you may see the settings menu panel (left) and examples of the related push notifications (right).
Access invite received
Suppose your Tedee account received a guest or administrator access level. Tedee will notify you that you can add a shared device to the app.
Device update notifications
It is important to keep your smartphone's firmware up-to-date for security and reliability reasons. Push notifications may inform you of the new versions available and when they're installed.
These notifications can be sent from all Tedee devices, including Tedee smart bridge and keypad. You may also consider enabling automatic updates.
Lock changes
This crucial feature enables you to always stay in touch with who passes your door. Of course, this has many security advantages.
On the other hand, how about you get notified when your child gets back from school?
Battery alerts
Tedee smart lock may work up to 6-10 months on a single charge. It's easy to forget it uses a battery at all! We recommend enabling the notification on its low level. Charging status information is available.
Tedee keypad can notify you about low battery levels, too.
Automatic unlocking updates
In the automatic unlock settings, you may enable a manual confirmation of the auto-unlock procedure after entering the IN zone.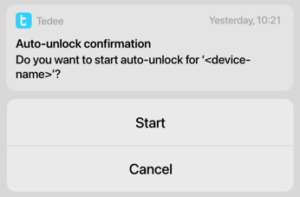 In this case, you will receive an interactive push notification, which you can use to confirm or cancel the automatic unlocking.
Read more on automatic unlocking >>
Bell button notifications
When using a smart lock with a Tedee keypad, one of the keyboard's buttons can serve as a "digital doorbell". If enabled, pressing the bell button outside your door would send a push alert to your smartphone.