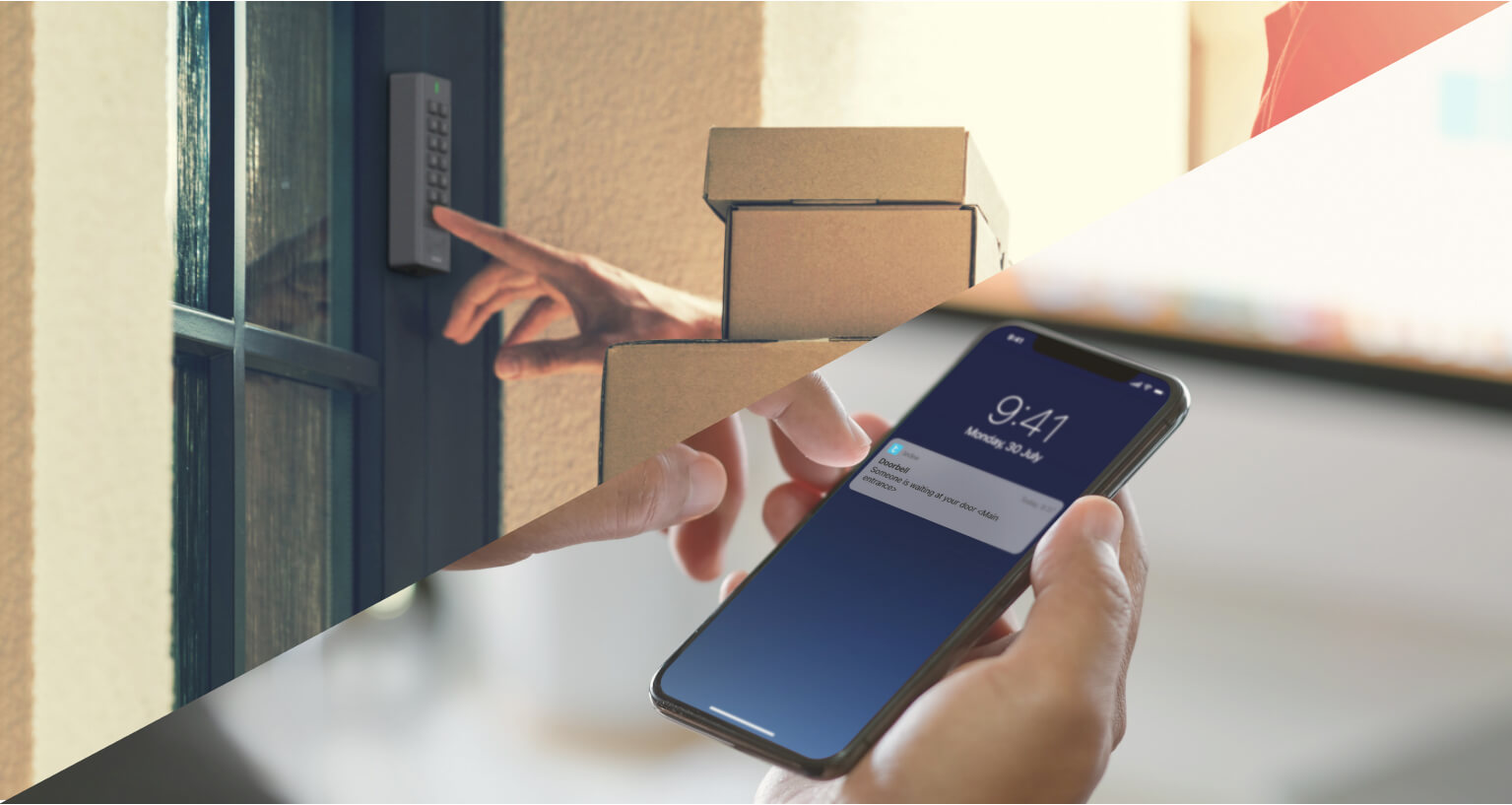 < Go back
Ring the bell… button: receive push notifications from a keypad
tedee smart keypad brings not just new access-sharing methods or locking from the outside. If your smart lock is paired with a smart bridge, visitors can send push notifications to your smartphone with a dedicated bell button.

How the bell button works
The bell button is placed below digit buttons, above the padlock button.
Tedee smart bridge is required for this feature.
When the bell button is pressed, the Tedee app sends push notifications to smart devices of the smart lock administrators and owner.
Every administrator or owner of a keypad may enable or disable notifications on their smartphone.
Push notification includes the name of the keypad and is powered by a standard iOS or Android notification system.
Settings of sounds or vibrations of notifications can be controlled in the system settings.
If the bell button is pressed directly after pressing one or more digit buttons, these are discarded and are not treated as a PIN.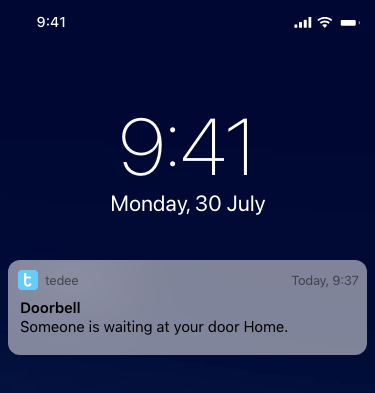 What you need to know
You are advised to notice that this feature does not work like a traditional intercom. However, suppose someone you're expecting rings the bell button and you receive a notification. In that case, you may decide to unlock the door remotely.
How to enable bell notifications
Begin with confirming that your Tedee keypad is paired with a smart bridge.
Now, go to the list of your devices and choose your keypad.
Click on the gear icon in the bottom dock to follow the keypad's settings.
Choose the Bell button feature
Enable the switch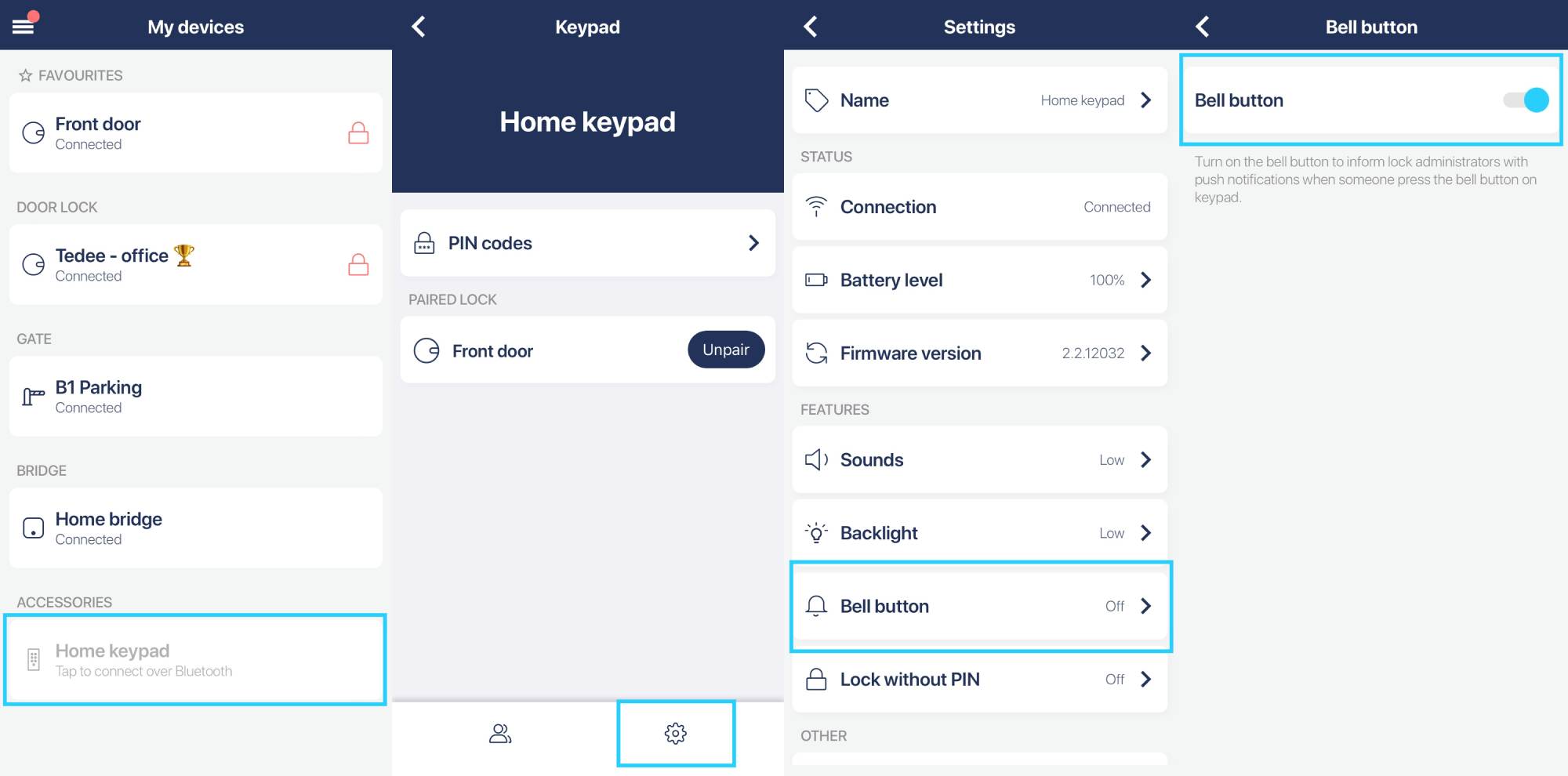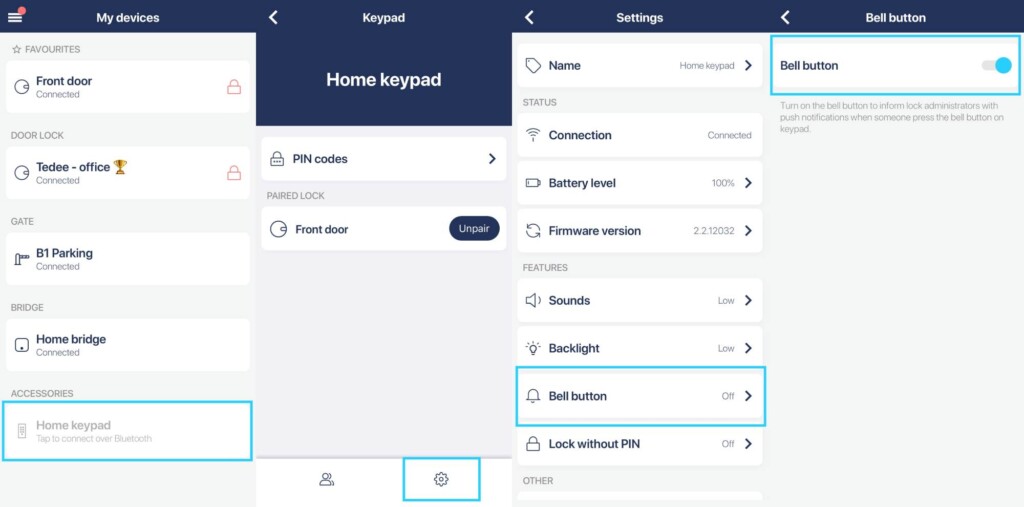 This setting controls if the bell button is active and the notification is sent to the cloud.
Now, the owner or any of the smart lock's administrators can choose if they want to receive the notification on their phone – or if they don't need it.
To receive notifications, the user needs to enter their smart lock's settings and enable the bell button notification in their notification settings.
Go to the list of your devices and choose a smart lock connected to your keypad
Click on the gear icon in the bottom dock to follow its settings.
Scroll down to the Notifications settings
Scroll down and enable the Bell button notifications


You may also need to go to your smartphone's settings to enable push notifications to be received by your device. There you should be able to set the alarm sound and/or vibrations.
Troubleshooting
In case you don't receive the bell button notifications:
Ensure that your smart bridge is activated with your Tedee account, then paired with your smart lock and keypad.
Many wired and wireless connections need to sync for the proper operation of bell button notifications. Make sure your bridge is placed up to 2m away from the smart lock and keypad, and Wi-Fi and internet connections are stable.
For proper work, the notifications must be enabled in three places:
Your keypad's settings
Your smart lock's settings
Your smartphone's settings
If all of these points above are covered, we're always happy to help. Contact us at [email protected]