< Go back
Rental: app unlocking
You have been granted access to your booked rental accommodation. All you need to check in and access your place is the Tedee App on your smartphone.
Follow the steps below to unlock the door – for the first time after arrival and returning to your accommodation. You will also use the app to lock the door when leaving.
Check your e-mail for a message from Tedee. This is a confirmation of your access permission.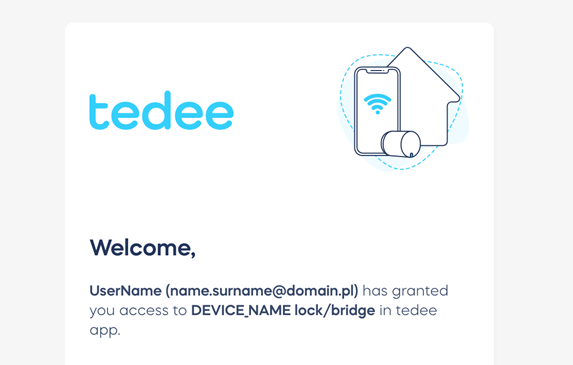 Download the Tedee App
Launch the app and create an account
Use the same e-mail address that has received the confirmation e-mail.
Registration involves
Inputting your e-mail
Inputting the verification code that will be sent to you on the registration
Choosing your name and password
Log in to your account and choose the accommodation's smart lock
How to control the lock at your rental
Simply tap Unlock or Lock to control the door.
The app allows access control during your reservation and expires on your check-out date and hour.
See how easy is that
If you need further support or encounter any problems, please call your host.
Related articles: