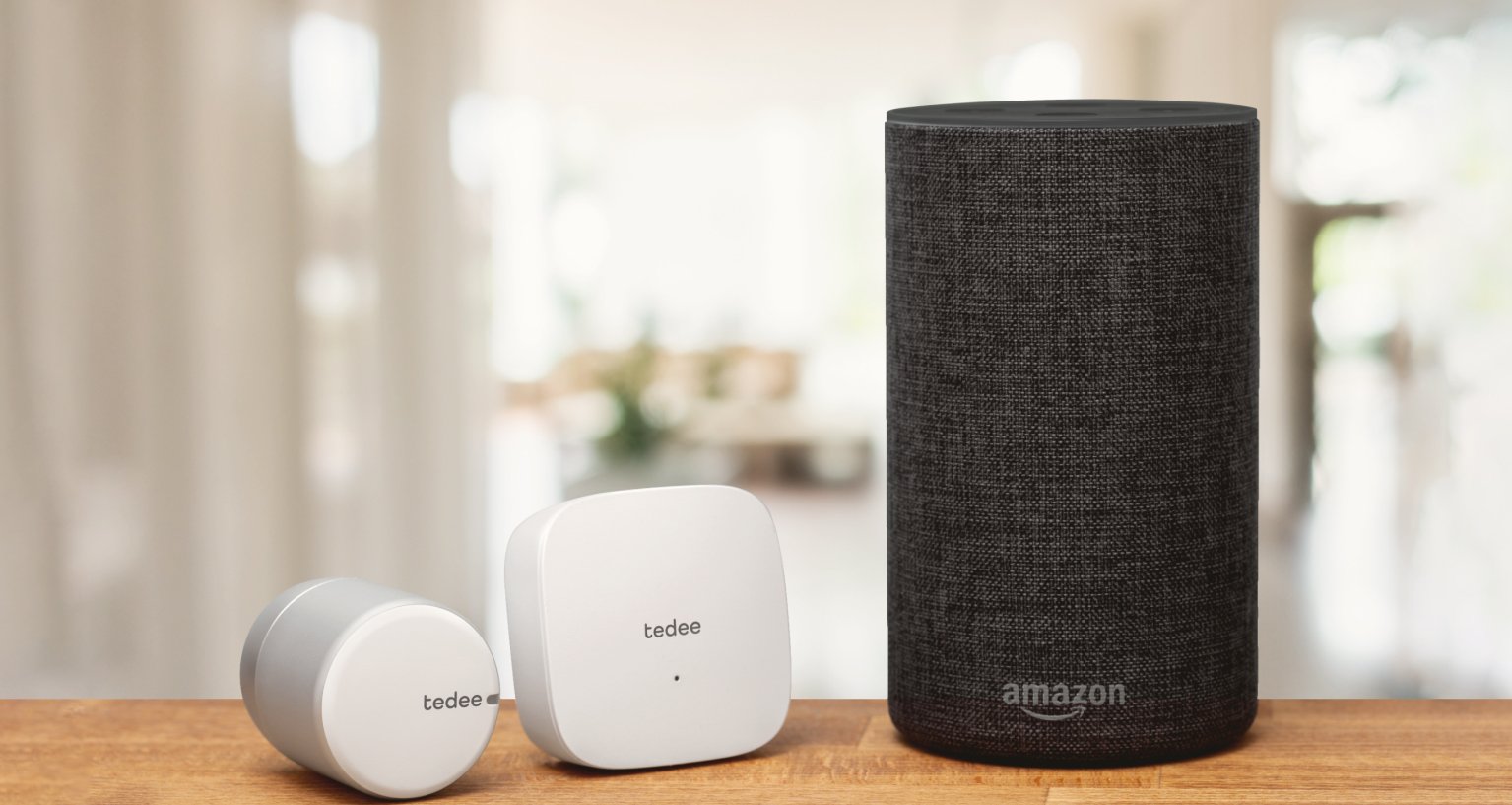 < Go back
How to integrate Tedee with Alexa?
With a new skill added to Alexa, you may control your Tedee smart lock with voice commands on all enabled devices or add it to the automated routines.
Learn how Tedee works with Amazon Alexa >>
Before you start
Make sure your Tedee smart lock is paired with your Tedee account in the Tedee app and connected to an internet-connected Tedee smart bridge.
Tedee smart bridge is required to integrate Tedee smart lock with Amazon Alexa.
Add the Tedee skill to Alexa
Launch the Alexa mobile app paired with your Alexa speaker.
From the home screen, choose More from the options in the left-bottom screen corner. Then choose Skills & Games and the search icon in the top-right corner.
Type "Tedee" in the search bar, choose the skill in the results, and press Enable to use.
Link the Tedee account
After enabling the Tedee skill, the app asks you to log in with your Tedee account.
Add your smart lock(s)
After linking the accounts, the app asks you to launch discovering your Alexa-linked devices. This procedure will take a moment and result in all Tedee smart locks connected to your Tedee account being added to the Alexa app.
Now you're asked to indicate which of your smart locks is located in which area of your property. The step is required for each smart lock, but you may skip this step.
Access your smart lock
All your smart locks are available in the Locks section under the Devices tab.
From the Home screen in the Alexa app, choose Devices, then Locks, and choose a given smart lock.
Choose a smart lock to access its dedicated control screen.
Enable smart lock unlocking
By default, Alexa enables locking the Tedee smart lock only. To unlock it with voice or app controls, you need to enable that in the device's settings.
Go to a smart lock's main screen and press the settings icons in the top-right corner.
Enable respective app or voice command unlocking by swiping the dedicated slider. The app will require your confirmation.
Set up a voice unlocking PIN
When enabling voice unlocking of a smart lock, Alexa requires you to set up an access code. A four-digit PIN is required from anyone using the Alexa voice commands to unlock the door.
In the smart lock's settings, swipe the Unlock by voice control slider.
After sliding the voice control setting, you are asked to choose and confirm your PIN.
Now Alexa will ask you for the voice code when unlocking the lock with a command. You do not need the code to unlock Tedee manually in the Alexa app.
To learn how to use a smart lock in automated routines, visit the Alexa guide >>