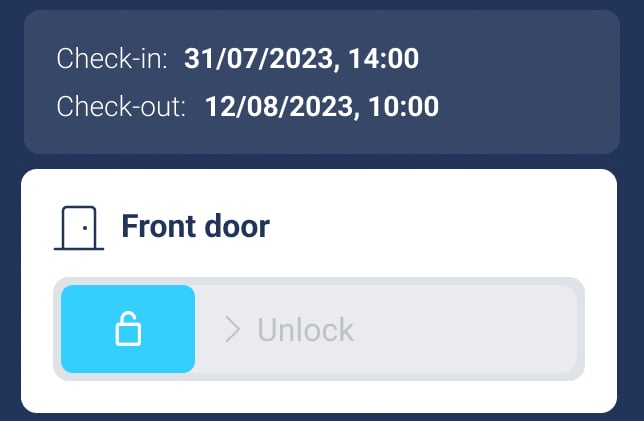 < Go back
Complete guide to Tedee access links
What is an access link?
Unlocking Tedee smart locks is based on virtual keys. These are the authorizations to control the lock its owner shares with other persons and has full power over their activity. 
The virtual keys are available in the Tedee app for smartphones or as mobile widgets. Since the introduction of the Tedee keypad, virtual keys can also have the form of unique PIN codes that unlock a smart lock after inputting them into a device outside the door. 
But what if… 
Your guests or yourself don't want to use the Tedee app for various reasons, or

 

You don't use a Tedee keypad, or

 

you wish to offer access without sharing, memorizing, or keeping the PIN.

 
Here comes the access link. Shared simply as a text form, in whatever method you wish. After the guest receives the link, they access the control panel like any other website on their smartphone browser. 
They can simply unlock all shared devices – Tedee smart locks and smart relay modules – by swiping a slider on the control screen. 
Will it help you?
Access links are especially worthwhile when you share access with multiple persons, regularly managing the changing pool of authorized guests. It is also useful if virtual keys are active for a short period or when your guests or yourself wish not to control the smart devices via the Tedee app.  
Hence, access links can be considered the most useful, especially for short-term rental hosts, offering their property to constantly changing visitors. 
Also, access links can be a useful tool in managing access at your company – it makes employee onboarding super fast and easy. No account registration or app downloads are required. 
If you use smart devices in your private home, an access link can be an easy solution for temporary guests or services. You don't always want to require installing an app or creating an account from your family visitors, cleaning service or redecoration team. Clicking the link in the text message is universally easy. 
Of course, traditional access-sharing options – via the app or PINs – are always available in all applications. You can tailor the way of access sharing to your individual guests.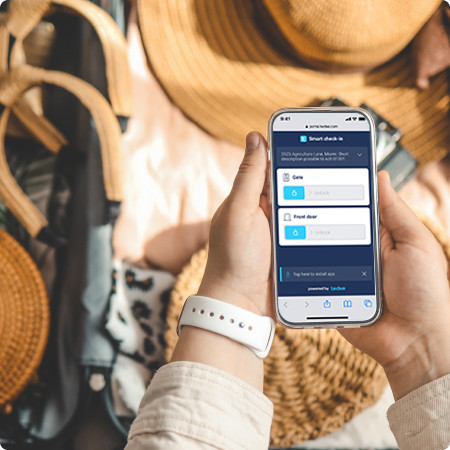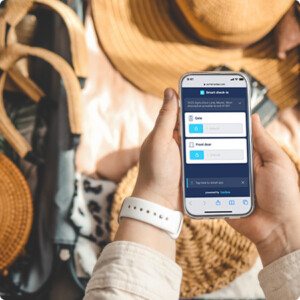 How does it work?
Tedee access links are based on the online cloud connection. Your smartphone access the link on the internet that connects to the Tedee online cloud. Then, the Tedee system contacts your Tedee smart lock via the smart bridge or your Tedee smart relay module, operating on fences, gates, or others. 
| | | | | |
| --- | --- | --- | --- | --- |
| | 🡺 | Internet | 🡾 |   |
|   |   |   | Tedee cloud servers |   |
| Tedee smart lock | 🡸 | Tedee smart bridge | 🡿🡾 | BleBox smart relay module via BleBox cloud |
What do you need?
According to the scheme above, internet access is crucial for access link operation. 
Your smart lock must work in the online mode, secured by the Tedee smart bridge. Tedee smart bridge or Tedee smart relay modules must have access to the internet-connected Wi-Fi network. 
Also, your visitor – the person using the access link to control devices – must have internet access on their smartphone. Whether by mobile data transfer or internet-connected Wi-Fi. 
Without internet access on any side – devices or the visitor – the access link would not connect to the devices to control them. 
How to create an access link?
Follow the steps below for every access link you wish to create. 
Enter the Access Links dashboard 
Go to https://portal.tedee.com on your desktop internet browser and log in to your Tedee account. 
Choose the key icon from the left sidebar to enter the linking panel. 
Press the "New link" button in the top-right corner of the screen. 


Customize the link activity
Access link sharing is based on the same principles as traditional access sharing via the Tedee app.  
 Read a complete manual to Tedee access sharing here >>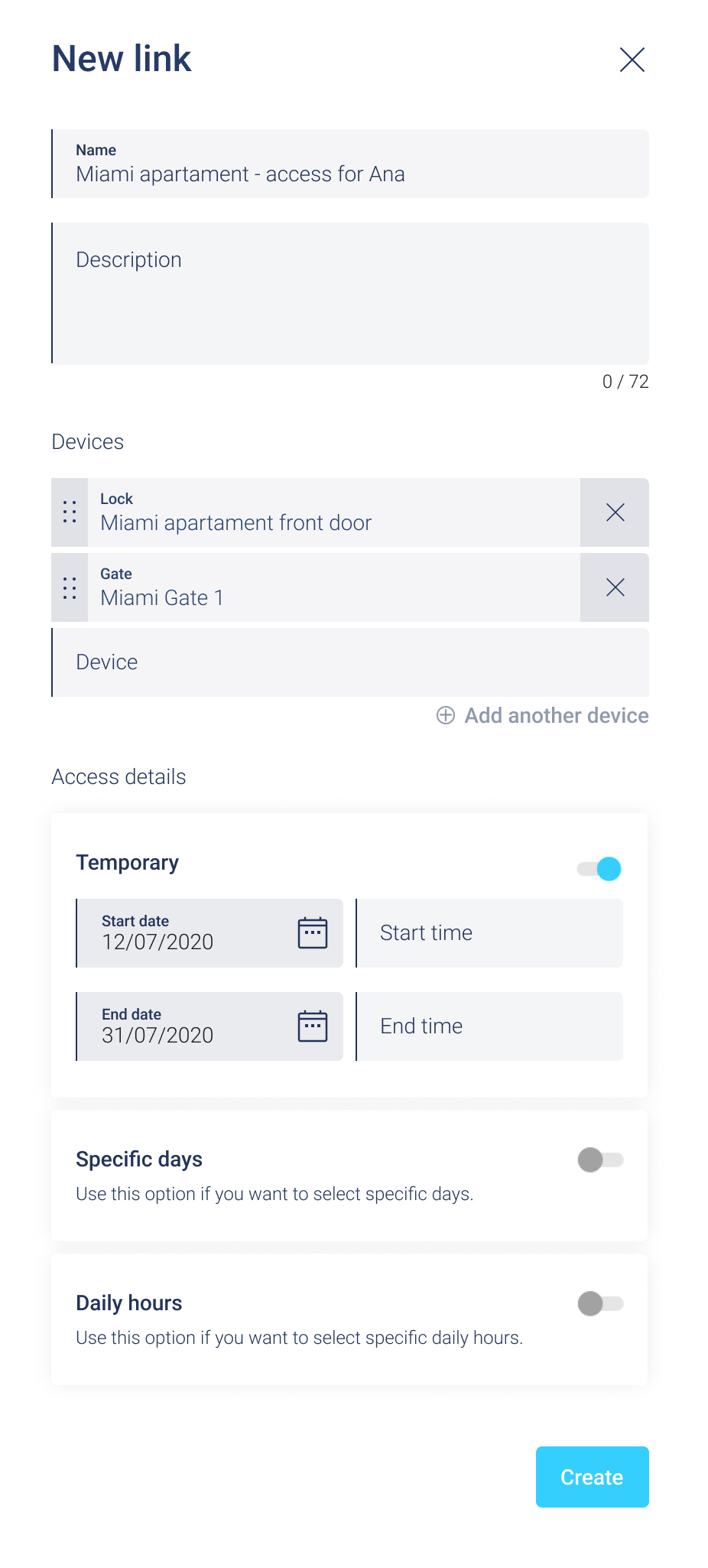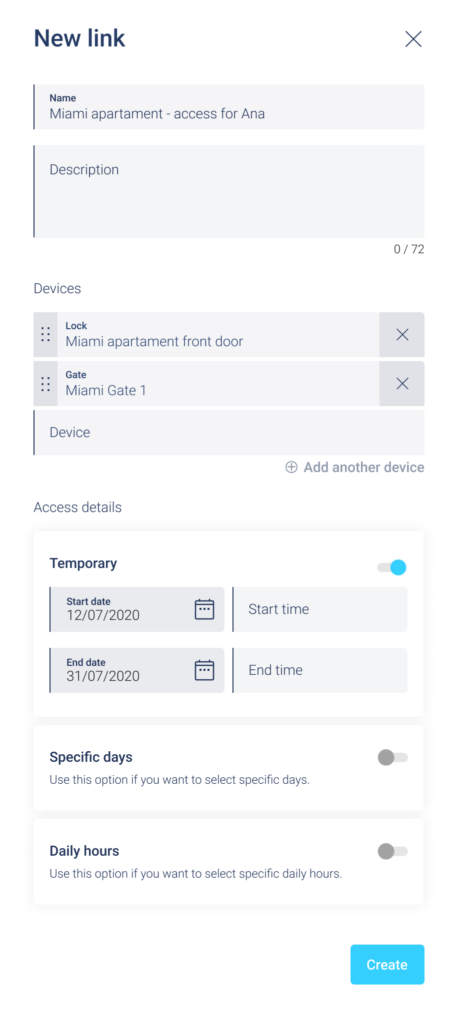 Simply enter the details of how the link should work: 
Name – the link's ID – you may use the booking dates, visitors' names etc. 
Description – it is displayed on the link panel, visible to your visitors. Here you may add some instructions or advice to your guests, for example, where the main entrance is, what floor the apartment is on etc. 
Devices – choose which of your devices will be controllable via this link. You may add both Tedee smart locks and Tedee smart relay modules to provide access to all devices at your property. 
Access details – choose when the link is active and allow visitors to control the devices. You may choose the days and hours from when it's active, specific days of the week or daily hours. You can mix and match these settings to create a personalized access link for any kind of person accessing your property. 
Of course, you can permanently make the link active– for your property administrator or cleaning service. 
After setting up the access activity, press "Create" to generate the link for sharing. 
Share the link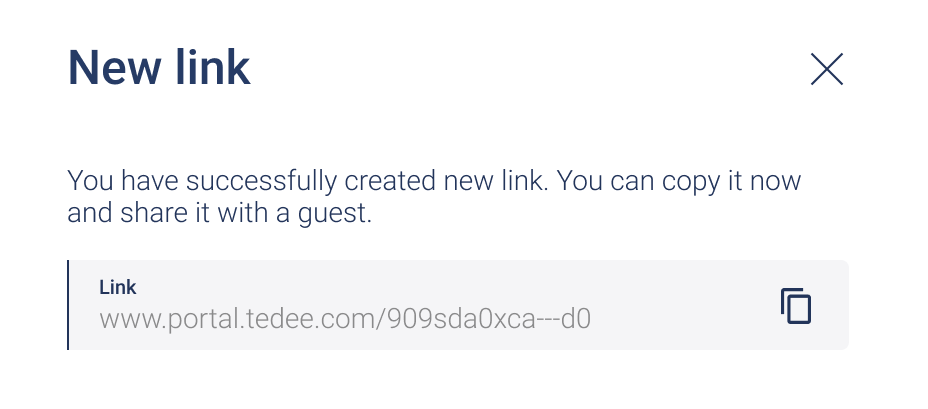 The newly generated link is now ready for sharing. Copy it to your computer's clipboard and paste it into your sharing method: e-mail, booking platform or text messenger. Make sure to use only trusted and secure sharing methods. 
Access link settings
Even after generating a link, you can access the settings of all your existing links.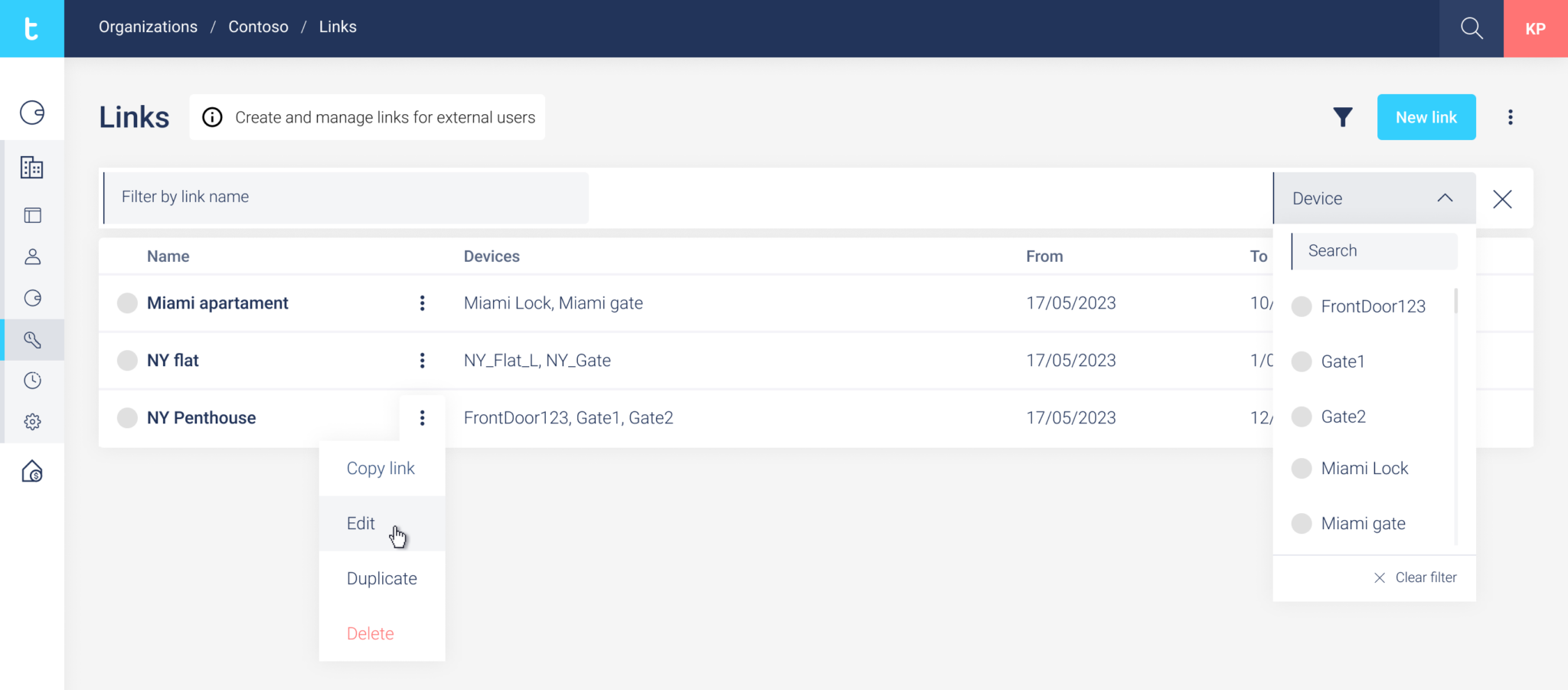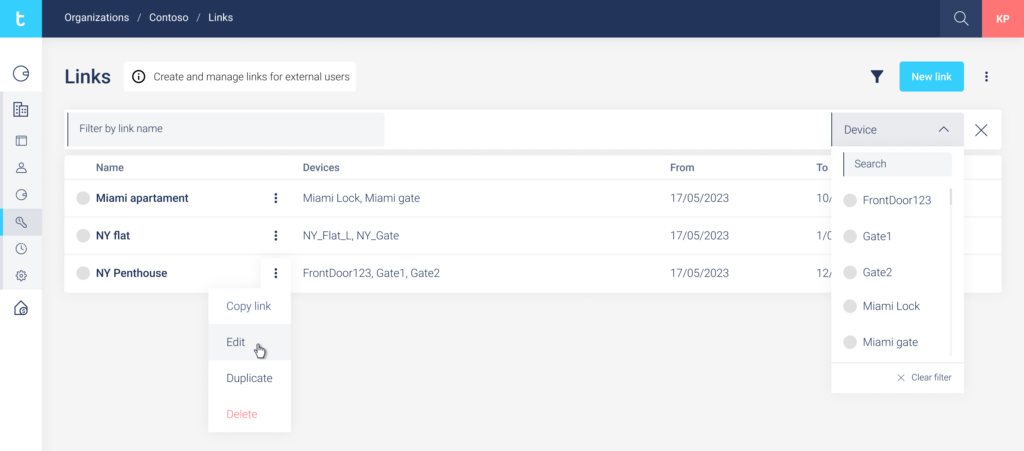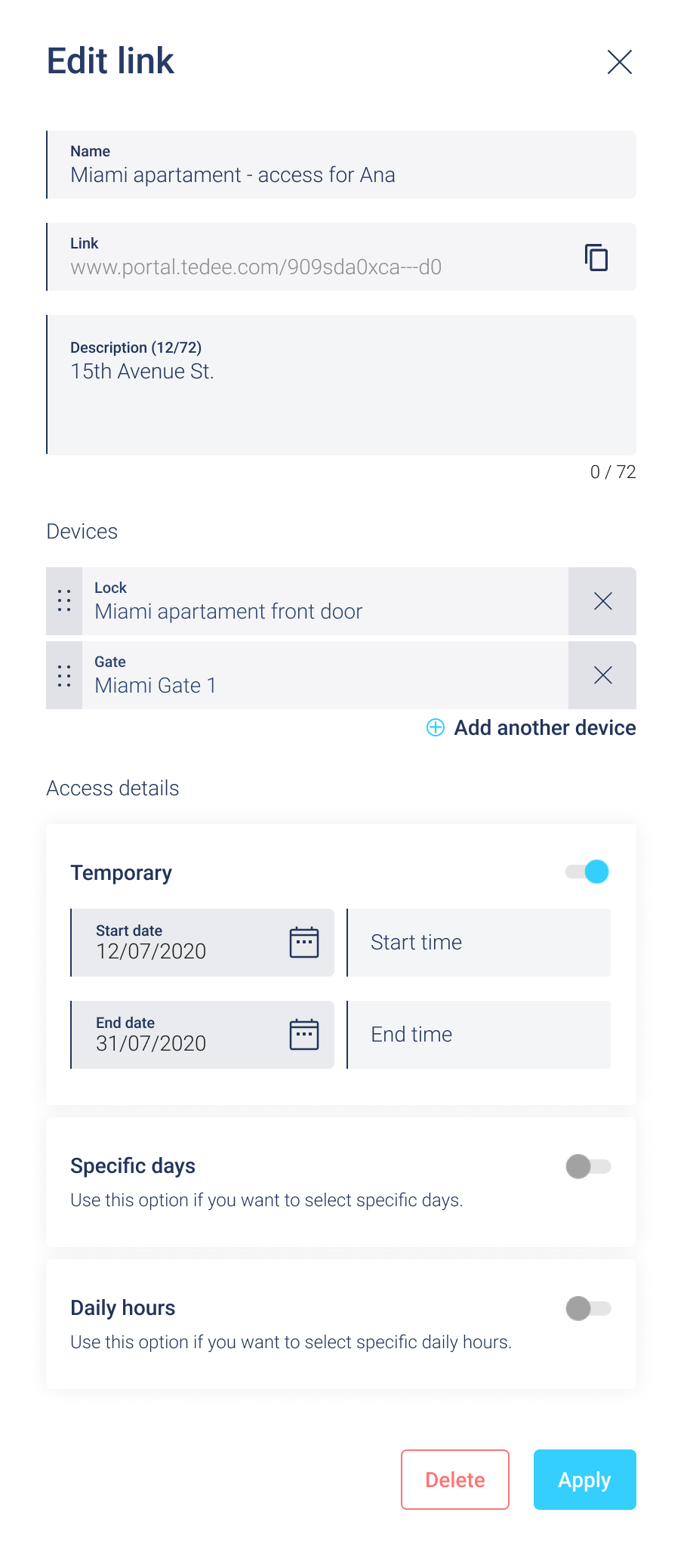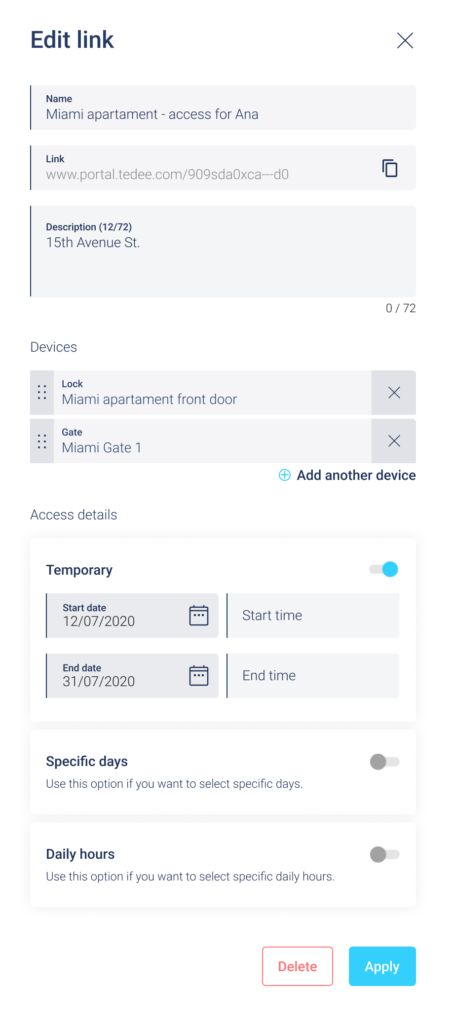 Using these settings, you can always 
Duplicate an existing link – if you wish to, for example, share the same devices but with different dates and another user; 
Edit existing links – even in real-time, during their activity period 
Delete a link – for organization purposes or revoking the access. The link user will no longer be able to use it to control the devices. 
What you need to know
Actions triggered with access links are presented in your devices' activity logs, presenting the ID of an individual link. 
Access links for Tedee can currently only be generated through the Tedee Portal. This user-friendly platform can be accessed through a desktop web browser. 
Access link services are a separate sharing system from our automatic rental features. Links are not generated and shared automatically. We are working on expanding the access link feature and will issue a free firmware update in the future.