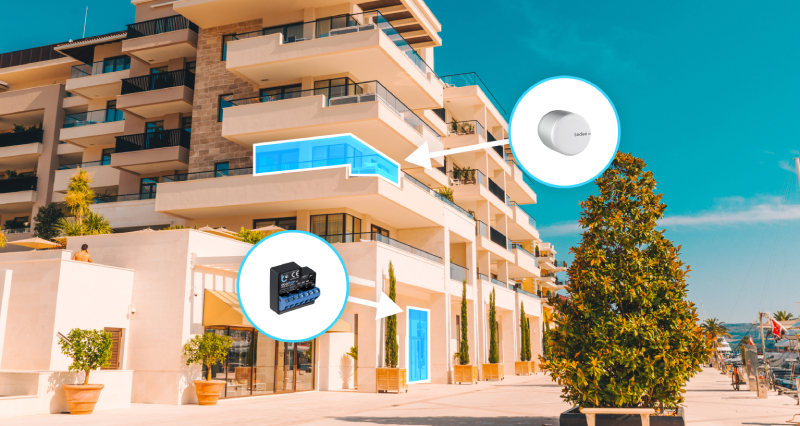 < Go back
BleBox smart relay module: the final touch your rental needs
Keyless hosting of rental properties can pose a challenge, especially in shared buildings. While visitors can unlock a smart lock using an app, PIN, or access link, managing shared hardware like building entrance gates can be tricky.
The BleBox smart relay module seamlessly enables the unlocking of your building's front doors or gates via a smartphone. Discover how this compact device can unlock the full potential of smart rental hosting.
Learn more about the BleBox smart relay module >>
Understanding the challenge
Installing a smart lock on your property's individual door is straightforward, paving the way for keyless access to the rental apartment.
However, many rental apartments are located within shared properties like residential buildings, condominiums, or townhouses, which often have a common entrance. This entrance, if not PIN-protected, becomes the first hurdle your rental guests encounter upon arrival, hindering a smooth, self-serviced, and keyless rental experience.
Identifying the problem
Putting a smart lock on a shared building door is not a simple task.
Typically, a resident or single property owner isn't permitted to alter shared hardware such as the front door of a common building. Replacing these with new devices is challenging, as the building installations might include an integrated intercom system connected to all individual flats. Any major changes to this setup can significantly affect other residents.
How are front doors controlled?
The front doors of shared buildings usually operate on a traditional system where a door lock is controlled via an electric signal. This setup employs a lock relay, connecting the door lock with its "unlockers" like buttons, intercoms, PIN-, or fob-readers, all reliant on traditional, analogue, wired connections.
| | | | | |
| --- | --- | --- | --- | --- |
| | ➜ | Relay controller | ➜ | |
Unlocking a shared door with a smartphone
To make a shared door smart – unlocked with a smartphone similarly to your individual smart lock – its relay mechanism must be modified.
The relay controller is a local electric installation. To interface it with a smartphone, you'll need to equip it with a smart relay module.
At first, adding a compatible Bluetooth module for wireless relay control may seem sufficient. However, the limited Bluetooth range can be an issue if the relay controller is placed far from the door, out of a smartphone's Bluetooth range when the user is outside.
The most robust solution is connecting the relay to the internet via the online cloud, facilitating unlimited wireless connections between the mechanism and a smartphone. This is where the new BleBox smart relay module comes into play.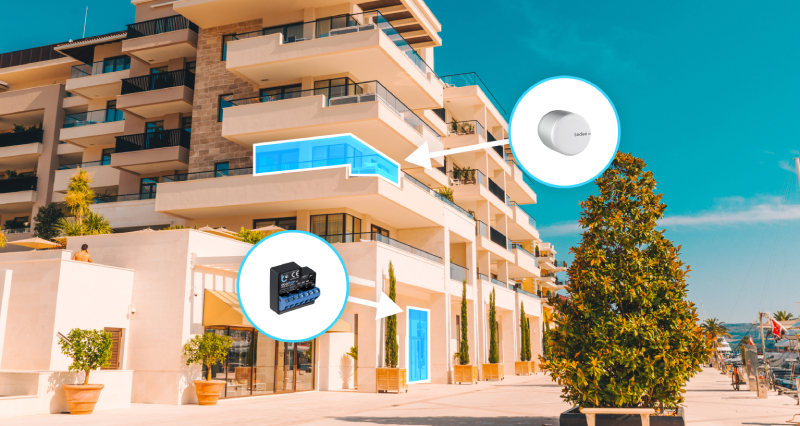 Beyond just doors
The BleBox smart relay module isn't limited to doors; it can also be added to garage doors or gates. This is particularly handy in private residences requiring smart locks on both the house's front door and the lot's main entrance and/or parking area.
Working of the BleBox smart relay module
The Tedee smart relay module is a compact device wired to your building's front door relay controller. It's a small and reversible modification to your building's hardware, with no impact on its operation for other users. In most cases, it's an installation permitted by the building's administration.
➜
Online cloud
➜
Local
Wi-Fi
➜
➜
Relay
controller
➜
This setup necessitates a stable internet-connected Wi-Fi network within its range. Once everything is connected, a visitor can control the entrance door with a smartphone that connects to the relay via the Tedee app and the online cloud.
Learn more about the Tedee smart relay module and its installation >>
Access sharing
As the owner of the Tedee smart relay module, you can share access (virtual keys enabling door unlocking via the Tedee app) to the relay in the Tedee app. Your visitor will receive an email, and after logging in to the Tedee app, they can unlock the door with a single click on their smartphone.
Manage their access to the device in your Tedee mobile app or Tedee Portal, available on desktop internet browsers. Similar to all access control of Tedee devices, you can set the dates and hours when your rental's visitor can use the virtual keys. For instance, their app would only unlock the door during their booked stay, becoming inactive before the check-in hour and auto-expiring after the check-out hour.
Learn more about access sharing >>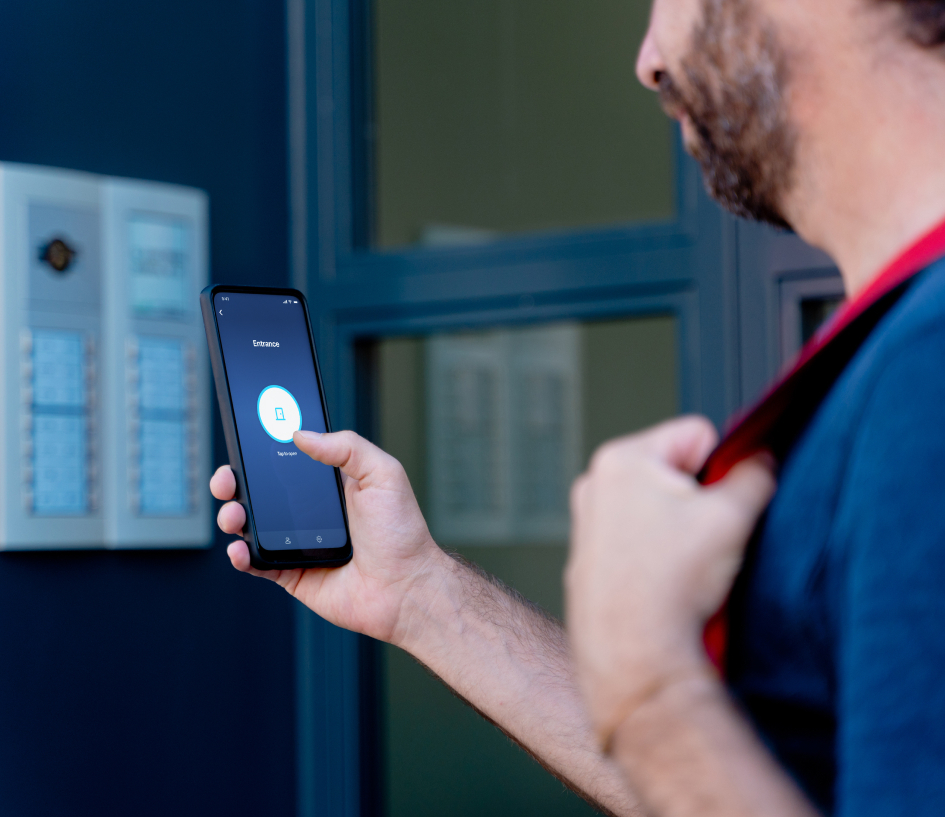 Access links
The latest feature introduced by Tedee smart devices is link-based access sharing. This feature enables your residents to control all your rental Tedee devices – be it the individual apartment's smart lock or the relay of a shared entrance – without the necessity of installing the Tedee app.
You can generate an access link via the Tedee Portal, configuring it with the same detailed settings as app access. Subsequently, you can share this link in your preferred manner: through email or a messaging app.
Upon receiving the link, visitors simply click on it via their smartphone, unlocking the door by swiping a slider. Just like the standard Tedee virtual keys, the access link becomes invalid after a predetermined period, for instance, post the booking's check-out time.
Learn more about access link sharing >>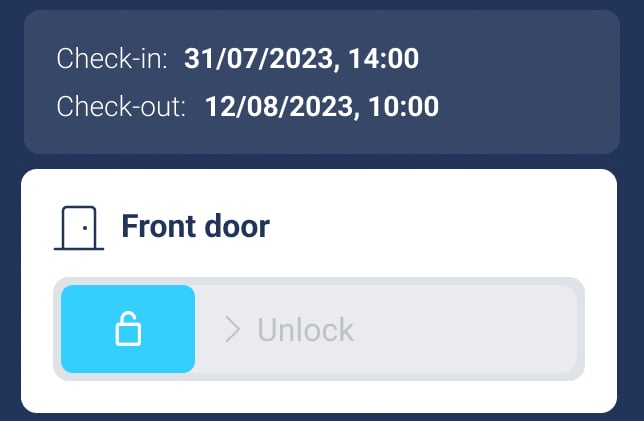 Customize your smart hosting setup
Tedee offers a comprehensive range of smart access devices, enabling you to transform your rental into a keyless space in numerous ways, all tailored to meet your and your visitors' needs.
We invite you to peruse our manual on Tedee smart hosting solutions to explore which combination of devices would serve you best.
5 levels of keyless rental: from street to bed, now even in shared buildings >>