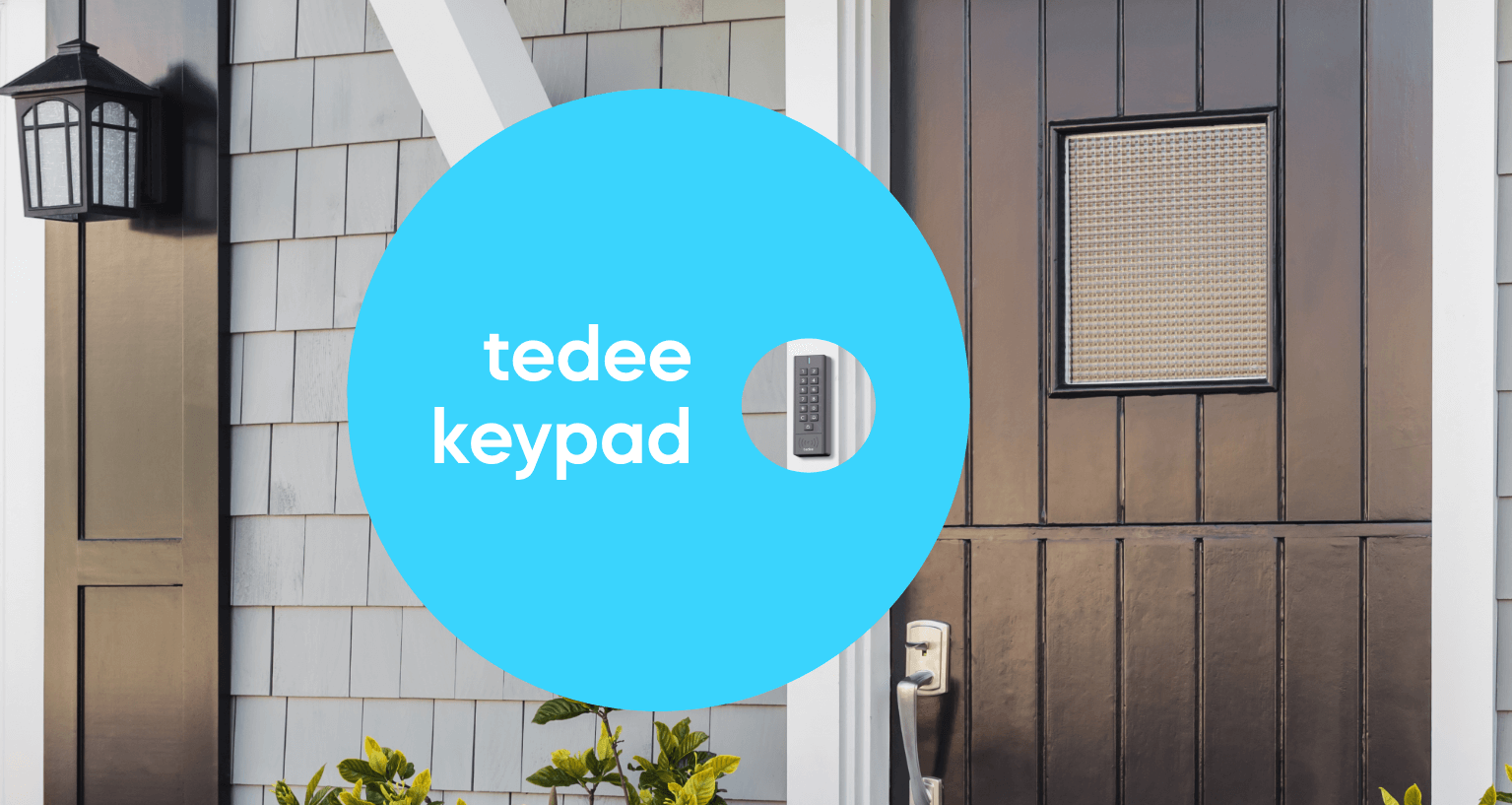 < Go back
Why do you need a smart keypad door lock?
Smart keypad door lock adds new features to your tedee smart lock and enables an even wider range of applications for different users. It facilitates access sharing and helps with travel and business. Learn more about this small but hugely helpful add-on.
We are tedee – the manufacturer of smart locks. Our products open door locks in thousands of different places, but we do not rest on our laurels. Now comes the moment when we launch our long-awaited product – the smart keypad door lock.
Smart keypad door lock – a new convenience of access.
Smart locks are devices that are perfect for any place – no matter if it's your private home, office, or rental flat. Exactly, but isn't there an even more convenient solution for providing remote access, especially to places such as your business office or rental property? The best smart locks provide multiple access options.
A smart keypad door lock – the perfect accessory to a smart lock – is best suited to such places. It is equipment that resembles an intercom but allows you to open the door lock immediately by simply entering the PIN-code on the device's numeric keypad.
After all, not everyone has a smartphone that can turn into a door key. You will find few such people these days, but many who own a smartphone will not want to install another mobile app on their phone. The use of PIN codes is a simple way to provide access.
The only thing to do is assign an individual access code to each one. What's more – all activities related to opening a given door lock will be displayed in the smartphone app. So you can control access over all your properties. Simple – both for you and your employees or guests.
Is it worth investing in a smart keypad door lock?
A Wi-Fi smart lock equipped with a smart keypad is an excellent addition to a smart home system. The device can open door locks without using a smartphone.
This is great for use in the home but will work best for short-term rentals and businesses.
With a keypad door lock, you don't have to wonder if your guests have a smartphone or can successfully operate a smart lock. You also do not have to worry about making up lost access cards to the office. A smart keypad door lock means convenience, flexibility, and security.
Smart lock with keypad guarantees access for everyone.
Create unique codes instantly from your smartphone at any time. You can create up to 100 users so you can grant access to your family members, friends, babysitter, and anyone you trust.
Activity logs in the mobile app show who and when has locked and unlocked the door lock. You can control access from anywhere in the world and not worry if something unexpected happens.
This makes everyday life easier – especially in an emergency, for example, to let a plumber in remotely when a pipe bursts in our flat. Such situations cannot be planned for, and we cannot always be there at the time.
Is a keypad dor lock necessary?
A smart door lock is a very functional device – much more so than a traditional lock. To operate it, you must have a smartphone with the appropriate mobile app installed.
The keypad lock is the perfect alternative when your smartphone dies, and you don't have your key with you.
Is a smart keypad door lock necessary for you? It's your decision – the choice that best fits your lifestyle, your daily routine, and the number of your family members, employees, or guests. A keypad lock allows them to get into a place at any time without keys, and if someone forgets to bring a key or card with them, they can enter the access code on the keypad! If you want to receive visitors frequently and still be practical for your family, choose this solution.
Thanks to the possibility of generating a unique code, you can ensure secure access for everyone.
tedee smart keypad door lock is available both in tedee sets with other equipment or sold separately – so you can always add it to your setup.
Easy to use.
Although handling many smart locks is usually easy and intuitive, the first contact with this type of device can be frightening, especially for people who are less familiar with modern technology or older people. This is not a problem with the smart keypad door lock.
Using the keypad door lock does not require any technical skills from the user – it is simply a numeric keypad – the same as we can find in classic telephones or intercoms. Everyone has had contact with this type of device so that no one will be frightened by the vision of difficult access to a place.
You can also share the PIN in whatever way you wish – including a classic text, messenger, or even say it over the phone – it's a feature that no longer depends on the user's technical skills.
How to install a smart keypad door lock?
The keypad door lock is placed outside the front door by sticking or screwing it close to the smart lock – the recommended maximum distance is about two meters. This is because the smart keypad door lock connects to the smart lock via a secure Bluetooth connection.
Installing the keypad lock only takes a few minutes, so the new lock is ready to use almost immediately after purchase. Nothing stops you from installing the smart keypad  door lock right now and making life easier for yourself, your customers, or your staff. Opening doors with a PIN code is very simple and does not require a key or access card.
Finger batteries power the equipment, so there is no need for wires or cables. This positively affects aesthetics, which is very important for short-term rentals where many different people use the apartment or in a company where the entrance to the office should look representative.
Adding a smart keypad door lock to the tedee app is extremely easy and takes about a minute.
All you have to do is log in to the app, select your keypad in the "Add new device" section, and scan the QR code or manually type in the activation code. That's all.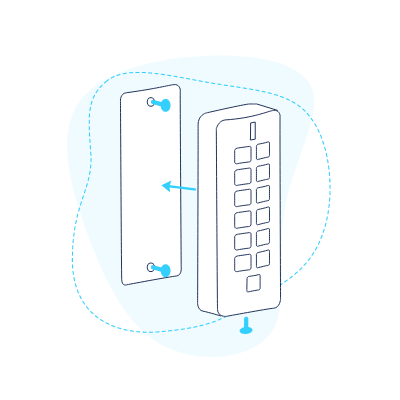 Can I install a keypad door lock outdoors?
This is an important point because this type of equipment is usually mounted outdoors. This means that the smart keypad door lock may be exposed to rain or snow.
No need to worry – the equipment has been designed so that variable weather conditions do not put it at risk of damage. The device has been sealed with resin, which provides excellent protection – whatever the weather.
Some smart locks have built-in Wi-Fi, other smart locks – fingerprint scanner, but the most important thing among these smart features is remote control of your front door lock. tedee smart locks with keypad provide the essential features changing the way to access your place in the most useful way.
Are smart locks with keypads safe?
The smart keypad door lock only makes it easier to open and close the door lock. The security issue depends on your existing smart lock and the quality of your front door.
The smart keypad door lock provides remote operation of the lock. Security features such as access logs and door unlock notifications in the mobile app make breaking-in much more difficult. Using a smart lock to protect your front door is one of the best security systems.
The keypad door lock itself does not store any data. Even if the device is stolen, it is impossible to access the data or open the lock remotely. All data are stored in the smart lock, which sends it to the cloud, making it impossible to hack the device. The smart keypad connects to the smart lock via a secure Bluetooth connection and transfers the entered data, and the smart lock validates it.
Who benefits the most from a keypad door lock?
A smart keypad door lock is a beneficial addition to a smart lock – it allows you to open the door without using a smartphone. The keypad's function is to provide access via PIN codes. This is a very useful solution, especially for short-term rentals and businesses, but it is also perfect for the home.
Smart door lock with smart keypad helps in a short-term rental.

Grant access with a PIN code
Are you worried that your guests won't have a smartphone or may have trouble operating smart home devices like a smart lock? The smart keypad provides access via a PIN code that must be input on the device's numeric pad. This is much better than, for example, a fingerprint reader.
No key problems
Keys are one of the most frequently lost items – and this can happen to your guests too. If you hide the keys to your traditional lock in a special box before your guests arrive, or even worse, under the doormat, they can be easily stolen. This is one of the best smart lock security features. Technology means that you no longer have to duplicate, hide, collect or pick up keys to your door lock.
Supervision of booking time
The access code will only be active during the designated time frame – from the start to the end of the rental. Once the rental is over, no one will be able to open your door lock.
Remote control
Rent remotely – you can give the code to your flat in a text message or a simple phone call – no more meeting customers to provide them access to your apartment. Grant access to your property manager, cleaning company, or other professionals – even from the other side of the world.
Smart keypad door lock for your business.

Free yourself from work keys and access cards
Remembering your access code is much easier than remembering to take your keys or card with you every morning.
Full control
Grant an access code to the whole building or only to selected door locks, permanently or in a specific time frame. A complete history of events is available in the mobile app.
Manage remotely
The business portal allows you to control multiple smart locks, employee access, and even entire organizations. Management is easy and convenient. Access to the business portal is completely free of charge.
Let someone else manage

The three levels of access to the smart lock (owner, administrator, and guest) mean that you can give control over access to, for example, your office manager.
The smart keypad door lock for your smart home.

Sure access in any situation
You want to come home, but your smartphone is dead? You don't need to ask a neighbor to borrow the phone and log in to an app – just type in the pre-assigned access code to unlock the front door.
Give access to your family members and friends
Don't hide your keys under the doormat – this is probably the most dangerous method of providing access to your home. Simply give a personalized access code to let family or friends in when you're not home. The auto-lock function will close the door when they leave. You don't have to worry about that either.
Let service providers in remotely
The best smart locks make access easier for everyone – not just the owners. Give access to service providers, such as the workers renovating your bathroom or the delivery man to leave a package in the hallway.
The smart keypad door lock aligns perfectly with other smart home devices.
A Wi-Fi network is a perfect tool to connect all your smart home devices. You can, for example, use smart speakers and open doors with a voice command. The best smart locks connect to Apple Homekit, Amazon Alexa, and Google Assistant.
Many of these features (like voice commands) are only available using a small Wi-Fi adapter – the Wi-Fi bridge. This is the best smart locks friend. It is usually sold separately or included with a smart lock. Most locks connect to it using a Bluetooth connection, so the Wi-Fi bridge should be installed close to the smart lock. Here you will find all the information on this Wi Fi adapter.
Note that a Wi-Fi adapter is not necessary for using a smart keypad – it connects to your smart lock only via a secure Bluetooth connection.
How do smart locks work?

Smart locks are useful devices – they turn your smartphone into a door key. Among other things, this makes it possible to open the door lock remotely – for example, to let friends in when you have to stay longer at work or to dog walker when you're relaxing on holiday. With just one click on your smartphone screen, you can enable keyless entry and when you're not even around.
Smart locks also offer an auto-lock feature. This will come in handy for the forgetful person who forgets to lock the door at night or for the simply prudent – just set the function to automatically lock the front door, for example, after 5 seconds, so you don't have to wonder if the door is locked.
The coolest function, however, seems to be the auto-unlock feature. It allows you to open the door lock without touching the handle. Among other things, this makes it easier to enter the house with heavy bags without having to search for the physical key in your pocket or handbag.
Most smart locks have additional features such as voice command control via Apple Siri, Amazon Alexa, and Google Assistant on compatible devices, a fingerprint reader, and remote access to the door lock. The classic deadbolt lock cannot guarantee the same features.