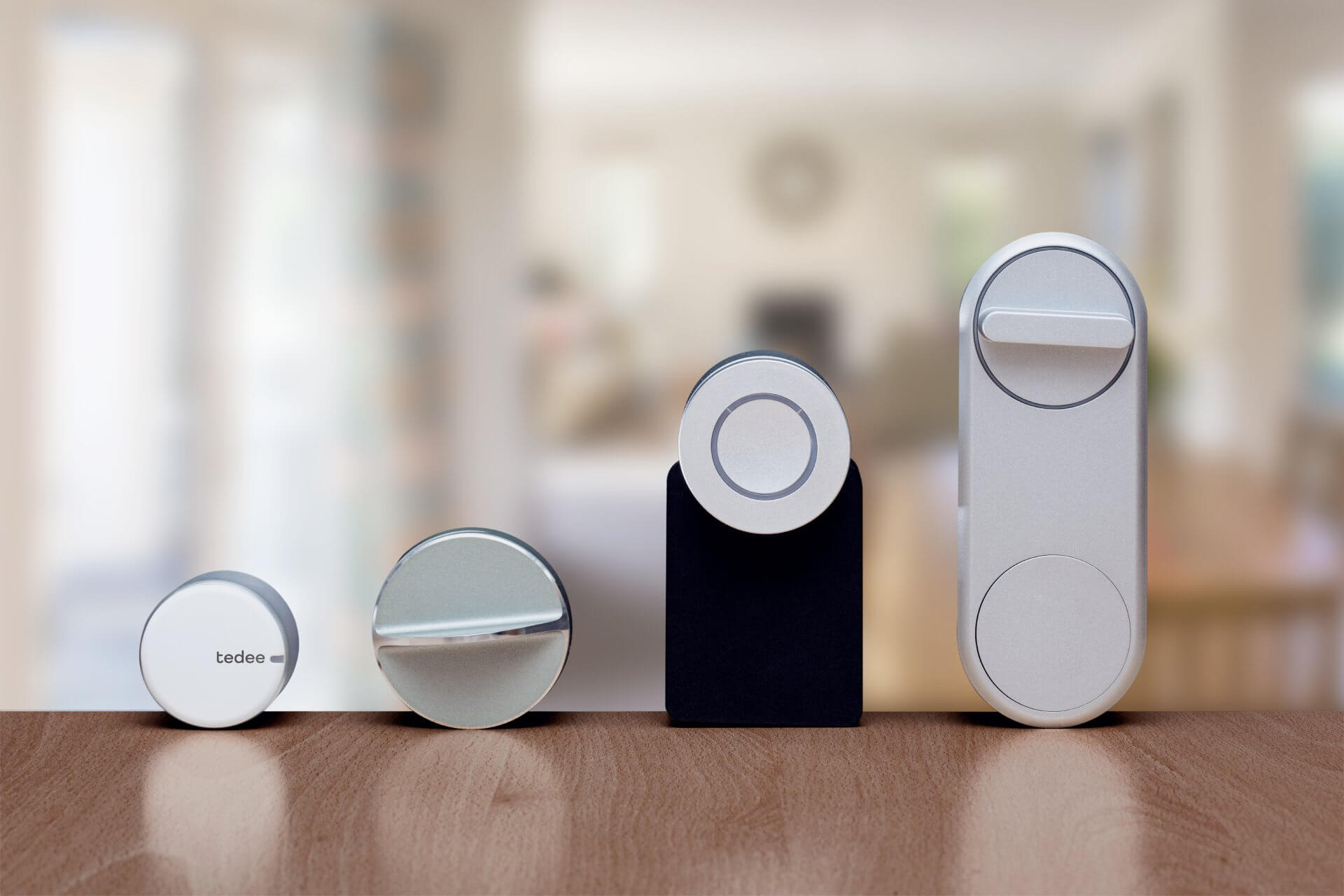 < Go back
The best smart locks for 2022: tedee, Nuki, Danalock, and Linus compared.
It's great you're about to get a smart lock – we're sure it will make your life much more convenient. However, before enjoying the benefits, you're probably wondering: which smart lock should you buy?
Here, you'll find the four best smart locks from the European market described, analyzed, and compared to make your decision easier.
Of course, we make one of these smart locks, so you should treat this article more as a guide than an objective market report. But as we're smart lock makers, we also know the market, technologies, and products from the inside. It's not all about promoting our product if you might eventually not like it. We designed tedee to be efficient, beautiful, and smart.
But it doesn't mean that it's the best for all.
If you prefer to learn more about all sides to most smart door locks, to analyze the market by yourself, read our article: Eight things to know about your new smart lock.
We will compare tedee, Nuki, Danalock, and Yale smart locks in terms of:
We will compare only practically significant specifications, omitting details not influencing the everyday operation. We will do our best to obtain from assessment or judgment to give you the clearest and most transparent overview possible.
Entry to the smart lock world
You may be new to the smart home industry. After discovering hundreds of intelligent devices, you become overwhelmed with brands, standards, and technologies. We get it – ask our new employees😉 But a smart lock really is a great way to start your smart ecosystem, even if it is the first smart device at your place. In this article, you will find out why.
This research will help you discover all smart locks' details with step-by-step explanations. After reading this, you will know which solutions should work best for you.
Maybe you're already into smart home technology and looking for a complex overview of the smart lock market. This is where you learn all you need in one place.
If you live in America
You may find many reviews of smart locks not included in this text. This is because of the technical standards. The most popular brands worldwide, such as August smart lock or Wyze lock, are designed for existing deadbolt locks – popular mostly on the American market.
Our product was designed for European-type lock cylinders, with possible adaptations to Swiss and Nordic profiles. The European and American systems are very different not interchangeable – this is why the brands mentioned above are not covered here.
Suppose you're looking for the best smart locks for America. In that case, we can recommend market overviews from CNet, PCMag or The New York Times' Wirecutter.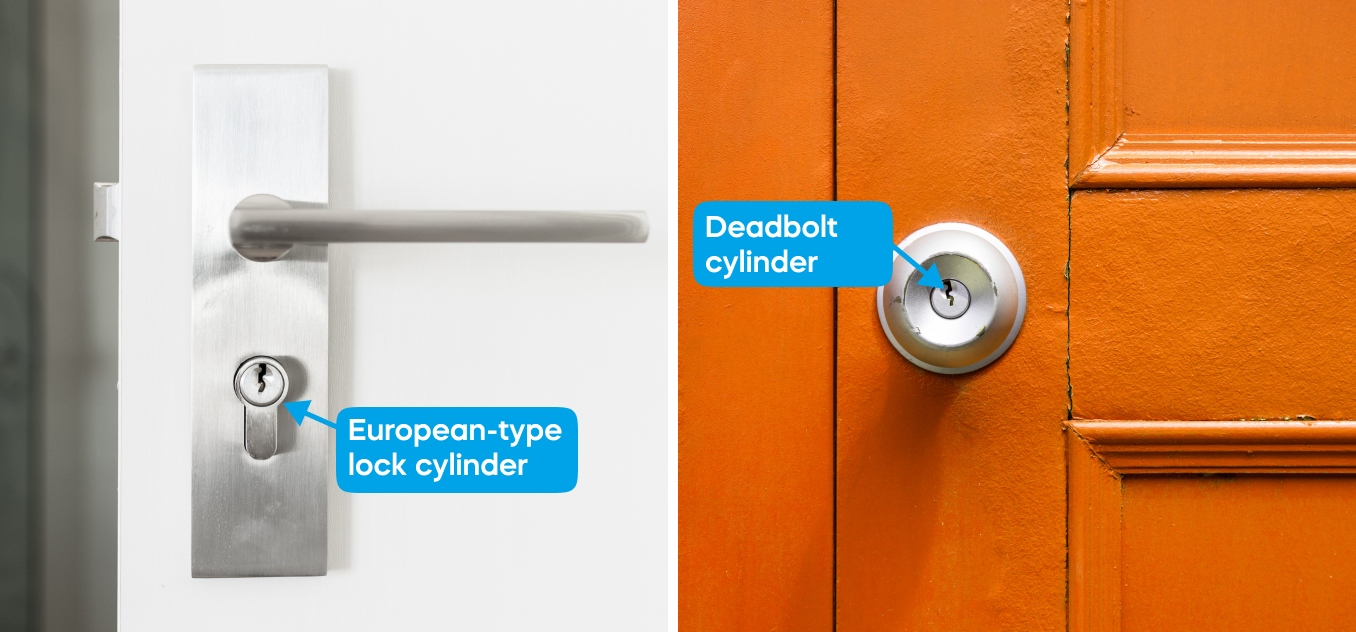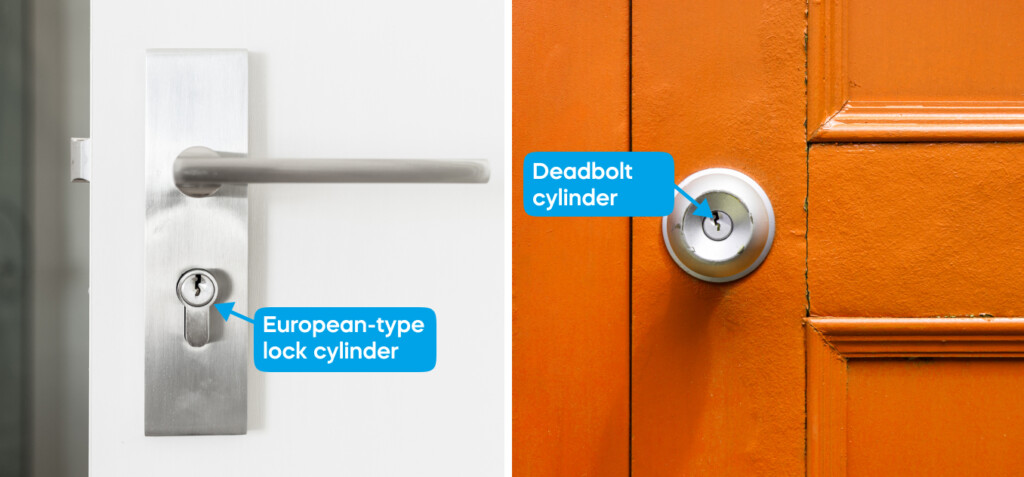 Why do we analyze these smart lock brands?
Of course, there are more smart lock brands, even on the European market. Here we present the four with more-or-less similar but advanced technologies that are retrofit solutions. You can install them on an existing lock and pair them with multiple smart home systems.
It needs to be said that these four brands offer similar features and are great at controlling your lock with other devices and technologies. But the similarities also make the decision harder. This article presents the – sometimes minor – differences that will guide you to the best smart lock for you.
Some of the brands chosen offer more than one smart lock, different in terms of smart home integrations, materials, or price. However, for most people, their operations will be hugely similar. That is why we do not specify the exact product versions or variants.
Information based below is default values, sourced from producers' official websites on March 17, 2022.
If you already use a professional smart home integration or home security system…
…this article may not be enough for you.
If you're not a user of Hey Google, Apple HomeKit, Amazon Alexa, or Homey, it would be best to start by consulting your smart home installer.
Centrally managed smart home integration uses a central smart hub, connecting devices in various ways. Smart locks described here can successfully work on dozens of platforms, but not any of them covers them all. Frequently integrating such a smart lock with a central controller often is a technical task for a professional. It's best to choose your smart lock with their help.

Compatibility and installation methods
Design or features are crucial to the smart lock's operation. However, the most important question is: can smart locks work on your door at all! You need to start with determining the type of your lock cylinder.
All four smart locks reviewed are compatible with European and Scandinavian (Nordic) profile cylinders. Danalock, tedee, and Nuki offer dedicated M&C cylinders for European locks, and tedee also offers the modular cylinder manufactured by GERDA. As for other European brands, tedee offers customized replacement shafts to be used for key/thumb-turn cylinders. That way all major brands are compatible with tedee.
Nuki and tedee can work with Swiss-profile locks and UK Oval cylinders. At the same time, only Danalock is available in the version dedicated to US deadbolt locks.
After determining if any smart lock is compatible with the lock cylinder on your door, check and purchase a dedicated version or hardware suited to your mechanism.
The table below presents how producers solve the compatibility. "X" mark means the producer does not offer a solution suiting a given cylinder type.
Lock profile
Danalock
Nuki
tedee
Yale Linus
European
Adapter
or replacement
cylinder
Product version
or replacement
cylinder
Adapter
or replacement
cylinder
Product version
or replacement
cylinder
Scandinavian
Product
version
Product
version
Adapter
Product
version
Swiss
Product version
Adapter
or replacement
cylinder
UK Oval
Product
version
Adapter
American
Product
version

Design
As a device permanently installed on a door – and used every day – the design of a smart lock plays an important role. The design influences not just the looks but enables particular technologies, features, and benefits.
Shape and construction
Smart locks' forms are different and composed of various moving parts.
tedee and Danalock have round, cylindrical constructions, with a complete smart lock shaped like a traditional doorknob. Manual opening of these consists of rotating the whole device (tedee) or the cover (Danalock).
Yale Linus and Nuki are oblong devices, that cover the lock cylinder and some 10-20cm of the door leaf below, like the long escutcheon plate. The moving part – a thumb-turn or a ring – is placed at the top of the boxes while the whole bottom part contains the batteries.
Size
The most significant differences occur with the height of smart lock pieces that extends from the cylinder downwards. This is not the case with the round constructions of tedee and Danalock, with diameters of 45mm and 60mm respectively.
Nuki and Yale Linus are way higher. Their measurements of 11cm and 15cm make them appear significantly larger.
The width of most reviewed smart locks is around 6cm, with tedee being 15mm narrower.
As you can see in the table below, the depth that protrudes from the door is the same for all reviewed smart locks and equals around 6cm. The difference between the longest and shortest smart lock is 13mm, which may seem insignificant in everyday use on most doors.
However, the protrusion of a smart lock against the door leaf depends also on the lock cylinder. The more it protrudes, the more it adds to the complete depth of the smart lock setup. In some cases, the depth of the smart lock may be crucial as it is for outward-opening doors when the overly protruding smart lock may hit the door frame while opening the door. Please, double-check the compatibility guides of a given smart lock with such doors.
You can compare all smart locks' measurements below.
Danalock
Nuki
tedee
Yale Linus
Height
Ø 59 mm
110 mm
Ø 45 mm
150 mm
Width
60 mm
58 mm
Depth
68 mm
60 mm
55 mm
58 mm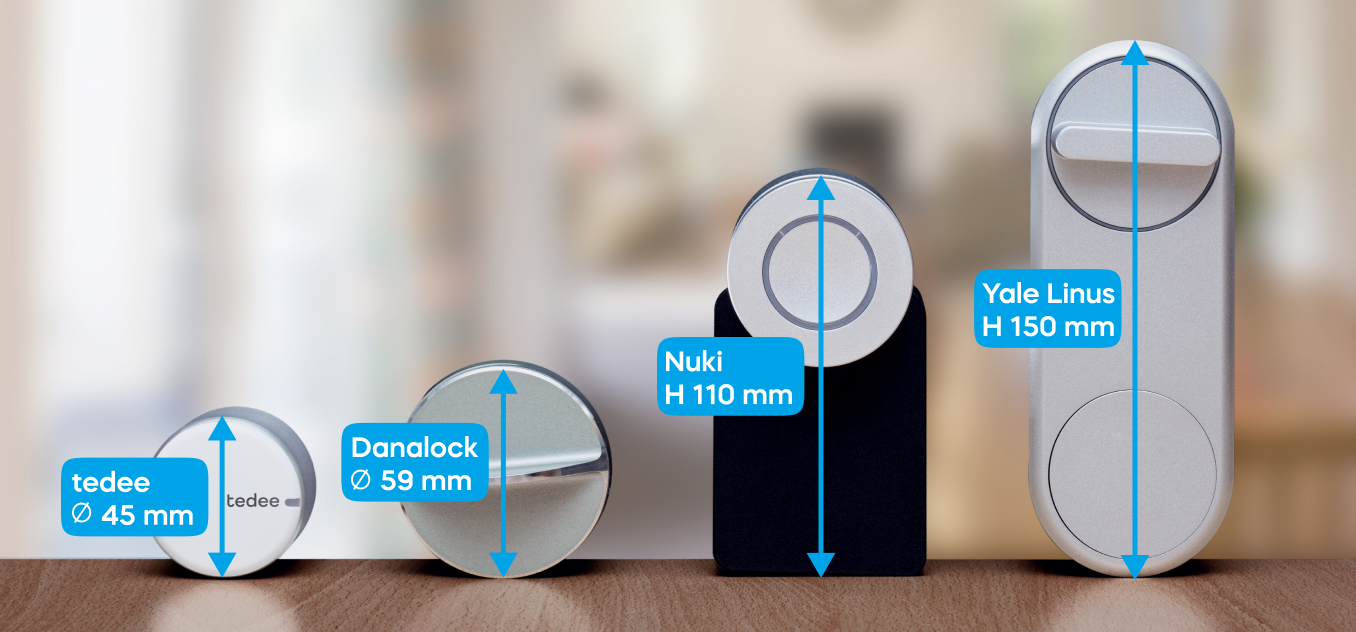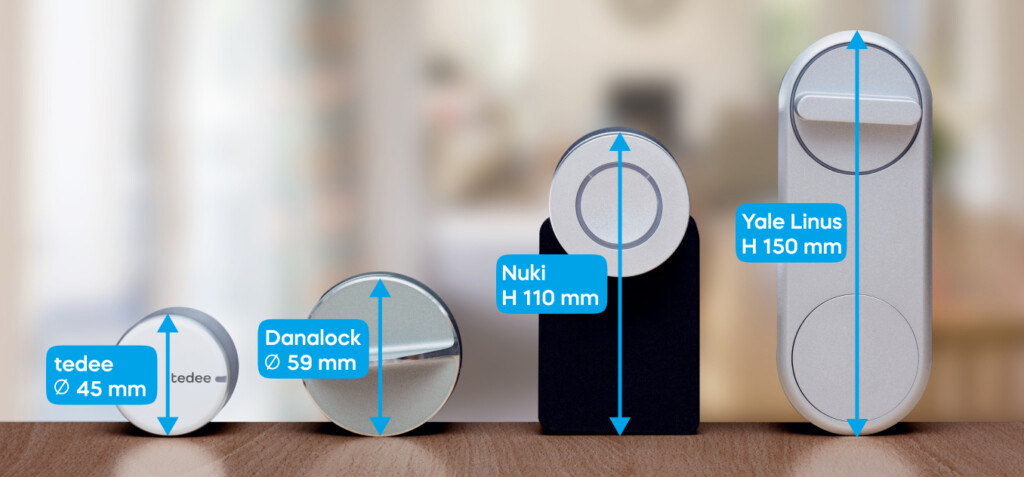 Materials and sustainability
tedee is encased in an aluminium, anodized cylinder with a plastic button, and the gearbox is built of steel and brass gear wheels. Nuki and Danalock utilize both aluminium (for the knobs) and plastic (for battery compartments). Yale Linus case is made of cast alloy.
Materials used in a smart lock influence its life span. We can't make any statements on behalf of other brands, but we did extensively test tedee to learn what's the average lifetime of the product. As for the battery, we expect that after 5 years, the capacity drops below 70% of its initial value of 3000mAh. As for the gearbox, if the door is maintained properly (i.e., the torque required to unlock and lock the door does not exceed 1.2[Nm]), the tests showed it should work for more than 10 years.
If you want to see things from a broader perspective, all tedee lock parts are fully replaceable and serviceable: all tiny gear wheels, the motor, the rechargeable battery, the casing, the button, and the electronics. The maintenance services offered by tedee extend the product life indefinitely.

Locking and unlocking
All best smart locks reviewed let you automatically lock the door and enable automatic unlocking.
Remote access is available with all of them, as long as these are paired with a smart bridge. Check this article if you'd like to know what it is and how a smart bridge works.
All of these smart locks are invisible from the outside because they are installed from the inside of the door. You may keep unlocking them with a standard key, as a traditional lock.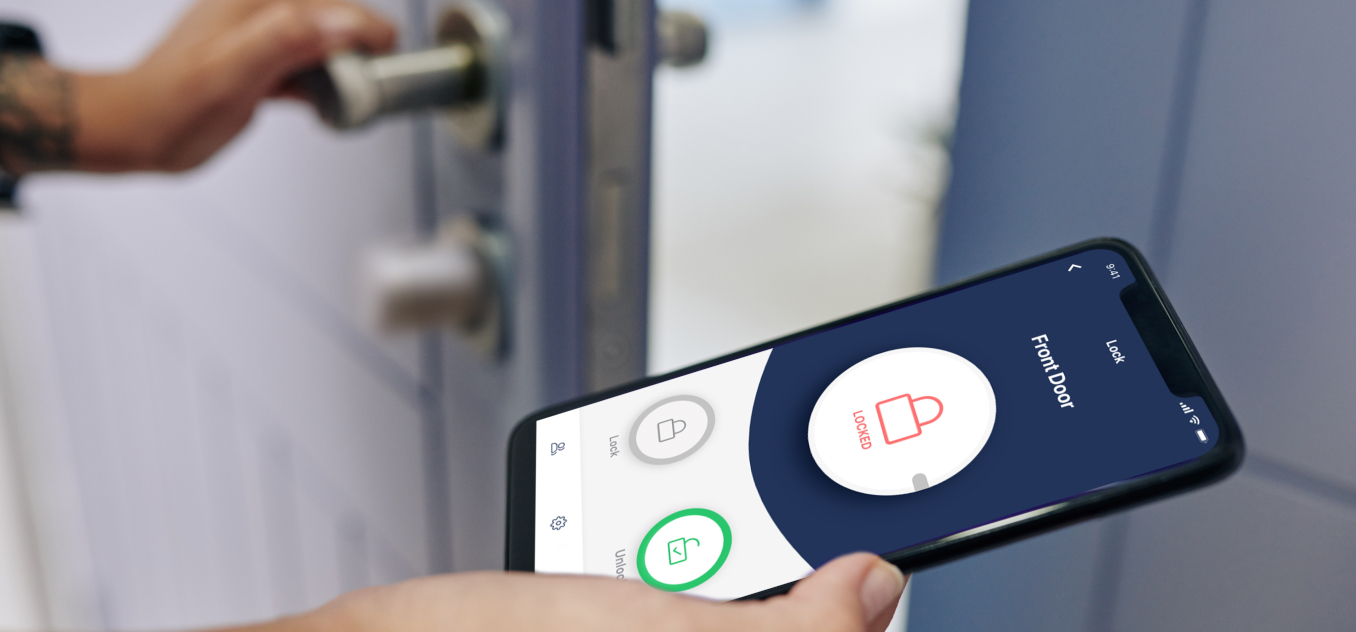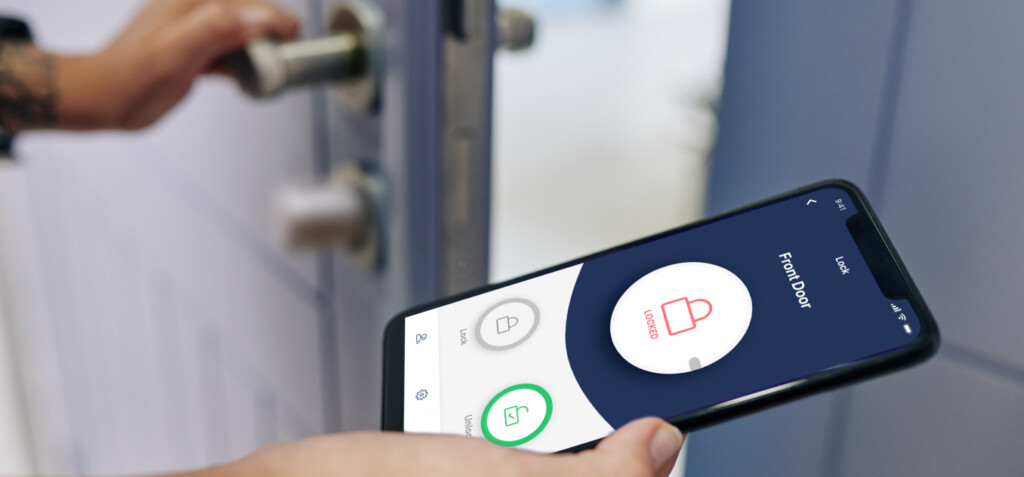 From the inside
All reviewed smart locks enable manual unlocking from the inside by rotating a smart lock or its moving knob.
However, tedee and Nuki enable unlocking by pressing a button, triggering electronic unlocking.
Linus and Danalock require manual rotating of their knobs, but Danalock may also use a Twist Assist feature, making it enough to start manually rotating the lock and the lock finishes the turn automatically by engaging the motor.

Access control
One feature of the best smart locks is the "virtual key". That makes it easy to let other people use your door without making extra keys and may work only for a restricted period. This feature is access management, where you can share, control or revoke anyone's permission to unlock your door.
All revied best smart locks offer the access logs – history of every smart lock use, available in the smartphone app, however, Danalock shows only events triggered by the app.
Smart lock access management consists of two aspects.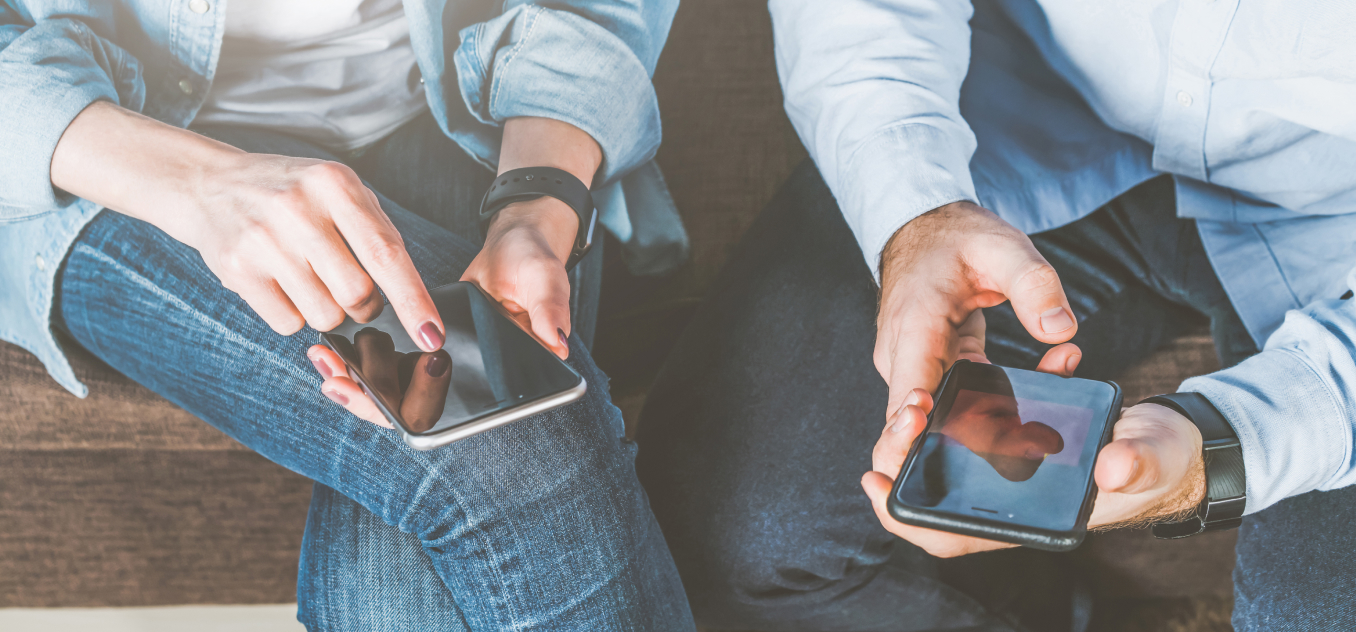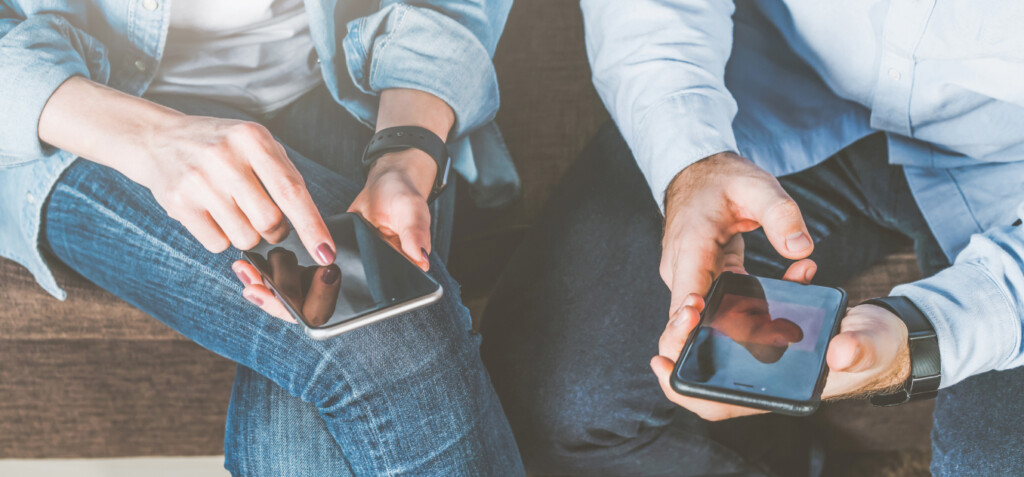 Access levels
All smart lock users do not have to be alike. You, as the owner, need all the control, but your babysitter does not. On the other hand, a business owner may grant access management to the administration or the security but still keep the full power.
All smart locks analyzed divide smart lock users into owners and guests. Owners have full control and can grant access to guests, authorized according to set permissions.
tedee is the only smart lock allowing an in-between access level – administrator, who has full control, that may be revoked by the owner. This may work to share the access management with multiple persons. For example, both parents can have the same control over family home access and every shift manager can share access with their staff on a given day.
Available access levels are presented in the table below.
| | | | | |
| --- | --- | --- | --- | --- |
| Access level | Danalock | Nuki | tedee | Yale Linus |
| Owner | | | | |
| Administrator | | | | |
| Guest | | | | |
Access schedules
The next aspect of access sharing is based on permission: when can this person unlock the door?
Practical application of access schedules should allow your cleaning service to access the lock only one day a week. Friend watering the plants can enter when you go for holiday. A family member can have permanent access for emergencies.
All of the reviewed smart locks offer permanent and temporary access sharing. Danalock is the one that is unable for recurring access, e.g., every Tuesday only.
| | | | | |
| --- | --- | --- | --- | --- |
| Access type | Danalock | Nuki | tedee | Yale Linus |
| Permanent | | | | |
| Recurring | | | | |
| Temporary | | | | |

Smart integrations
Connecting a smart lock to a smart home system enables new ways to access and control your home, triggering automation when you leave or come back. This allows for smooth synchronization with other smart home devices.
Smart locks reviewed offer various, though the most popular smart home integrations.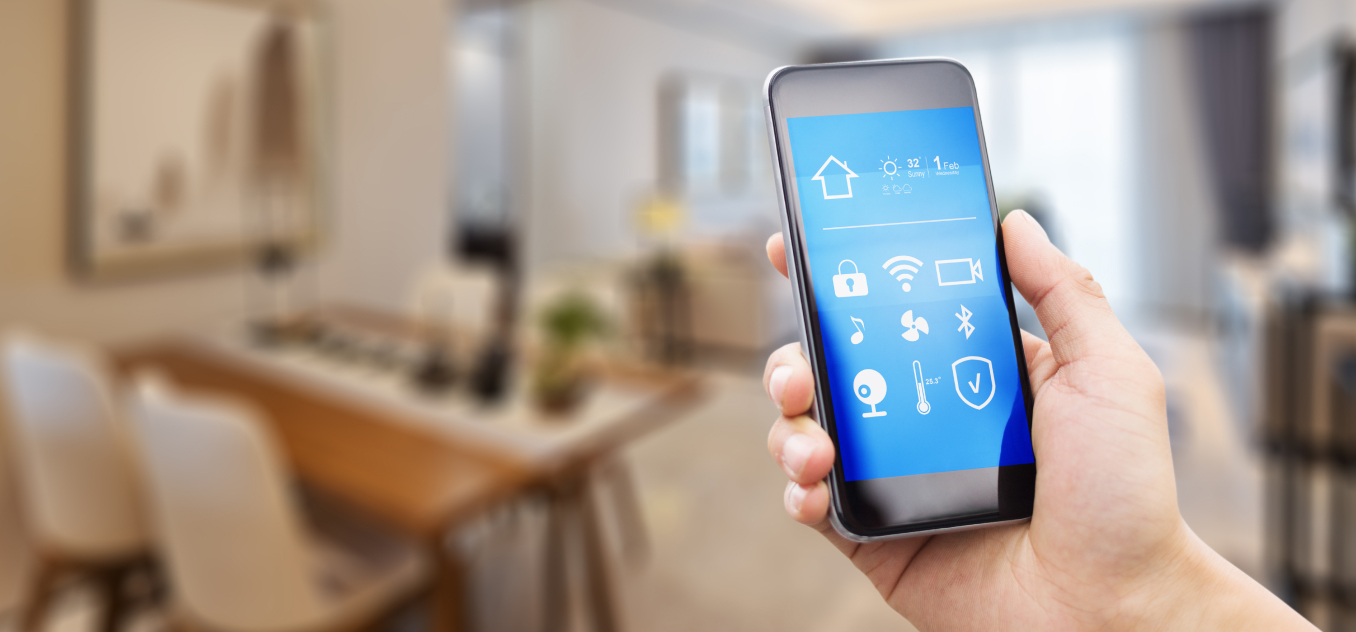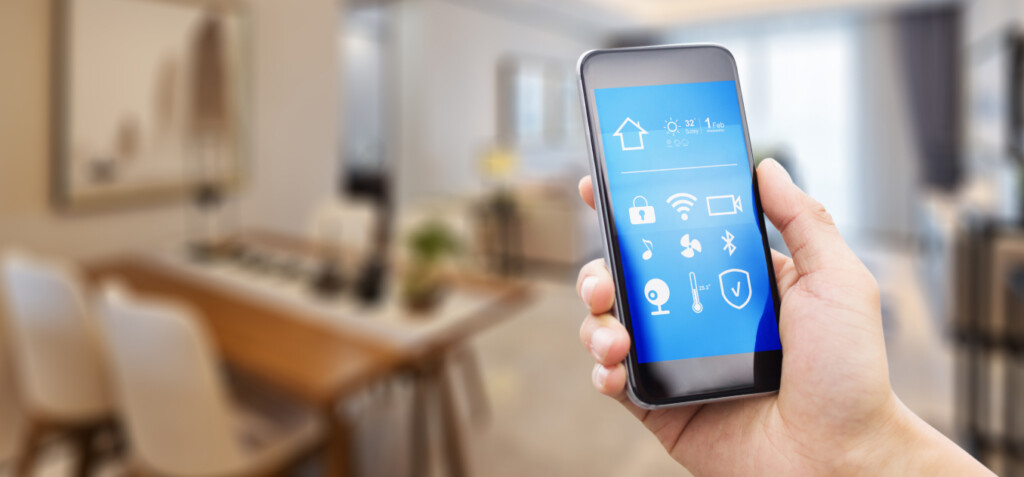 Smart home hubs
The systems in the table below are easy-to-setup platforms, available for user-friendly configuration and use. Voice control makes it easy to manage the lock with voice commands spoken to smart speakers.
Any best smart lock analyzed here works with Amazon Alexa and Apple HomeKit standards.
Apart from Danalock, three of them are compatible with Hey Google. Yale Linus does not connect to Homey.
| | | | | |
| --- | --- | --- | --- | --- |
| Standard | Danalock | Nuki | tedee | Yale Linus |
| Amazon Alexa | | | | |
| Apple HomeKit | | | | |
| Hey Google | | | | |
| Homey | | | | |
Danalock is compatible with HomeKit or Amazon Alexa only as separate product versions. When purchasing and choosing a suitable product, keep that in mind if you want to use it in these ecosystems.
Smart home installations
Apart from popular smart home hubs, smart locks may become a part of more complex installations, connecting wireless, wired, or offline solutions.
If your place uses such systems, it would be best to look for a smart lock in your standard's online store or catalogue. Every smart lock covers many standards, but their ranges are hard to compare.
It may be good to ask your smart home installer for suggestions on the best smart lock to integrate with a particular platform.

Response time
All the reviewed locks behave quite similarly while being operated locally over Bluetooth. You need to wait a very short while to connect, and then a short while to engage the motor after you click the app button.
However, the difference is noticeable (in tedee favour) when you operate the lock remotely using the dedicated Wi-Fi bridge. Then tedee response is instant because the secured connection is kept between the devices, and you do not need to set it up every time.
What's more, the tedee bridge is the only one that can be paired with multiple locks which may reduce the costs while installing the locks in multiple doors in the company or rental apartments on the same floor.

Torque and noise
All four locks meet the target of 1.2[Nm], which is considered "safe" while operating the multipoint locking systems. But the small differences matter, for they may give you extra safety while accessing the premises.
We have tested only the samples of other brands and we do not have enough data to jump to conclusions. The only thing we know for sure and can promise is that tedee easily achieves 1.5[Nm] torque which gives you that "extra safety" where others may fail.
As for the noise, we can tell for sure that Yale Linus and tedee are noticeably the quietest of them all. Taking into consideration that tedee moves the fastest, the overall conclusion is that tedee leads the stakes.

Security
This is the hardest area to compare and the most technically challenging. Smart locks may use different, though similar technologies that are hard to rank in terms of security. However, as smart lock makers, we consider all of them trustworthy. These are popular brands already used on hundreds of thousands of door locks worldwide, with tried and trusted security features.
Suppose you prefer to get more information about smart lock security. In that case, it is important to look for more information directly on manufacturers' websites. The best solution can also be to look for reviews in independent media.
You must get all the understanding you need to decide whether you trust a product or not. It's not only about security but feeling safe.
Suppose you'd like to know more about how does smart lock security works. May we suggest an informative article on the tedee smart lock blog: Is smart lock secure?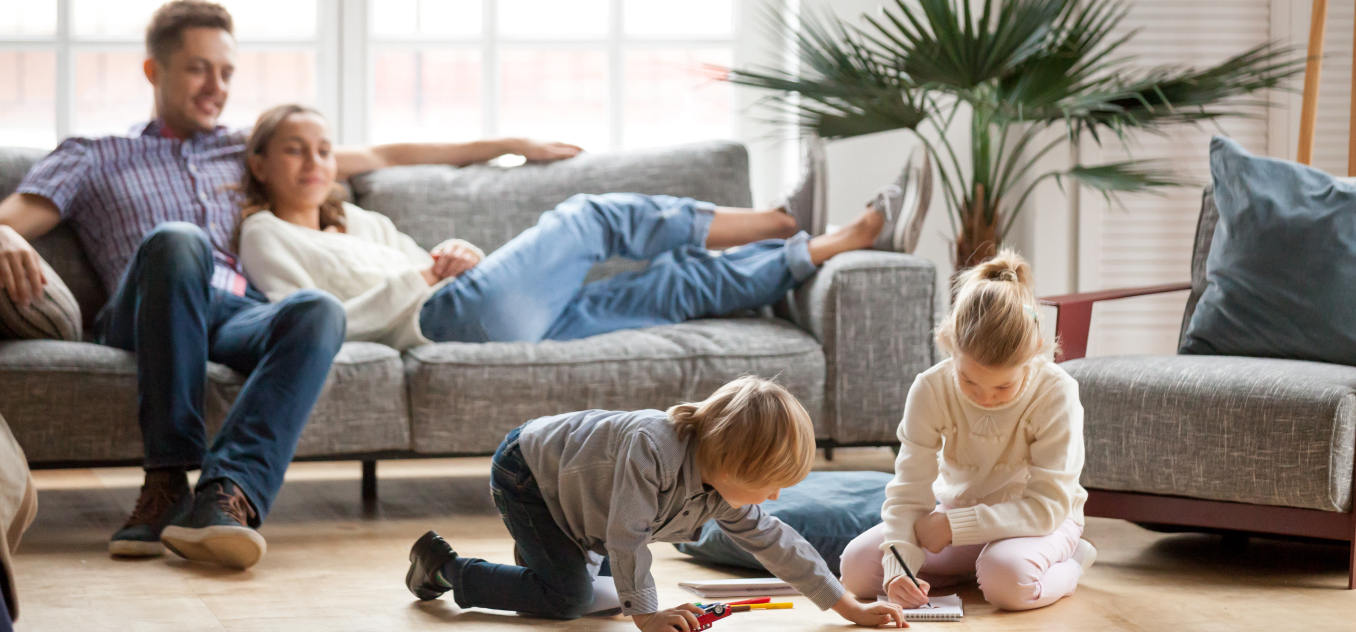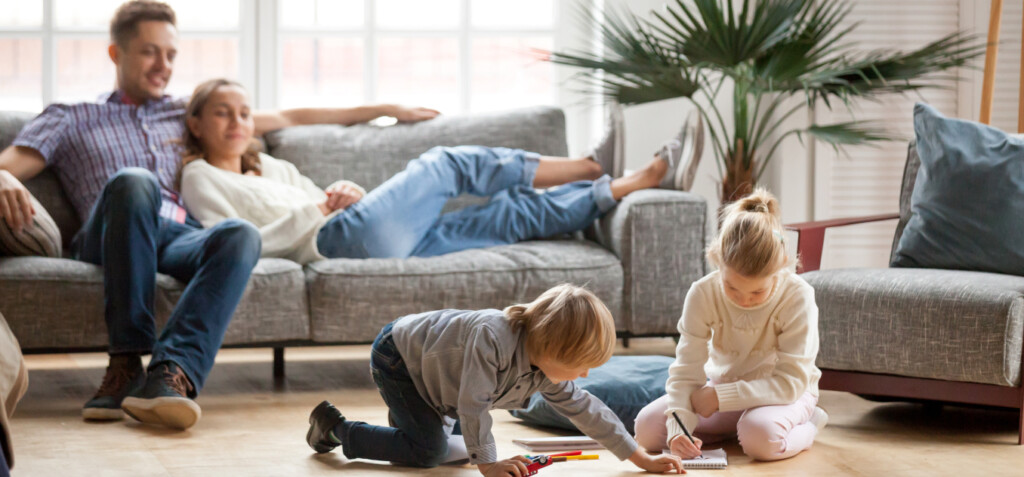 AV-Test
Suppose you're looking for an external source of approval. In that case, one of the leading cybersecurity certifications in the smart home arena is granted by The Independent IT-Security Institute AV-Test.
Danalock, tedee, and Nuki have been tested and certified by AV-Test, however, only tedee and Nuki were recertified and the certificates were prolonged till 2023.
One can understand Yale Linus has been not. However, AV-Test has certified August, a very popular American smart lock. Both these companies are part of the ASSA ABLOY group.
You can see all smart home devices ranked by AV-Test here.

Power supply
The smart lock's power supply influences how often you need to think about it.
Reviewed locks use either rechargeable batteries, working up to 12 months, or replaceable batteries. Nuki and Yale powered with standard AA batteries work for around 6 months. Danalock powered with less popular but more powerful CR123A batteries may work for a year.
Nuki, by default, comes with four AA batteries that fit into a battery compartment but is compatible with a separately sold, dedicated accumulator.
Not any method is better than the other. You need to decide how often you're happy to think about your smart lock's power supply. And if your device needs a new charge, is it better for you to plug it into a charger or just replace the set of batteries.
All the best smart locks send you notifications before their energy when you need to charge them, so it is never a thing to do ASAP (in theory), however, you need to keep in mind, that checking the replaceable batteries level is much less precise than for rechargeable ones.
The table below collects default timeframes declared by the manufacturers. These should be treated as a suggestion only, as the way they're measured – and how often would you use a smart lock – are different.
Energy property
Danalock
Nuki
tedee
Yale Linus
Source
4 x CR123A batteries
4 AA batteries
removable accumulator
Built-in accumulator
4 AA batteries
Life
12+ months
around 6 months
around 12 months
Up to 6-10 months
6 to 9 months


Price
When estimating the price, you need to pay for a smart lock, you also need to consider accessories, hardware, or a smart bridge. Also, with Danalock, you need to choose from four product versions with various technologies and prices.
With Nuki and Yale Linus, buying only the smart lock is enough, and no adapters are required… but only if your cylinder has the emergency function (it turns when you insert the keys from both sides). With tedee and Danalock, you need to purchase a cylinder or an adapter.
All smart lock producers offer compatible European lock cylinders that are more expensive than adapters.
All smart locks may be connected to their dedicated smart bridges, enabling extra remote features. These are not necessary, but keep in mind their additional cost.
These smart locks are compatible with their dedicated keypads, allowing one to unlock the door with a PIN code. Nuki is also compatible with a dedicated key fob or a fingerprint reader.
Prices in the table below cover total price ranges, with the cheapest and most expensive product combinations. Take your own configuration into account to estimate the price for your door.
Prices below have been rounded up to every €5 and may vary according to access date, region, or vendor. On March 17, 2022, these amounts were collected on producers' official websites.
| | | | | |
| --- | --- | --- | --- | --- |
| | Danalock | Nuki | tedee | Yale Linus |
| Smart lock | €165-205 | €150 | €290 | €250 |
| Cylinder | €90 | €80 | €50 | €40 |
| Adapter | €20 | Built-in | €40 | Built-in |
| Total | €185 – 295 | €150 – 230 | €330 – 340 | €250 – 290 |
If you decide to purchase an additional smart wi-fi bridge, take its price into the total.
| | | | | |
| --- | --- | --- | --- | --- |
| Bridge | €90 | €100 | €100 | €80 |
| Total | €275 – 385 | €250 – 330 | €430 – 440 | €330 – 370 |
Your best smart lock
Not any of these smart locks are the best. But some of them may be better for you.
To discover your best smart lock, we suggest starting by checking their compatibility – this may reduce the selection. Next, think about if you can and want to replace your lock cylinder. Not, in any case, you're required to, but this impacts the total price. Maybe some of them are out of your budget, or they will make you interested in investing more.
When you know your selection and their price landscape, now is the time to learn their smart features. In the points above, you can see how different or similar they are.
We believe that every smart lock will make your front door work better and can make them look better than one with a traditional lock. Best smart locks give you completely new ways to enter your place, share access, and welcome guests. Integration with smart lights and other smart devices lets you create a fully automated smart home. Remote access, voice control, or auto-lock feature will transform your every day.
Our mission is to put a smart lock on every front door. Hopefully, this guide will make it easier to decide which smart lock lands on yours.
---
If you have any more doubts about matters not discussed here, we would be grateful to let us know at [email protected]. We will do our best to address your questions and update this article with more information to help other customers think about making their doors smart.
We believe and trust our products and are determined to give you full and transparent information, so you can decide and enjoy it, too.