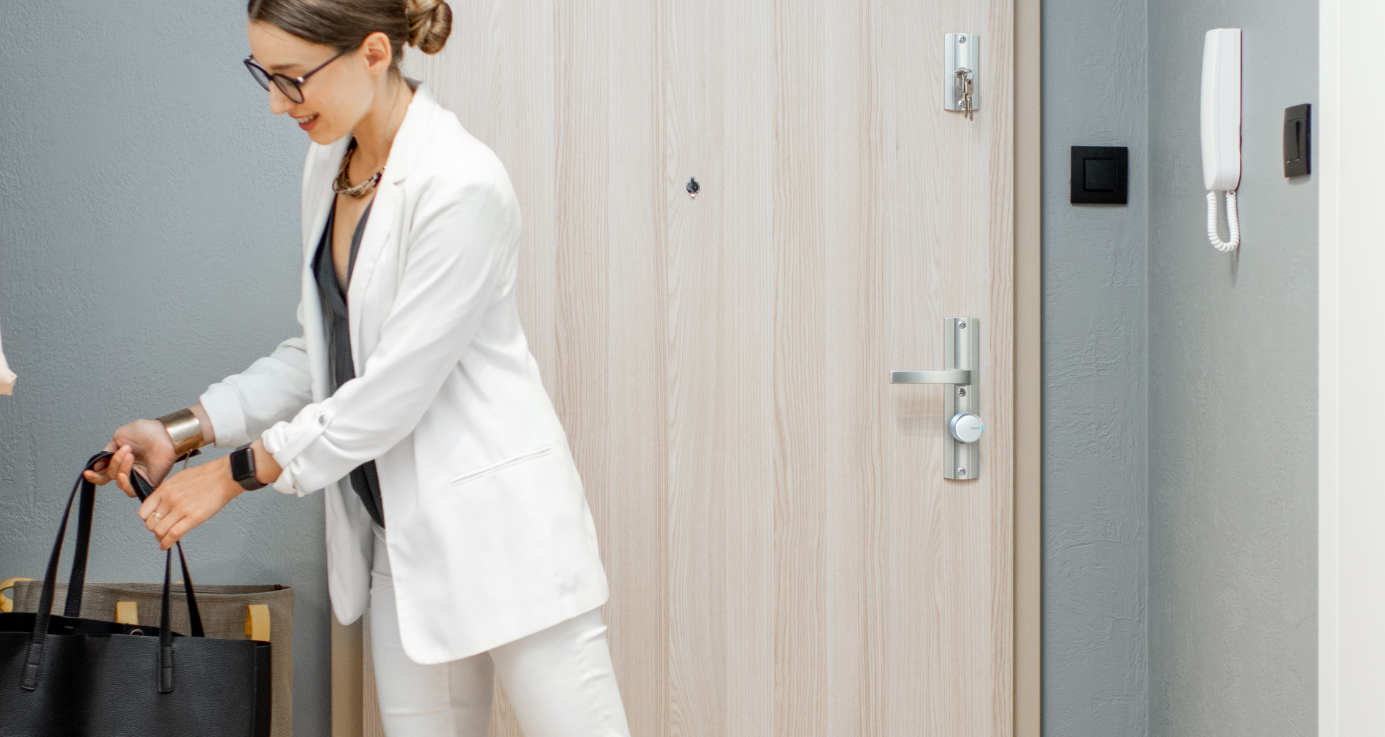 < Go back
Eight things to know about your new smart lock
So you decided to buy a smart lock – but which one? Various models on the market differ in their construction, power sources, or features. See eight things you need to learn about the smart lock you're buying. These are what you need to focus on to make an informed – and great! – decision.  
Smart lock brands talk a lot about features of their products – or how they will transform your everyday life. But it can't be that easy: various models use different technologies and solutions to their problems. You should know how they differ from each other and make sure what you're buying is what you need.
Yes, we are the creators of one of the smart locks on the market. We have worked on tedee smart lock for over three years, carefully considering all elements from the tiniest screw through every button on the app to software. Online forums and a community of tedee users are the greatest sources of continuous feedback – these allow us to advise you on what you should know about smart locks, too.
We have chosen a couple of decisions every smart lock producer has to make while creating their product. Configurations of these elements make differences between the brands. That's how you can recognize these features yourself to choose the best smart lock for the way you'll use it.
Installation
Not every smart lock fits your door. Every brand tries to be as versatile as possible, but covering all lock types at once is impossible. There are three main ways of installing a smart lock.
Complete lock
The most invasive installation requires a replacement of your whole lock mechanism. It can be hard to do by yourself, and it's challenging to select a suitable lock for your door. Usually, it's also visible from the outside so that it might attract attention from strangers.
Dedicated cylinder
The smallest and sleekest smart locks use this more discreet solution. What is required is the replacement of the cylinder and changing your keys. On the bright side, this solution applies to most lock types and is invisible from the outside. Ensure the cylinder you're using is certified with safety attests.
Key mount
It can be the most versatile and easiest to install. It gets installed from the inside, on top of a key inserted into the lock. Issues begin if your key doesn't fit the mechanism or your inside door uses a thumb turn – popular amongst Nordic-type locks.
Before you purchase, make sure your cylinder has an emergency function: check if you can open with a key from the outside when another key is inserted from the inside. Most cylinders might not work this way and you may have to replace it.
Choosing suitable hardware and its installation is generally the hardest part of smart lock use. Make sure the producer of your choice provides manuals or video guides – or even installation service. After that, smart lock use is smooth sailing.
Power supply
Consumer type smart locks don't connect to electricity all the time. It leaves two options of their power source: replaceable batteries – like standard AA type – or a rechargeable accumulator. You need to make sure how long it lasts and adjust it to how often you use the door. Check if the producer gives approximate time and unlocks per day number used to make this calculation.
Replaceable batteries
Quick and easy to replace but take up much volume and add bulk to the smart lock. Usually last for less than an accumulator on a single charge.
The biggest risk comes from the technical hardships of assessing how much energy is in the batteries. It would be best to stock up on extras, to replace them whenever the need comes. It is also possible that they discharge, and one day your lock will not open.
It may not the best solution when your smart lock is about to be used in a short-term rental or an office.
Rechargeable accumulator
All cells differ in their capacity and use of chemicals. Make sure the one in your smart lock meets your needs.
Check if you can use your lock when it's recharging, or do you have to take it off the door to do so. It's good to know how long it takes.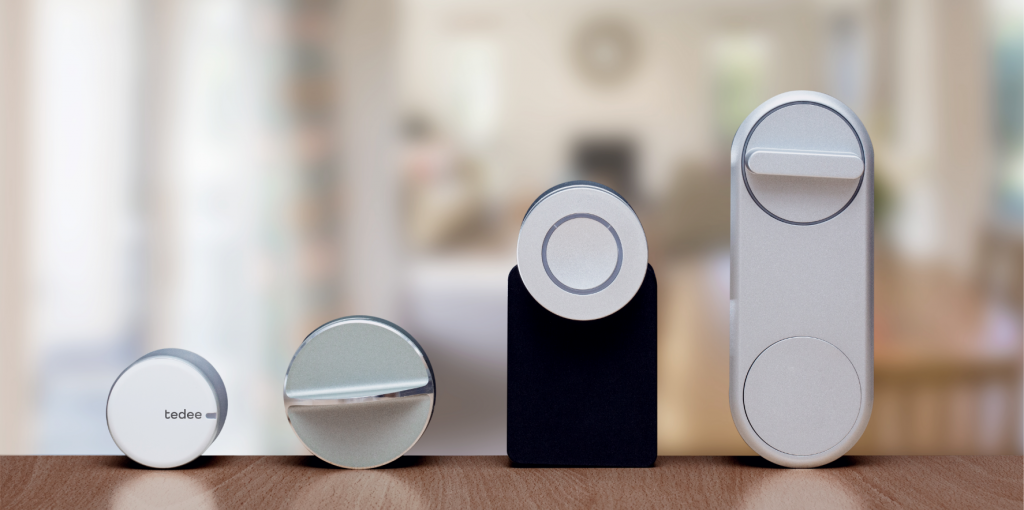 Mechanics
It's where smart technology controls and rotates the mechanism in your door lock. It's not just an electronic device but drives and gears that come with their risks. Look out for these ways brands differ from each other.
Wear
A smart lock can be made of metal or plastic – and that applies not just to the outer cover but its mechanism, too. Gears use much strength to move the lock, and you can expect how different materials impact the wear and tear or risk of damage.
Noise
Smart lock motor can work loudly and make these sounds at every use, many times per day. Consider if your entering / leaving should be heard by yourself and others. Remember that one lock might sound differently on various doors, depending on their construction and stability.
Power
Locks don't work the same and may require different amounts of strength needed to move. The weaker drive might not manage with a heavy, anti-breakage door. We suggest adjusting your lock, making it easier for the smart lock to rotate and prolong battery life.
Speed
One second might seem like nothing. But every extra one it takes your smart lock to work does matter. How long do you need to unlock the door manually and leave? You can measure that and compare it with the smart lock's parameters. These may have an awkward impact on your everyday routine.
Auto-unlock
It's one of a smart lock's best features: automatic unlocking when you get back home. However, it's a challenge to provide, and each smart lock brand tackles that differently. Usually, it works when you approach the door with a smartphone in your pocket. You also need to know that it probably doesn't work every single time, and it's an issue with many brands on the market.
Some smart lock brands include this feature, but not as their built-in solution, but depend on other systems, like Apple HomeKit. However, these leave much to wish for, like this one that works slowly and requires confirmation in the app.
What its work should work like is automatic, hands-free, and before you reach the door. You don't want it to unlock too early – when you're floor below – or wait a minute for it to open. Why don't you look for reviews and tests?
Unlocking
It may seem obvious – but there are a couple of things that may cause troubles.
From the outside
You would usually enter your door through automatic unlocking or your smartphone. Make sure the mobile app is fast and easy to use. Some brands also work with smartwatches and provide mobile widgets: a button you can put on your phone's home screen.
If more people will use your lock, see if it's easy for your kids or employees. If you'd like to control the door remotely, you might also decide to get a smart bridge, which connects the lock to the internet.
If you need to use a standard key sometimes, make sure your smart lock allows that.
From the inside
We are used to leaving our home by rotating a key or thumb turn on our door. That may change with a smart lock! Some might work as a regular knob, but others can only unlock it after pressing a button. It might not be intuitive for shared spaces, rental apartments, or all your family.
Pull spring
It's the extra step of unlocking the door – when the lock rotates a little bit more and opens the door as if you pushed a handle. That feature is especially useful when your door opens to the inside: with the automatic unlock, you can enter hands-free, just by pushing the door. If you'd like to use that, make sure your smart lock supports this and offers numerous adjustments.
It's a necessary feature if your door doesn't have a handle on the outside or it only has a non-rotating door knob.
Safety
A door is the border of home, after all. You need to feel safe and trust the protection your smart lock offers. It is hard to base our opinions on the producers' claims, so look for certifications and attests granted by external institutes.
Look for precisely provided information on digital encryption, authentication and safety protocols, too.
Smart home integration
Maybe not for everyone, but some customers find it a key feature. If you'd like to sync your smart lock with an integrated smart home system, you need to verify if it's compatible.
It would be best to browse user reviews of this smart home compatibility – not all features work the same at various brands. Suppose your smart home integration is not built-in. In that case, you should check if the producer publishes public API and precise documentation. These resources make it possible to expand your lock's features by developer community or smart home professionals.
Support
Internet of Things and smart technologies are constantly subject to fast development – it is key that your smart lock stays up to date, too. Many products on the market don't come with a support period when their software is updated and expanded. It's also worth seeing if the smart lock updates automatically, so it works as good as possible – without thinking about it.
If you're interested, see if your lock's manufacturer runs a community forum and support desk, as well as firmware updates history.
We think these are crucial things you need to know to pick a smart lock consciously – informed decision makes the great satisfaction of use. It's quite a lot, isn't it? We believe all of these matters impact the use of your door: something you use every day.
If you have any more questions, browse our blog posts, FAQ or contact us at [email protected].