There's safety in numbers.
The tedee keypad door lock is an ideal add-on to your tedee smart lock.
Unlock the door without an app or smartphone: simply by entering a PIN.
Choose your code from five to eight digits – set, change, and assign via mobile app.
Manage up to 100 PINs and share them in your favourite way.
Setup in minutes, power by three AAA batteries.
Install with adhesive or screws – even outdoors.
`
Your memory is enough
No app. No account. No smartphone.
tedee keypad lets you safely unlock the door with a code.
You can share the access with others to let them access with no devices at all.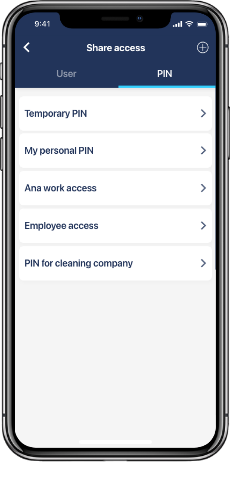 Up to 100 unique PINs
Every user has a unique code, so you can always identify who unlocked the door – even without their smartphone.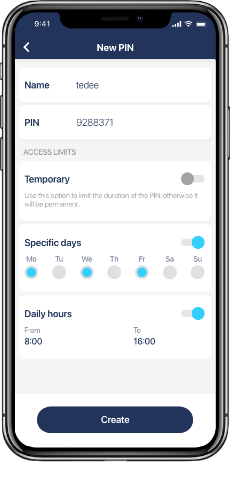 Enter the details
Set a precise timeframe when a user's PIN unlocks your smart lock. Full access control without any app.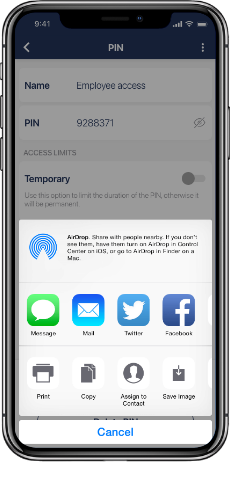 Share access your way
Granting access can now be as simple as sending PINs via text, e-mail or messaging app. Choose a trusted method.
Frequently Asked Questions
Do I need a smart bridge to use a keypad?

By design, a tedee smart bridge is not required for using a smart lock with a keypad. However, the smart bridge enables push notifications whenever someone presses the bell button. There are more additional features, like automatic updates and low battery alert.

Does it work for short-term rental?

It's perfect for that. Granting access with a PIN lets you control the timeframe when the code unlocks the door, and your guest does not need to install any app or create accounts. In the coming weeks, the tedee keypad will gain integration with channel management platforms, allowing for automation of granting and sharing PINs with your visitors. The new feature will be enabled simply with a firmware update, free of charge.

Does it have an NFC reader?

Yes, it does, but at the moment, it is inactive. We have added it to enable this feature with a firmware update in the future. You won't have to replace the device to benefit from NFC.

Is PIN safe enough to protect my lock?

The keypad requires a PIN that is composed of 5-8 digits. This would make from 100000 to 100000000 combinations. The app doesn't allow simple PINs with repeated digits, etc. These make guessing a code much harder than physically breaking into a property. Of course, your PIN should be protected and not disclosed to others – just like a traditional key. If you need to share access with someone, you can grant them a new PIN that expires after the set timeframe. When sharing a code with others, remember to use a safe communication method.

Can anyone hack it?

Hacking a keypad would be ineffective. What a keypad only does, is transmit the inputted code to a smart lock. The keypad does not store users' PINs nor directs the lock to unlock. All authorization is executed by a smart lock, using a series of high-security technologies.

What if someone steals it?

They would not be able to use it at all nor steal any of your information. If your keypad is paired with your account, no one can add it to theirs, as long as you don't unpair it. tedee keypad does not store any of your information or PINs.

Can I use it to lock the door?

We're working on it and enabling that in the coming weeks. After leaving your place, you will be able to lock tedee by pressing a padlock button.
`