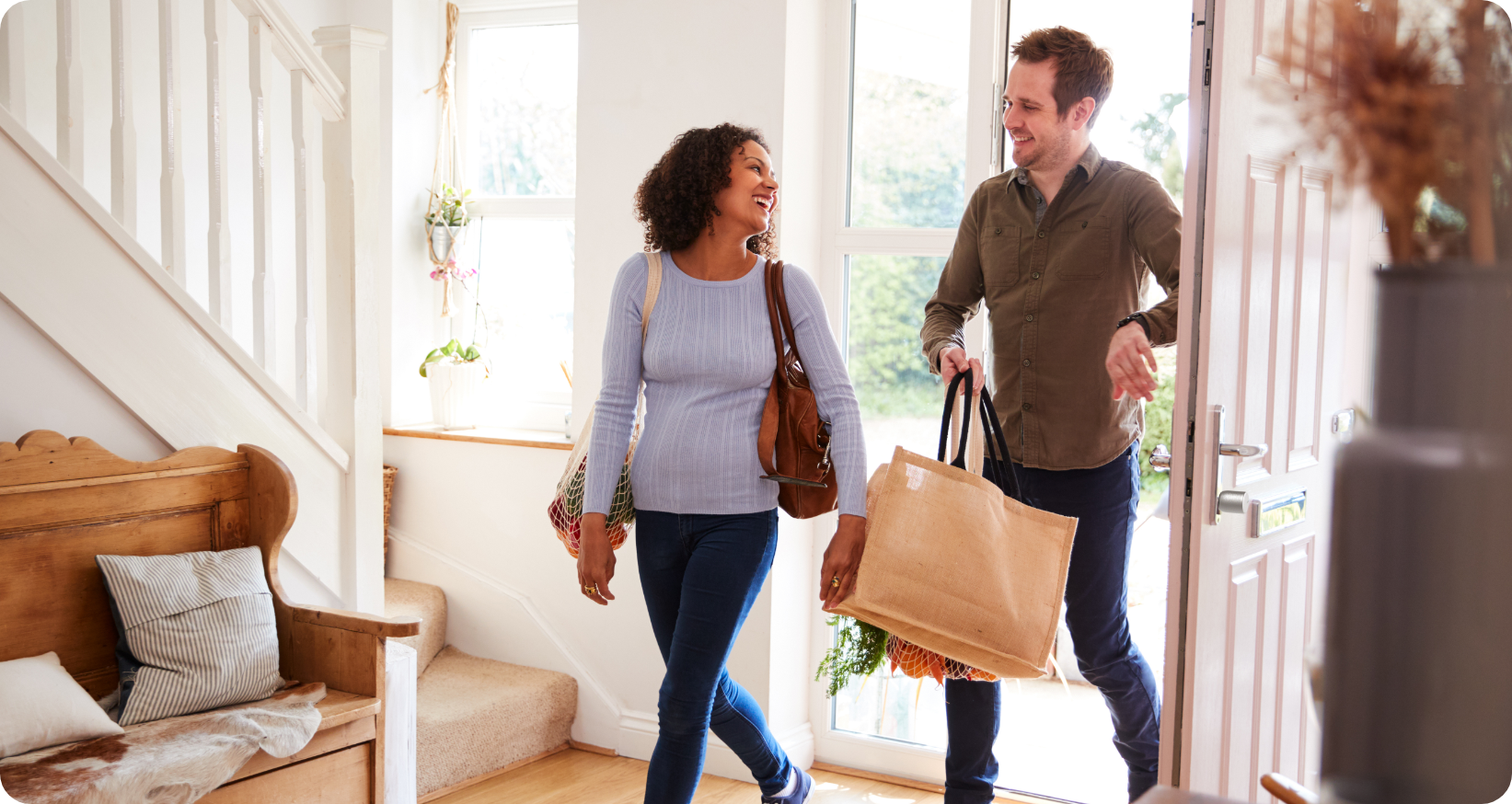 < Go back
How does a smart lock work at home?
All the ways technologies and features combine to bring you everyday smart lock benefits. 
The technical specification of a smart lock may seem not to apply to real life. But actually, this smart device changes everything in the way you use your door every day. A step-by-step explanation of the smart lock's main features will help you understand how all technologies work together for your convenience. It will help you use a smart lock in a way that's completely yours.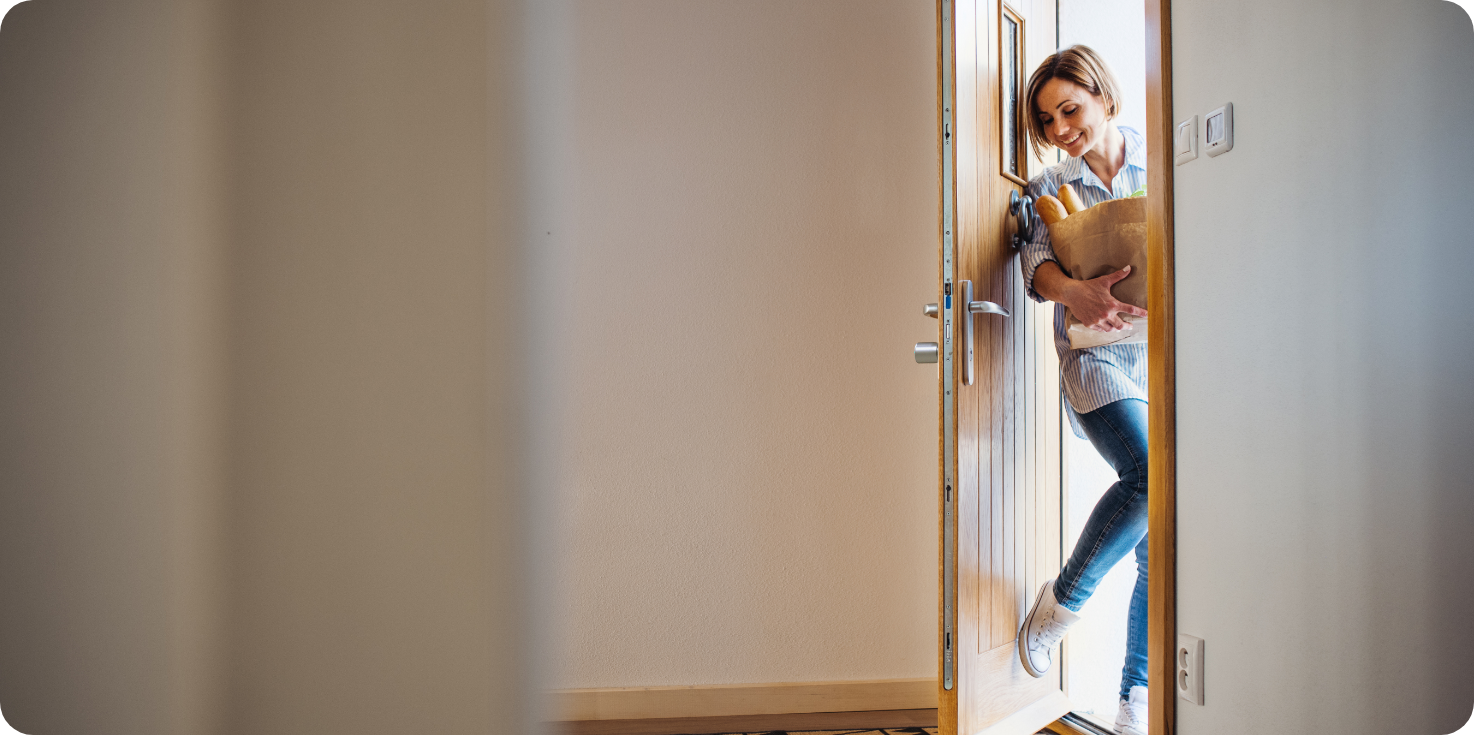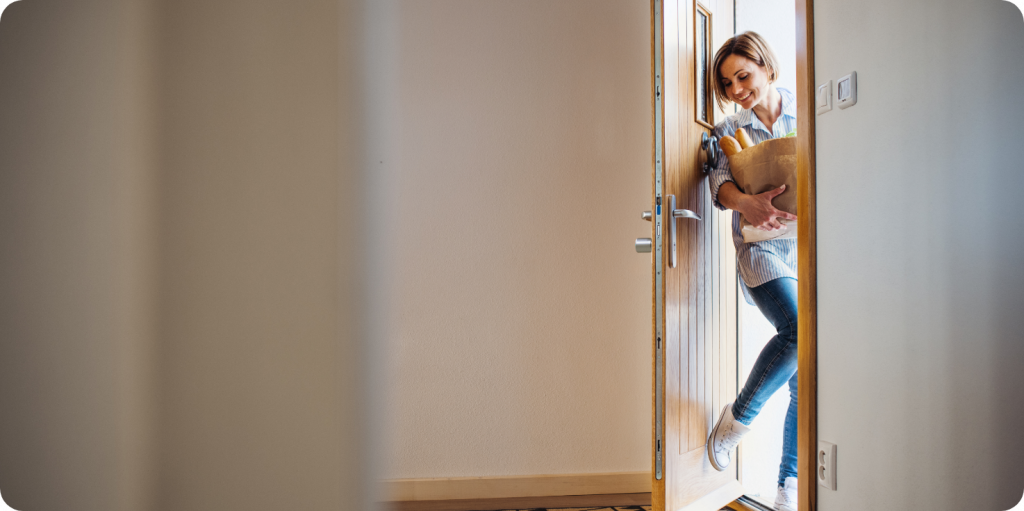 Return hands-free
A smart lock on your door lets you not just unlock by tapping a button – it lets you unlock just by approaching the door.
Automatic unlocking is a major influence on the way you use your door. It works based on monitoring the distance between you and the entrance. The lock blocks after you leave home, and the app tracks your distance until you leave your "home zone". After you get back near, it tracks you again until you reach the lock's Bluetooth range. Then it simply unlocks when you're right about to enter.
In addition to automatic unlocking, you can enjoy a pull-spring feature. What is it? Pulling a spring is the extra step of unlocking the door. If you rotate the key in the cylinder a little more, the lock works as if you pressed the handle. 
This can benefit you in different ways, depending on your hardware setup.
1) If your door opens inwards – you can enter just by pushing the door. Super comfortable when getting back with groceries, a baby in your arms or a dog leash in your hand.
2) If your door uses a doorknob – this is a crucial feature in doors without a standard handle. Pull-spring moves the door away from the frame, so you can open it without rotating the key.
3) If your door opens outwards – maybe you won't enjoy this feature to the maximum. However, imagine how easier it is to move the door with your foot rather than hands full of pizza boxes.
What you need to know: some testing and configuration might be needed for maximum efficiency of automatic unlocking. Also, using a smart bridge can make it work up to 80% more effectively. In both cases, the feature may not work 100% of the time.
You can read more about auto-unlock use and configuration in our Knowledge Base.

Unlock from anywhere
Yes, you can unlock the door just like turning the TV on – but from anywhere in the world. When somebody comes to water your plants, borrow a book or deliver a package, they can let you know on the phone to unlock in an instant. Yes, the door will lock by itself after they leave.
Remote unlocking is possible by connecting the lock to a smart bridge that tethers it to the internet. Using a smart lock in an online mode lets you access all of its features no matter where you are.
What you need to know: if a pull-spring feature is a default setting, the door will bounce away from the frame when unlocked remotely. It's not a problem if the door will be accessed instantly – just remember about that when opening in advance. The door wing will be pulled from its frame. 
Keep an eye
tedee keeps a full history of every event: locking and unlocking, whether with an app, automatically or with a standard key. If connected to a smart bridge and the internet, you can view the logs in real-time in a mobile app.
However, instant access enables one more feature: push notifications with alerts about the lock use. You can set it to your liking: to receive alerts when someone else enters your place or when a child gets back from school. You can monitor the full flow of people in your home.
What you need to know: a smart bridge with a Wi-Fi connection is required for push notifications and remote access to real-time logs. Without them, you can access the history after connecting the lock through Bluetooth.
Launch the machine
Turn lights on when your enter. Stop the music when you leave. As a part of your smart home, the lock becomes an element of all kinds of automated scenes.
There are thousands of smart devices on the market, including smart fridges and bathroom scales. But keep in mind, it's a smart lock that's the last or first thing you use when passing the door.
This placement on a threshold of your home makes a smart lock the perfect smart home device. Unlocking the door may turn lights on when you enter or turn off heating when you leave. It can automatically open the garage when going out or putting a kettle on when you come home. It all depends on your imagination and integrated devices.
These opportunities are supplied by smart home systems, universal standards compatible with multiple devices and allowing for their compatibility. tedee works with major smart home platforms on the market: from Apple HomeKit, Google Home, and Homey to Fibaro, Grenton, and eeDomus. 
If you don't use a smart home system at your place, you don't lose any of the smart lock features. It can also be a great start to creating your integration from scratch.
What you need to know: different smart home systems automate devices in different ways. For example, in Google Home, you can create routines triggered with a command. In Apple HomeKit, it's enough to use one device to activate a sequence of others. Learn more about using a smart lock in a smart home integration in our blog post.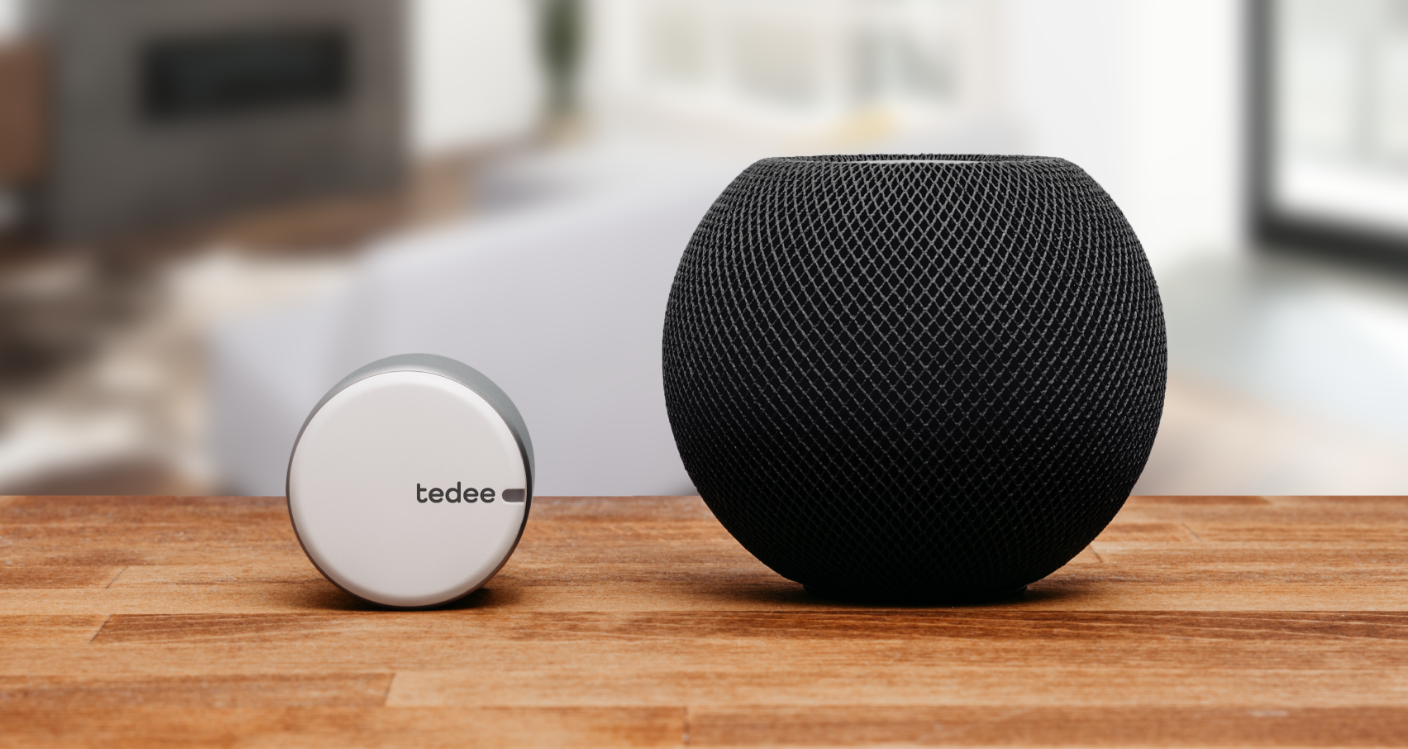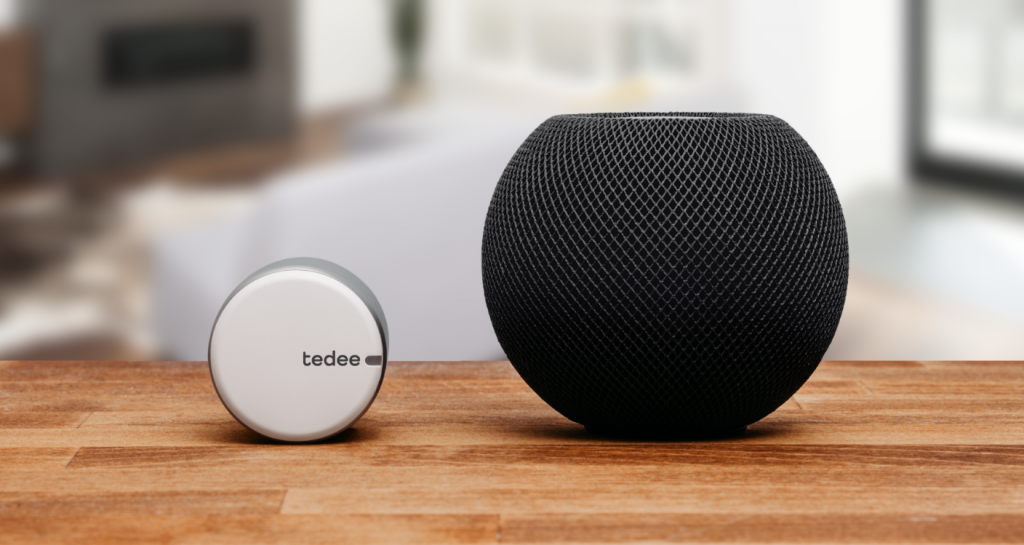 Simply ask
You don't need to rush to the door or wash your hands in the middle of cooking. Tell Siri, Alexa or Google Assistant to open the door to visitors while you get ready. You can tap the widget on your Apple Watch, too.
Compatibility with major smart standards on the market lets tedee connect to the most popular smartphones, smart speakers, hubs etc. You can even voice the command to a smart TV. These enabled devices allow the use of voice assistants through the centrally operated cloud.
What you need to know: unlocking through voice assistants requires saying a PIN. tedee is not yet compatible with other smartwatches.
Pass "digital keys"
Just once or every Tuesday morning, make your home available for cleaning services or maintenance. You can share access to your home on a one-time, periodical and permanent basis.
Access level control is a feature when smart lock users are divided into three control tiers.
1) Owner is the main controller of all devices and users. Can grant access to administrators and users and has a full overview of history logs.
2) Administrator may manage users' accesses without full configuration power.
3) Users can access the lock according to their access granted.
Owners and administrators can grant three types of access:
1) Permanent – full, around-the-clock access
2) Periodic – every Tuesday, nine-to-five or according to any other scheduled conditions.
3) One-time – single unlock of the door, whatever time they arrive. 
Three tiers of users and three types of access give you full control over your place, but also – great freedom from keeping everything in mind. 
What you need to know:  access control may be managed in a mobile app and in an online desktop interface – tedee business portal. In setups not using a smart bridge, granting and revoking access may not work instantly.