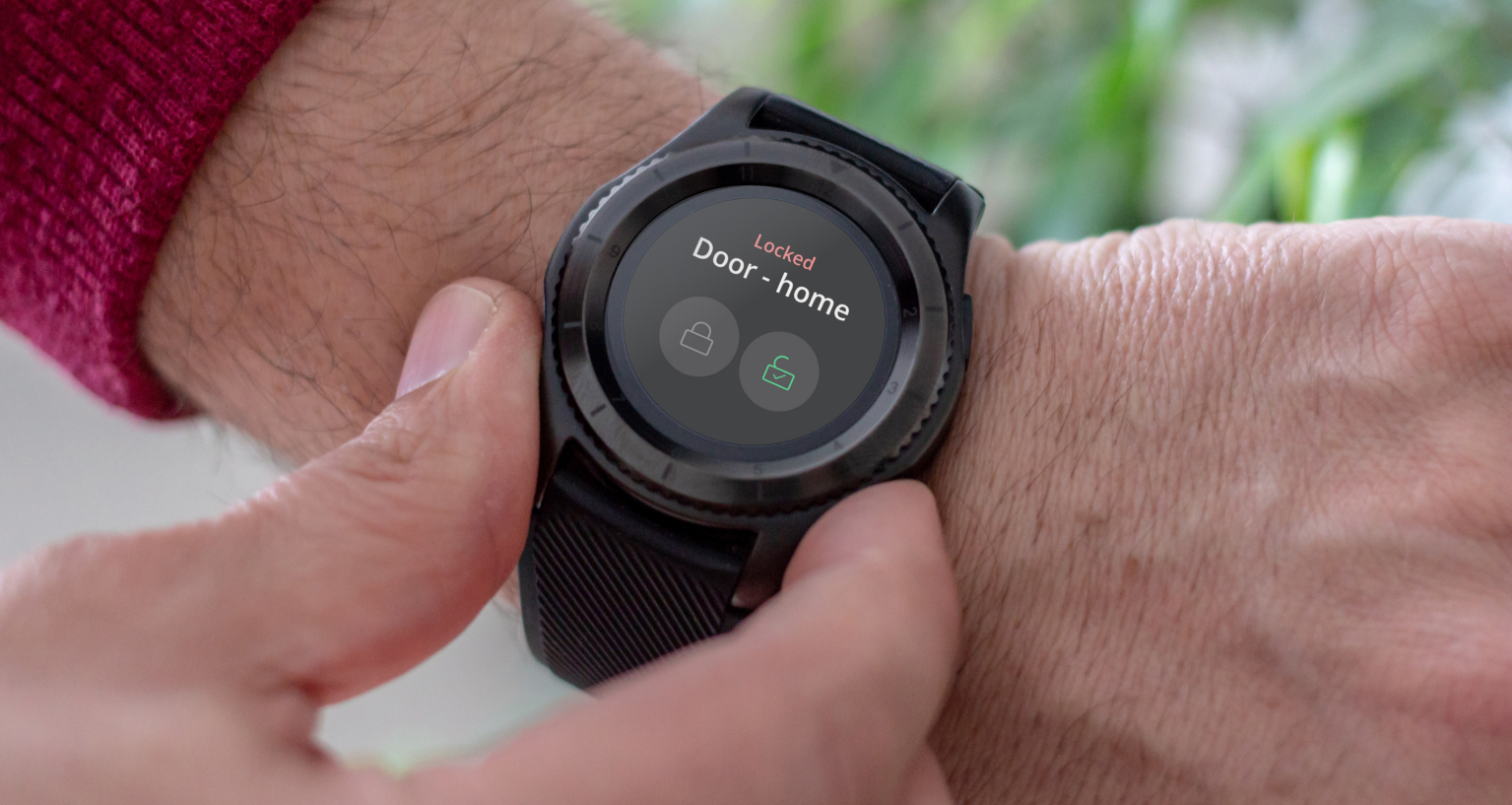 < Go back
Tedee app for Wear OS smartwatches available now
Get a "digital key" for your smartwatch and unlock it with a tap on your wrist – even remotely and for all Tedee smart locks connected to your account.
Using the Tedee app on the Wear OS smartwatch, you can check the status of all Tedee smart locks connected to your account. You may easily control them all with a single tap,  even remotely.
Click here to learn ways to enjoy using Tedee with a smartwatch >>
What you need to know
Tedee Wear OS app connects to Tedee smart lock via your smartphone and the cloud.
To obtain these connections, you need to:
pair your Tedee smart lock with an internet-connected Tedee smart bridge.
Log in to your Tedee account in an app on a smartphone paired with your smartwatch.
A local Bluetooth-only connection without a smart bridge is not available.
How it works
After launching the Wear OS app, you see the main status screen, showing the state of your smart lock. With control buttons, you are available to lock, unlock, and pull the spring of all locks connected to your account.
This Wear OS app works via the cloud so that you can control your locks no matter your distance from the lock.
You can change which of your account's locks you control by swiping the smartwatch face up or down.

In case of issues with smart lock operation, you will receive a clear message, e.g. these below.
How to add the Tedee app to your Wear OS smartwatch
Go to Play Store on your Wear OS smartwatch
Tap Search and speak or type "Tedee."
Tap Install
Ensure you have installed your smartphone's Tedee app and logged in to your Tedee account.
Launch the app on your smartwatch
If your smartphone Tedee app is up and running, it will direct you to the status screen.
If it is not installed or logged in, you will receive one of the messages below.