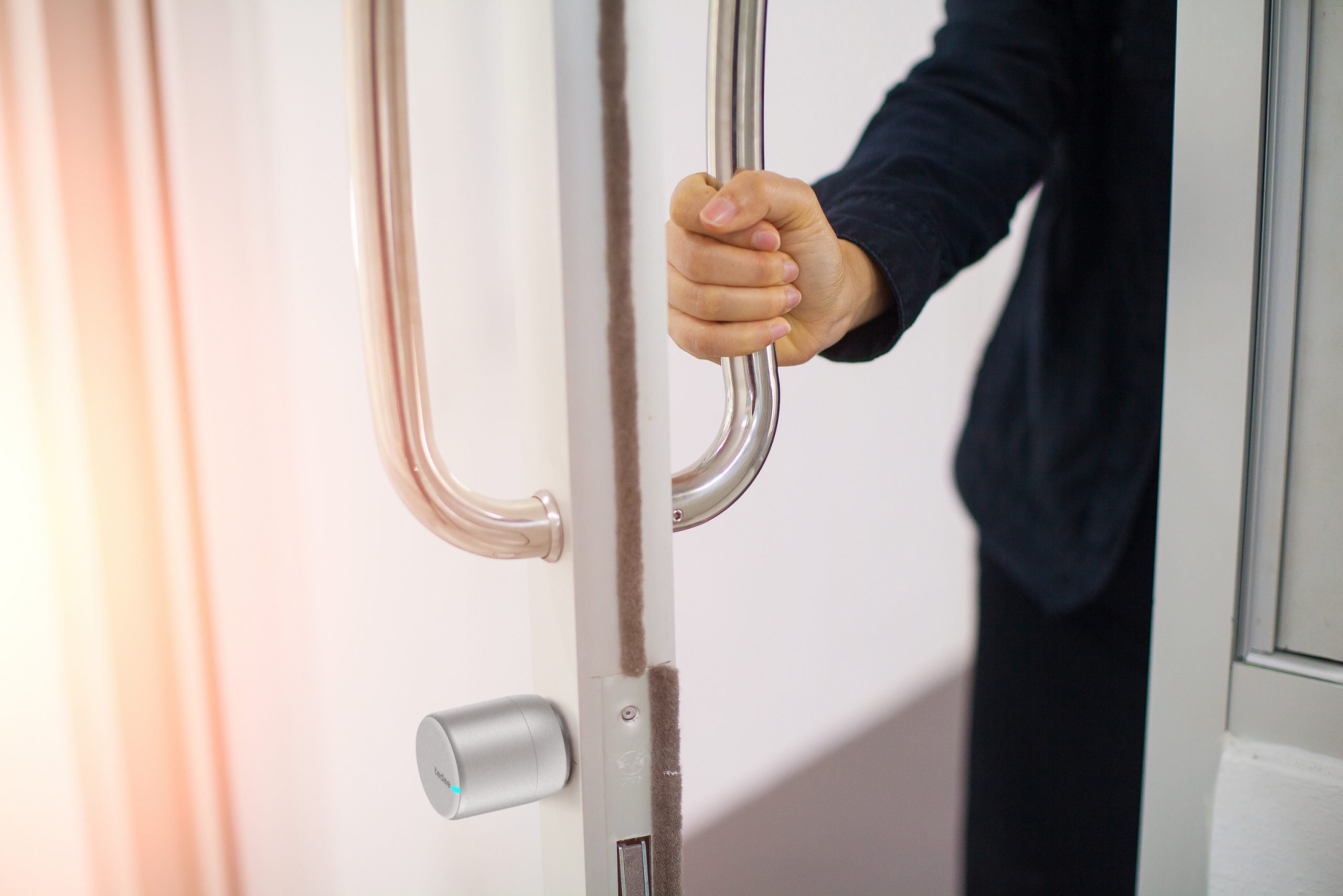 < Go back
How to make office access control simple with a smart lock? (Complete guide for 2021)
The days of the full workforce attending every day for set hours are gone. While providing all that flexibility and freedom is great, if you're the one having to look after security of the premises, it can be a really difficult time for you.
The "work from anywhere" approach becomes ever more popular. There's a lot to be said for cutting down on the commute. As a result, offices are becoming "flexi-spaces" that many employees only visit occasionally.
People coming and going as they please, no set rules or hours, no constant monitoring who's going in and out… It's a logistical nightmare, isn't it? It was difficult enough even before. I'm sure you've dealt with different kinds of security measures to make office access secure and convenient at the same time, as have I. My conclusion? Life's just too short to deal with dozens of keys!
So, I turned to smart locks.
Working with the team, I spent a lot of time and effort on figuring how to make it work in every imaginable scenario. Let me share with you some observations, comments, and information we gathered.
Contents:

Why office access is not all that simple
If you're overseeing administration for an SME or a larger company with several branches (e.g., a law firm, a distributor with multiple warehouses, or a shop/restaurant chain), you have to provide employees with access to the workplace.
Usually then, you'd use magnetic cards (for all) or traditional keys (for a limited number of people). Well, unless you prefer RFID implants – but maybe we'll leave that for another time.
On- and offboarding is time-consuming
Every employee needs to get a way of accessing the workplace when they're hired, and once they leave, this access has to be revoked somehow.
It's not all that difficult if we only have a few employees. Especially in industries where people rarely leave their jobs.
But once the turnover goes up and we're dealing with a large number of people, keeping track of it all starts to be a little more complicated.
Plus, we might be hiring temporary workers (e.g., via an agency) or subcontractors (e.g., security or cleaning companies). They need to get into the office too, and usually at different hours to anyone else.
For larger offices (from 40 people upwards) you'll probably have a central access control system. But if you manage a property that's not a part of a larger complex (like a shopping mall), or a lot of smaller properties like shops, restaurants or accounting offices, managing access can be quite a headache.
Flexible office access is a must
As employers, we're under more pressure now than ever to provide flexible working hours. Nowadays, often the premises can stand empty or with limited number of people. Plus, employee turnover is expected to rise following the pandemic. This makes keeping track of people's access a logistical nightmare.
Security is top priority for business premises
This is really the key point (see what I did there?).
The need for convenience may change but the need for security never does.
If you have office premises, they still contain things that need to be protected – equipment, documents, internal information, etc. Physical access is your best protection for them.
What are the problems with keys?
Maybe all your employees for a copy of the key, but now a few people have left. Maybe in the pandemic chaos, you haven't got all the keys back. Maybe someone left on bad terms. Maybe someone lost their key.
"But that's what insurance is for!"
Of course. Except many insurers won't cover the losses if there's no evidence of a break-in. Which, if someone uses your key, there won't be.
The first solution that comes to mind would be to replace the cylinders. But on the one hand, it is costly to do it regularly. On the other, it's really difficult to manage the timing between everyone in the business, and keep the flexibility? It's a coordination nightmare on top of everything else already happening.

How technology helps with office access
There HAS to be an easier way, surely? To give your coworkers an easy way to enter the office, but keep it safe at the same time?
Much like technology helped us move to the remote working model with virtual meetings, collaboration spaces, etc., it can also take away some of the strain caused by physical access.
With a smart lock, you just need a small piece of equipment and a mobile application, and you're good to go. Now, let's talk about how it works, exactly.

What is a smart lock?
A smart lock is a piece of equipment that works with your traditional lock to facilitate opening and closing the door without the use of a physical key. All you need is a mobile app, and you can lock and unlock it from anywhere.
A typical smart lock set includes:
A cylinder or adapter to mount on your door
A lock to fit over the cylinder
A bridge to connect the lock to Wi-Fi
A mobile app allowing users to use the lock and you to manage access rights
An online portal allowing you to grant, revoke, and manage access in a more convenient way (especially if you have a lot of users).
The bridge is optional hardware that can be linked to the smart lock and connect it to the internet. You can get more functionalities from your smart lock that way. You can read the details in this article.
The cylinder allows for access with traditional keys in case of a problem or connection error. The lock itself is operated via a mobile app.
That's smart lock in a nutshell. Now, let's talk specifics.
When won't I need a smart lock?
Smart locks work great at smaller offices, where one can be installed on the main entry door. If you work in a large office building with central access control throughout the building, the existing solution will likely be all you need.
How to install a smart lock?
Smart locks are designed to be compatible with standard locks. They are usually shipped with all the tools you need to install them yourself.
Some suppliers also prepare video guides to help you through the process.
Is there an installation service?
What if tools are not your friend? Contact the manufacturer – they should offer an installation service. In the EU, depending on your location, it may cost approx. 50-100 EUR.
How much time will it all take?
Smart locks are designed to work practically out-of-the-box. The device setup itself should take around 1 hour. Then you just need to add your users, either via the app or an online portal (more on this later) and you're good to go!
Is replacing a cylinder necessary?
Sometimes it's not possible to replace an existing cylinder, or maybe you just don't want to deal with the hassle. I get it! And I can recommend two options here: the easy one, and the hard one.
Easier option: buy a smart lock that works with existing keys. In Europe, the best choice would be nuki. It's also one of the most popular choices in the region. And that's no surprise – it's a really good product, and I can honestly recommend it.
Harder option: you can choose a tedee lock. You'd need to work with a locksmith, to adjust the key to our adapter. The locksmith would need to cut the key and permanently insert it in the keyhole inside the house. The lock will still work as it should, so no worries there – it's just an extra step that would be needed.
How is a smart lock powered?
Most smart locks run on a rechargeable battery, so there's no need to replace it – a win for the environment!
You will need to charge it regularly, and you can easily do it using the supplied connector.
The app will always notify you when you need to charge the lock. The frequency will depend on the use. Depending on the model and usage, a single charge can last even up to 6-10 months.
Are smart locks safe?
Naturally, that can be a concern. Can you rely on technology?
We all know it can fail sometimes – internet provider can be having a downtime, your phone might run out of battery…
And what if someone sees the smart lock and tries to break in or hack it? Let's break it down.
Physical security
First, the lock is installed on the inside of the door – so it doesn't draw attention from the outside. Only the people who enter the premises will know about the lock, so there's no increased risk.
Another important point is to check the cylinder itself.
For example, tedee lock is made in cooperation with GERDA, a producer of home security systems for over 30 years. As such, every set features a GERDA cylinder attested with safety class 6, ensuring its safety.
Additionally, your smart lock set will include a set of spare keys. So, if software fails for any reason, or even if someone forgets their phone, it is still possible to unlock the door.
Software security
Hacking a smart lock would also be difficult.
Typically, a smart lock works over a Bluetooth connection, and each user is issued an individual account.
When it comes to tedee lock, every transmission is protected with a 256-bit encryption key. Between this and Azure-based security measures, it may not be impossible to hack the lock, but to be fair, it would be easier to just break the door in!

How does a smart lock work?
Here we'll cover some technical details, based on how we've built tedee lock. Many features work similarly across different makes of smart locks but there may be some differences.
How does the lock connect to the internet?
The smart lock connects via BLE (Bluetooth Low Energy) to a smartphone or bridge. So, if you're using bridge to provide constant real-time connection, you need to connect it to Wi-Fi.
The lock was designed to be easy to use, so you don't need to open any special ports for connections, as it works the same way as your browser does – with number 80.
So, unless you don't have some unusual settings in your network, you don't need to worry about technical details. And if you do, get in touch with us and we'll work it out.
Do you have to use a phone with a smart lock?
The thought of opening your door with a phone may still seem unusual to some. Plus, it's always possible that your phone runs out of battery, or that you leave it at home as you leave in the morning rush.
What then?
We're getting ready for this exact scenario. We're currently finalizing tedee keypad, which is due to be released in November 2021. Some manufacturers already provide this option.
A keypad has standard functionalities, like opening door with a PIN code and PIN setup via app. All PIN codes are unique to each account, so they're never shared, and each user will be able to change theirs using their app.
If you, as an administrator, disable a user's account, their PIN will stop working instantly.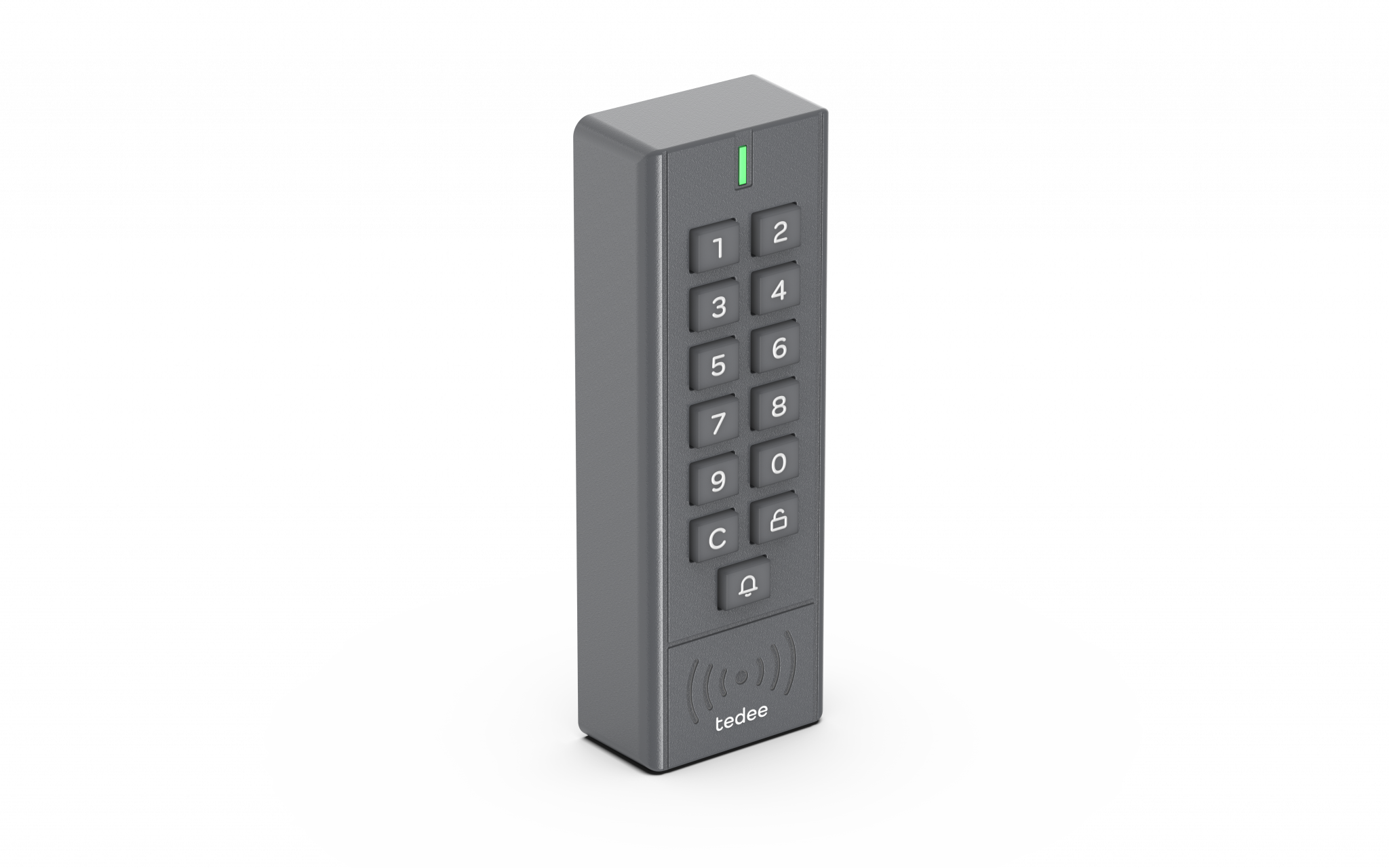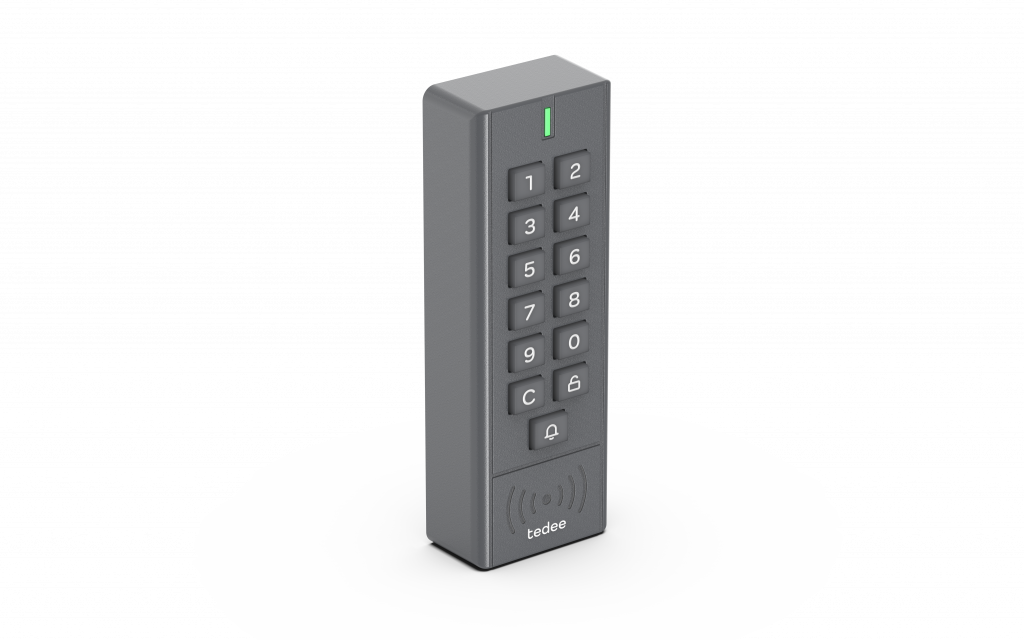 Can you use a smart lock with a master key system?
The master key system is something a larger organization uses to organize access for infrastructure with many doors. In short, it gives you the option to have different keys for different users, e.g.:
a key for administrator or cleaning personnel that opens all doors,
a key for managers that opens doors on just on one floor, and
an individual key that opens a single room.
If you have a setup like this, you can easily duplicate this structure in tedee. This way you won't need to issue keys, only assign access via app or portal.
If you would like to use that master-key infrastructure, you can use our adapter (see the Installation section for details on how it works) or you can create custom cylinders that are part of your system. In that case we would work with you more closely to create them.
You would need to give us the name of the producer and the code of your cylinders. Based on this, we can create cylinders compatible with your master-key systems.
If you don't have a master-key system, we can design one for you. Then, after installing tedee lock, you will have the perfect, fully compatible solution with physical and digital keys.


Granting access to your smart lock
You can do it directly in the app on your phone. Or, if you have many users, you can use a web portal to make it quicker.
If you need to, as an administrator you can create an advanced logical structure with multiple organizations. The portal is also great for managing access governance when you have many users, and where the mobile app might not be the best choice.
How to add users?
All you need to do is to add an email address. The system then sends out an automatic email to the recipient, and they can set up their account.
Now, if you have a lot of people at your organization, you'd probably want to automate this process.  And what would be the point of building a smart lock if you couldn't!
tedee lock is a cloud-native product, and it's all about making it easy to integrate. You can issue keys during standard user onboarding.
Are there any integrations?
A tedee lock can be integrated with line-of-business solutions like ERP systems, as well as Office 365 or Google. We have a very well documented API and lots of samples.
Some of our clients integrated lock directly e.g. with O365, so whenever a mailbox is created, access to the lock is granted automatically and revoked when the account is disabled.
If you need detailed assistance, we have a forum where you're welcome to ask any questions. The smart lock was created by passionate developers, and we're happy to talk about the code and answer any questions you might have.
What permission levels are available?
You can specify user permission level during setup (e.g. if they're a regular user, or a guest), and set specific access hours if you like.
For example, office workers could have access enabled between 9 am – 5 pm Monday to Friday, and any contractors, like cleaning or security services, could have access set up for their usual hours.
All lock activity is recorded in real time in app logs, so you can keep an eye on what's happening at any time, wherever you are, as long as you have an internet connection.
Revoking access can also be done from your phone. Just open the app and click the 'Remove' button next to the user's email address, and you're done! As soon as you remove a user, they won't be able to open the lock anymore.
Can you monitor smart lock usage?
The application features access logs, so you can see who entered the office and when.
If you need to know how many people use the office regularly, e.g. to check if you're making the best use of the space, it gives that information in one place.
Don't worry about this information being publicly available though. Only account administrator can view events in the application, so this information will only be available to people who actually need it.

How much does a smart lock cost?
Let's get to the most important point – the money!
In case of tedee lock, if you buy through our website, the full set costs from 320 to 370 350 EUR, depending on your choosen hardware. You may also prepare for an optional cost of installation, which should cost between 50-100 EUR.
How to get support for my smart lock?
As with anything, sometimes things can go wrong. If that happens, you can always reach out to us.
We've got a dedicated support department, and you can call us or contact via chat on our website. Currently we only offer support in English, but we're looking to add other languages in the future.
All products have a standard 2-year warranty. And because you buy it online, you can return your tedee lock within 14 days of purchase for a full refund. If you find you're having issues with tedee lock outside of those terms – reach out to us, and we'll do our best to help.
Why choose tedee lock?
You might be wondering – why choose a smart lock from a Polish start-up? Surely, there's a catch?
Let me put your mind at ease.
tedee is a business I've been working on as CEO still working at Predica, which I've co-founded with my colleagues and friends. Business and technology have always been my true passions.
I started out with a Master's in Software Engineering and not long after, I got my MBA. I've spent 3 years at Microsoft working with Identity and Access solutions for larger organizations, such as Maersk. So working with smart locks is no accident for me!
A joint venture of two strong businesses
tedee may be starting out, but it's already got a history.
It appeared as a result of our work at Predica, which I helped build from 0 to 300 people (and growing) with offices in Denmark, Poland, Bulgaria, UAE, Qatar and USA. Predica performs digitalization of organizations based on Microsoft technology.
Every time I started a business or an SMB I was (and still am, to an extent) responsible for everything, from generating revenue, through access control, to ensuring availability of coffee!
On a serious note, I tried all kinds of access control systems, from traditional keys, through smart cards and keypads, to smart locks.
For the last few years I focused on developing a solution that would be secure from a physical perspective, thought partnership with GERDA, and digital, by using my knowledge and network from Microsoft and Predica.
What do others think of tedee?
I'm sharing all this so you can see that it's not just a whim for me, but I've actually spent the majority of my career working on connecting technology and security.
Both of my businesses now use tedee, and I want to share it with you, so you can benefit from it too.
So far we've got a recommendation from AV TEST, the independent IT security institute, and received their Approved Smart Home Product certificate. We also work with providers like Apple and Google to make our app fully compliant and compatible with their products.
But don't just take my word for it. Browse our blog and website for use cases and references. If you would like to speak with one of the authors, you can reach out to them directly via LinkedIn, or we can organize a call for you.
Just contact [email protected] with your question, and we'll reply.

Simplify your office access
The technology is already there. All the years of development of identity and security solutions are combined with the best engineering in home security, to form a smart lock.
All the hard work has already been done, so you can just get the benefits of convenience, safety, and peace of mind.
You might be thinking: this sounds too good to be true. Surely, if it was so great, more businesses would be using it?
There's always resistance when it comes to new technology. Before the pandemic, many believed remote work can't be done and tools like Teams or Slack will never make it on the scale they did. Can you imagine the world without them today?
Now, imagine you could take away the effort of figuring out who's got the office keys and if they all come back when they need to. And knowing how many people are in the office, so you know if it's being used. All at a touch of a button.
Make your life easier. Browse our store, buy your lock, and make your company digitally enable.
Grzegorz Chuchra, Tedee CEO