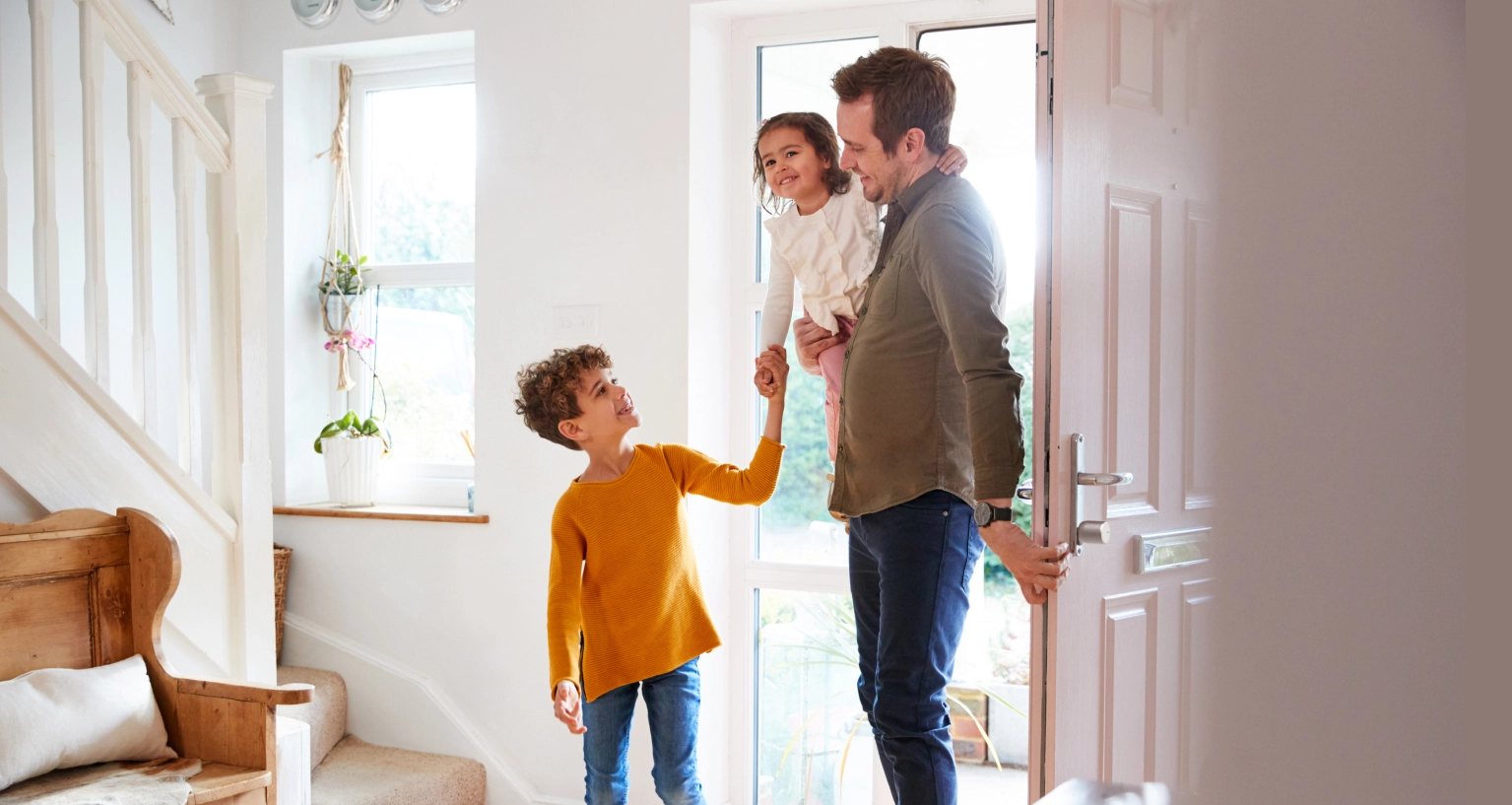 < Go back
How smart locks work with home insurance
Better safe than sorry – insured homeowners know that best. If that's you, and you consider getting a smart lock, it's important to know how do smart locks affect insurance. This guide will help you understand the role it plays in your home secure.
---
Please, start here
This article is meant to advise on insurers' practices and give guidelines on reading policies for smart lock's role in burglary and theft protection.
Remember that most insurance providers offer various insurance options, different in technical requirements. Treat this article as a guide only. In case of any doubts, consult with your insurance agent.
tedee is not responsible for any issues caused by users' protection equipment incompatibility with their insurance requirements.
Read our guide if you want to learn more about smart locks' security,
Legal disclaimer below*
---
You may worry that the insurance won't cover your losses if you install a smart lock and theft or burglary happens. It's a valid doubt, and it is valuable to research this matter beforehand.
Home insurance is all about making you and your family members feel safe. You need to trust everything in the policy works fine. You need to be absolutely sure about correlations – or contradictions, of your device and insurance policy.
Maybe you have already insured your property and wonder about getting a smart lock. We will help you check your valid policy by an overview of terms and general practices. If you are not sure if these are compatible, you should call your insurance provider – maybe you'd need to update your homeowners insurance plan.
Maybe you already have a smart lock – tedee or other – and wish to insure your property. This article should be a good start to equip you in some background, helpful when asking your insurance providers or choosing an insurance plan.
Maybe you're at the start, updating your smart home with better security features, hence smart lock or other protective hardware, and choosing insurance. There may be some requirements about your front door lock type, type of your property, and maybe you can ask the insurer for a discount on home insurance premiums?
Is smart lock secure?

Trust comes from knowledge

Read guide to digital security technologies and lock hardware

When you should go straight to a home insurance provider
Whenever you may think your property is not a standard private estate. It may be extremely difficult to determine insurance compatibilities by oneself in some cases.
Insurance covers your losses up to a set limit. If your place contains many valuable goods or is a business, it should include other smart devices like high-security measures or CCTV. Such properties usually use specific insurance plans, unlike a given run-of-the-mill flat or downtown home. For example, some insurers may require that electronic locks at office spaces are valid only when CCTV is provided.
High-security properties should not be protected with generic smart door locks at all. On the market, there are several electronic solutions created especially for those. It's best to consult that with a security professional in your country, as local regulations or maintenance may be required.
We insure our properties, too.
We are digital door locks makers. Our mission is to put a smart lock on every door, as we're absolutely sure of how convenient it is – and want as many people as possible to enjoy that, too. We simply had to consider people who insure their properties. It's ourselves, too.
When creating our product, we have kept what insurers look for. We have even collaborated with a Dutch company M&C on a dedicated lock cylinder with a security rating exclusively accepted by some companies. According to EU norms, our most popular GERDA cylinder is certified with high Class 6 security rating. For customers who do not want to alter their lock hardware setup, there is a dedicated tedee adapter fitted on top of most Euro-profile cylinders.
Thousands of tedee smart locks are already installed on doors worldwide and used even by more than ten thousand people daily. There are no statistics, but we can assume that a huge chunk of them insures their properties.
Why we can't help you completely
In 2019, there were more than seven thousand insurance companies in Europe. Many of those offer several property insurance plans. There is no one-size-fits-all answer to the question of whether your insurance is fine with a smart door lock.
Policies are different and may vary significantly between locations, regions, types of accommodation or property standards. Just as electricity or mobile phone plans are different for individuals, families, or businesses.
As with every document, you need to understand what is required and what you agree for. You should never assume any hardware setup is compliant with insurance policies by default. We know what to look out for and describe some insurance companies' practices, so you know what to look out for or what to ask.
Home insurance vs contents insurance
It needs to be said that what we talk about should be defined as contents insurance that covers furniture, devices, and other stuff at your place in case of burglary.
Terms "home insurance" or "building insurance" apply to parts of your property that are fixed and unmovable, such as windows, gates, floors etc. These do not usually get stolen as "home contents". Home insurance usually covers these fittings in natural disasters, installation breakage, or vandalism.
When talking about insurance, we mean home contents insurance subject to burglary or theft.

What's the smart lock's part in home insurance
As a relatively new device on the market, describing what role in your door hardware relies on a smart lock.
For example, the tedee smart lock is not a door lock per se. It does not include bolts or springs that physically block your door from opening.
You should consider a smart lock more as a connected, electronic mechanism, working as if rotating a key or doorknob. On its own, it is not a piece of door lock hardware but a way of controlling your lock to provide additional security.
A smart lock needs to be connected to a door lock cylinder, which is crucial for home insurance companies. The lock cylinder protects the access, and it must be compliant with your insurance policy. A standard key operated lock is controlled with a knob or a key inside your property. That is the smart lock's role, too.
Insurance policies usually don't address electronic mechanisms that could apply to smart locks. In this situation, it is enough to make sure you meet the technical requirements of your door locks and lock hardware.
In such conditions, the smart lock's role in controlling the access to your smart home – just like keeping your keys safe from loss or stealing. On its own, smart lock is not a piece of door locks protection hardware.


Where to focus in your policy
Your insurance terms & conditions should clearly state the basic requirements for protecting your property. In the case of standalone homes, these would include both doors and windows. Usually, these are easy to fulfil and a general market standard, including widely available, certified locks.
For example, your insurer may require that entry doors shall be fitted with at least two locks or a lock with at least three locking points per door. As you can see, a smart lock can successfully work on such hardware, as a locking mechanism of your door locks. tedee smart lock is compatible with multi point locking system.
Another insurer gives more precise options: two locks with at least two moving tabs per door, one multipoint lock, a lock or cylinder certified as burglar-resistant, or one mechanical-electronic lock. In this case, a smart lock would work as a full-fledged protection measure.
Installation matters
A smart lock may be mounted on your door locks in two ways. You can use an adapter that connects the smart lock to your already used cylinder. You can also replace your traditional lock cylinder with one dedicated to use with a smart lock.
Should I use an adapter or replace a cylinder?

Choose your setup

See the comparison of both installation methods for your smart lock.
Smart lock with an adapter
The adapter in no way influences the security of your door. It's the easiest and least invasive installation method, where you don't need to worry about its impact on your hardware. In terms of insurance requirements, everything works according to your basic lock hardware requirements. It is a great option for flats with a high-security door installed by default, rented properties, or if your door locks use cylinders of Nordic or Swiss door lock types.
"When considering any smart device that involves security, then checking credentials is key, more so for a smart lock. I use the tedee smart lock, and for the simple reason, I can use my own lock cylinder. I contacted my insurance company and had no issues due to the fact the cylinder is secure, and the tedee does not affect the cylinder security or performance,"– says Jon @ HomeKit Authority
Certified modular cylinders
Modular cylinders compatible with tedee smart locks are supplied by two renowned hardware companies: GERDA and M&C. Why is that? Products from each of these two are certified in different security standards.
GERDA cylinders compatible with tedee are certified with a Class 6 security rating, granted according to a European norm. It is a widely accepted security standard.
Our M&C cylinders are rated with SKG*** (three stars), popular in the Nordic market. If not on its own, this is crucial mostly in connection to other hardware.
Your insurer may require that your property is protected with an SKG***-certified door. Suppose your door has a three-star rating. In that case, it requires a three-star escutcheon or cylinder. Especially for such cases, we offer an SKG*** certified cylinder dedicated for tedee.
If your door has no SKG*** attest, the security class of a tedee-compatible cylinder is not as important. Both cylinder types have over 100 000 possible key combinations and are tested for high-security performance, and are compatible with multi point locks.
Read our guide to choosing your tedee-compatible cylinder.


Will home insurance cover burglary losses if I have a smart lock?
Burglaries and thieveries happen with or without a smart lock. However, this device does not make them more likely, nor should it generally obstruct your home insurance coverage.
We wanted to consult with people fluent in the world of smart home technology and smart lock users. Andre Schmahl from Tech Smart Home channel, where he has reviewed tedee, has reached out to his insurer. He shares his insight on how the company would start determining the smart lock's role in case of burglary.
"With my insurance, it is like this…
·       If you have burglary marks on the front door – the burglary/theft is insured.
·       If you don't see any burglary marks on the front door, the insurance will not pay the claim. Since a smart lock is used.
·       It would then be useful to have a camera again. Aimed at the front door, so you have proof."
But he also adds an extra option. If your insurer provides that, it may be a great support to your plan that takes all uncertainties away:
"With my insurance company, however, it is possible to insure the home for a small additional premium for all risks. Then it is covered, and a smart lock is no problem." – says Andre.
In case of burglary, your insurer would verify…
Has your property been protected according to insurance requirements?
This is crucial and must be taken care of from the start. Some insurers offer to sign a contract online in five minutes – but if you're not sure, the time put into ensuring your protection might later seem invaluable.
Has there been forced entry?
Has the thief simply pressed the handle and entered an unlocked door, or has they damage the door frame and broken in with an crowbar?
This tells if the key operated door was properly secured. It should be – and a smart lock as a smart technology device can ensure it's always automatically done. You can confirm that in real-time or in your history logs.
Without signs of forced entry, smart lock's activity logs may help as a history proving any kind of digital access was not compromised. Every unlocking procedure, stating the person who does it, is always stated in the smart lock's history, fully available to its owner or administrator.
If no such event is recorded, the intrusion might have happened in another way, through other entrances, breaking window locks etc. In general, a smart lock is also great proof that the door was locked during the burglary.
Why there was no forced entry?
After a burglary, if a front door does not have signs of forced entry, the insurer may look into the smart lock protection. As every landlord must protect their property's keys, it is the same with "digital keys".
Suppose your password or smartphone app is breached or burglary is made by a person granted access. In that case, a smart lock may be a tool of compromising security, hence your home insurance.
In general, it's easier to destroy the door than hack the cloud-based security of a smart lock. That is why it is crucial to protect your tedee account – just as you would protect your credit card details or car keys.
Many insurers may require that the locks to your place must be replaced in a set timeframe if you lose your keys. When using a smart lock, you often don't need to carry or share your keys; hence it may be less likely to lose them at all.
What now? How to insure a home with a smart lock
Make sure to access the insurance conditions. It's crucial whether you're using a smart lock or not.
Look for the requirements of your home protection, applying to doors. Focus on such terms as two-point locks, attested cylinders, electronic mechanism, or others.
Compare them to your door. Check with your door documentation or look for symbols and annotations on your hardware.
Verify all doubts: with a locksmith or insurance agent.
Ask for a reduced fee: a door with a smart lock can be considered safer than a door without one – you may be entitled to a lower rate for home insurance premiums.
A smart lock may actually support home insurance
High-security cloud solutions, access control, real-time activity logs and other home security features may be appreciated by some insurers as an even more trusted, increased security protection. This way, a smart lock may be an incentive for a discount or lower home insurance premiums.
This solution is not widely popular yet, but it is good to ask your insurance providers.
Make a responsible decision
tedee smart locks are already used in thousands of insured properties and smart homes worldwide.
Nevertheless, as lock makers and not home insurance companies, we cannot guarantee that our device meets every policy requirement.
We strongly advise you to consult with your home insurance agent or customer service before signing any home insurance plan in case of any doubts.
---
If you have any more doubts about matters not discussed here, we would be grateful to let us know at [email protected]. We will do our best to address your questions and update this article with more information to help other customers think about making their doors smart.
We believe and trust our products, and are determined to give you full and transparent information, so you can decide and enjoy it, too.
Reach the author of this article at [email protected]
* Before conducting the final assessment of compliance of Tedee Sp. z o.o. products with general insurance terms and conditions of a given policy, we strongly encourage to confirm its correctness with a representative of a selected insurance company. 
Both Tedee Sp. z o.o. and the author of this article do not take responsibility for material damage, personal harm, and other negative consequences resulting from an incorrect assessment of insurance coverage available in the case of using Tedee Sp. z o.o. products.