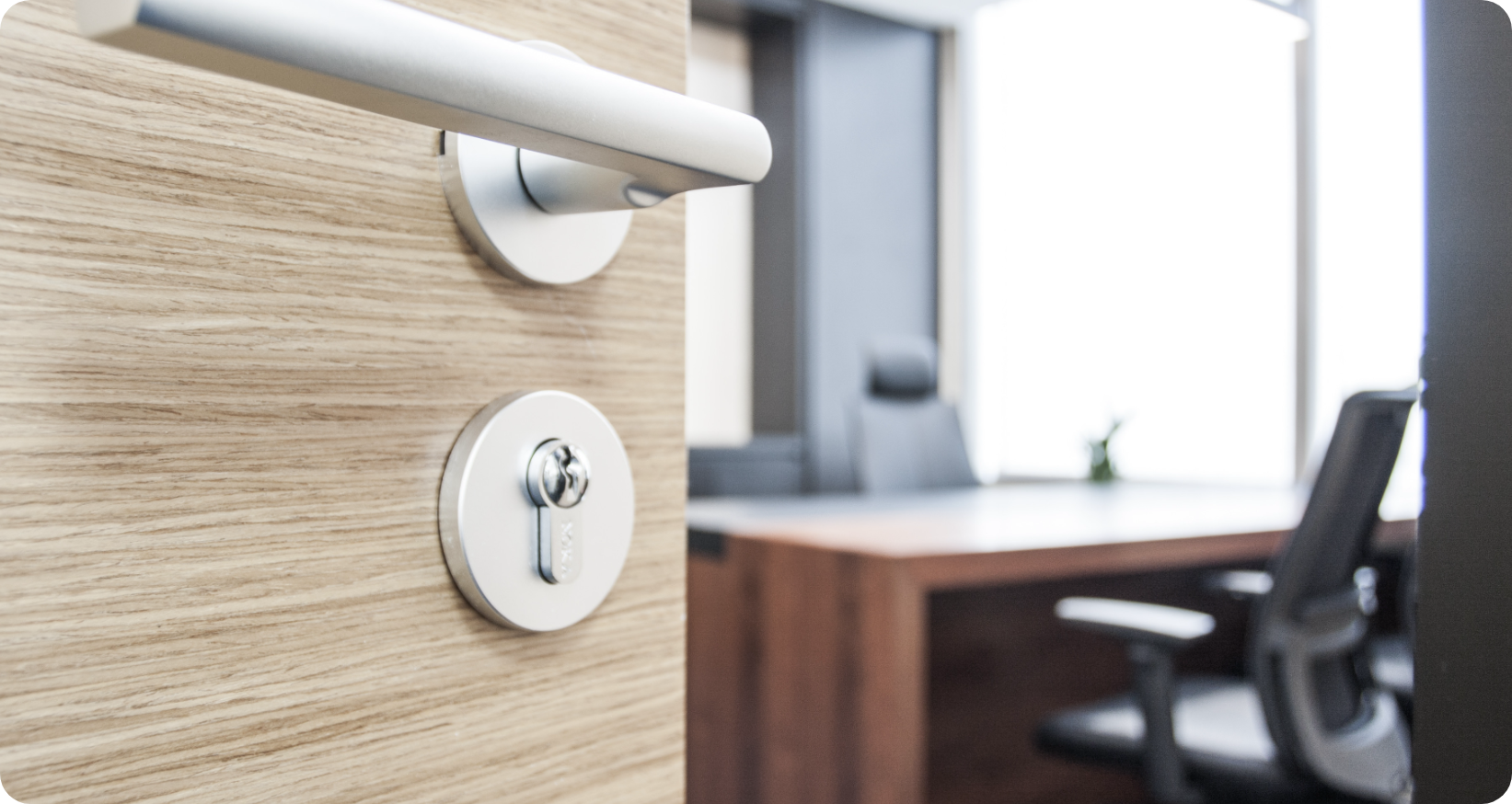 < Go back
Replacing a Card-Based Office Access System With a Smart Lock
"Sorry, I lost my card… again." How many times have you heard it? Learn how to replace a card-based office access system with a smart lock.
For an Office Administrator, it can be one of the most annoying statements. It's not like you can plan it. You can't leave employees with no way of getting in or out, so they have to get a replacement card right away. No matter how long it takes.
Are office access cards eating away at your time? Are you looking for a faster, more convenient option? Are you worried about being the one to oversee the change?
If this sounds familiar, you may be happy to learn that another way is possible – and manageable. I led the process of replacing entry card systems with a smart lock at 2 companies and my job is much easier now. Let me share with you how it happened, so it may serve as a useful guide for you.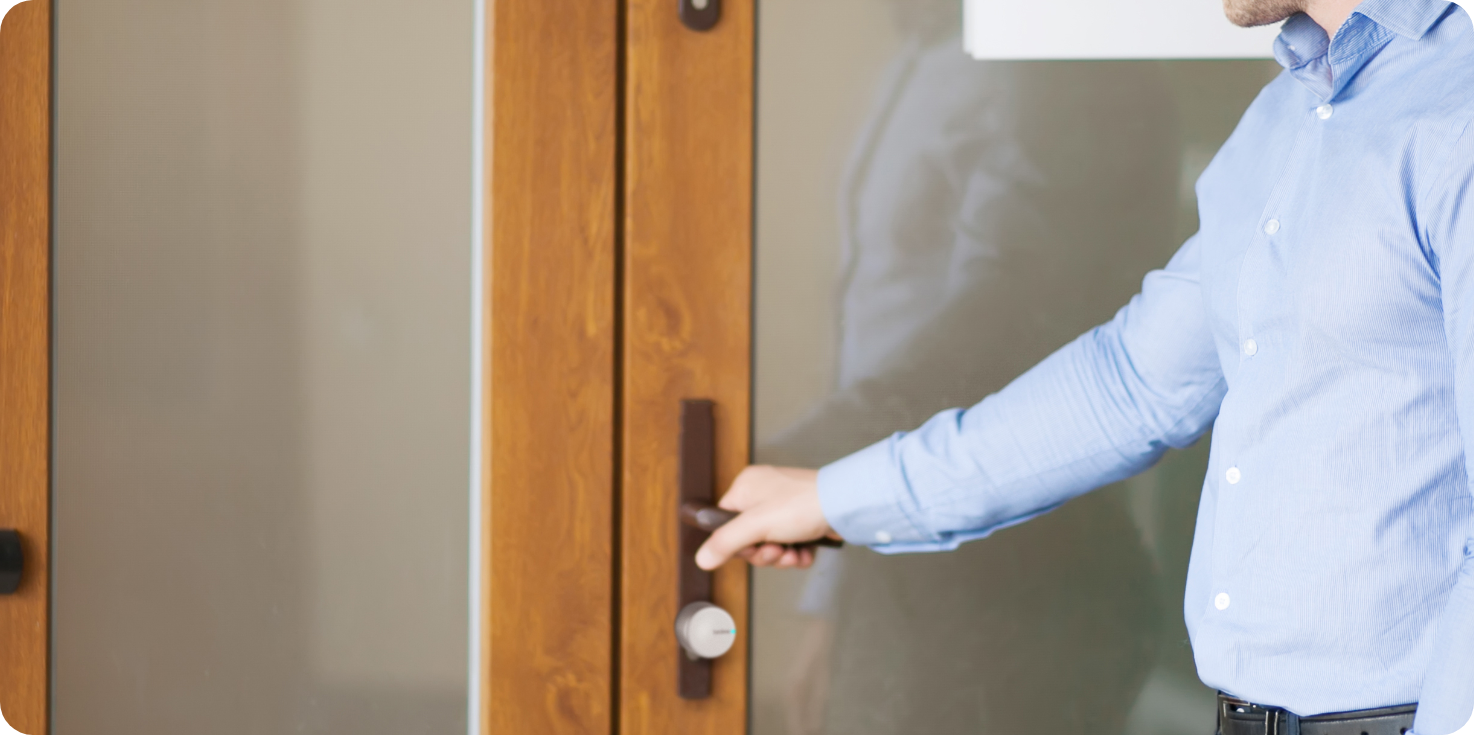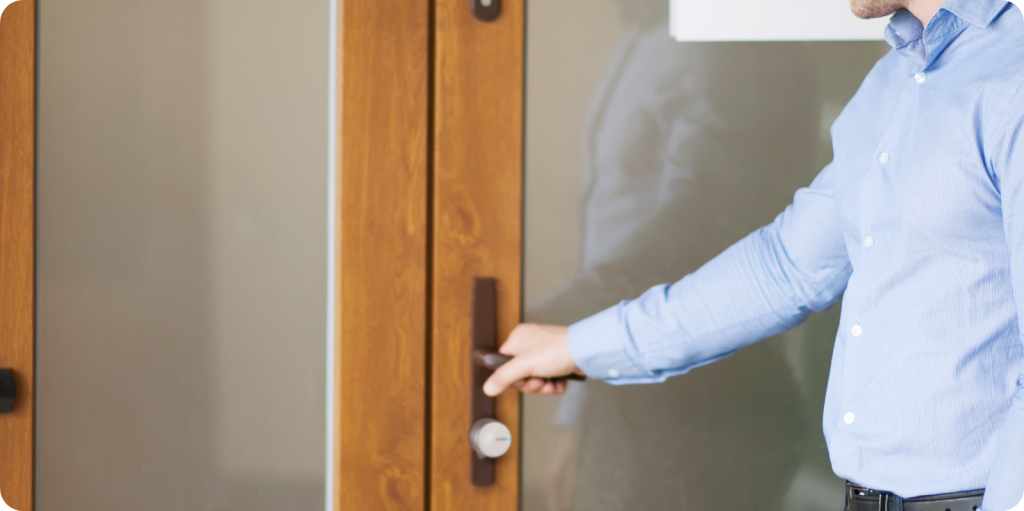 Why modernize an office access system?
Now that most people work remotely, I can't imagine still using entry cards. With people coming and going on different days and times, keeping track of everyone has to be a nightmare. Not to mention recovering cards that are no longer needed or replacing lost ones.
On top of that, you may have employees travelling between offices, needing to get in at each location. That's a lot of hassle and unnecessary plastic.
With smart locks, it is much easier to assign and revoke access and keep track of who gets in or out. Sure, it may seem complex at first (it did to me too) but it's actually quite simple.
When I first arrived at tedee, I didn't know anything about smart locks. Not only did I have to learn everything from the start, I then had to convince people both at tedee and at Predica to switch from cards to smart locks! But let's start at the beginning.
What is a smart lock?
A smart lock is a device that is mounted on top of your standard door lock. With it, you can open your door remotely using an app on your smartphone. The application records each activity, so you always know who's in the office at any given time – very helpful if you can't come in and need someone to sign for a delivery, for example.
It doesn't take away any functionalities from a standard lock – you can still use a regular key to lock the door if you prefer. But when a lot of people are accessing the premises, it's much simpler to give them access through the app than issue everyone with an individual key or card.
How to operate it?
To use the device, open the app on your phone and press the button to unlock or close the door. If the door didn't close fully (e.g. someone entered in a rush), you can use the app to shut it properly. You can also use the Bluetooth connection to open the door automatically as you approach it.
The lock has a built-in rechargeable battery, so you don't need to worry about having to replace it. The app will notify you if you need to charge it. If that happens, just plug in a tiny cable for a few hours, much like you do with your phone, and you're done.
Most importantly, if something unusual is happening (e.g. the office is accessed on a weekend when it typically isn't), you can check the control panel and see who got in. You can then call that person and confirm that everything is in order. That's a nice change from having to venture to the office each time!
How many times did you have people stuck outside on a quiet day, waiting for someone to show up and let them in? With a smart lock, they can just check in with their colleagues who are already in the office, and those already in can open the door remotely if needed. This is an optional feature though. If you don't want people to let others in, you can restrict this functionality only to authorized users.
How to manage access?
Adding a user to the app is very fast. You can either integrate the process with your onboarding, so it happens automatically, or just do it from the app.
| | | |
| --- | --- | --- |
| | | |
| Click the "Shared" option | Click the "Shared with" icon | Click "Access details" and set up your user |
The person will then get an email with a link to download the app to their phone.
Need to remove a user? No problem, it's also done in an instant directly in the app, wherever you are. The second you press the button to revoke access, the person will no longer be able to enter.
You can also use a business portal to manage access if you prefer. This way you can add multiple users and modify permissions directly from your computer.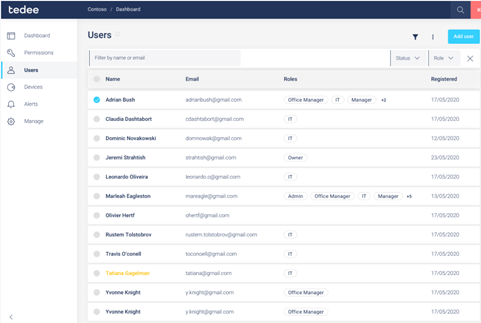 1. Managing users
If you have multiple locks, you can assign access for each one, depending on who needs to use them.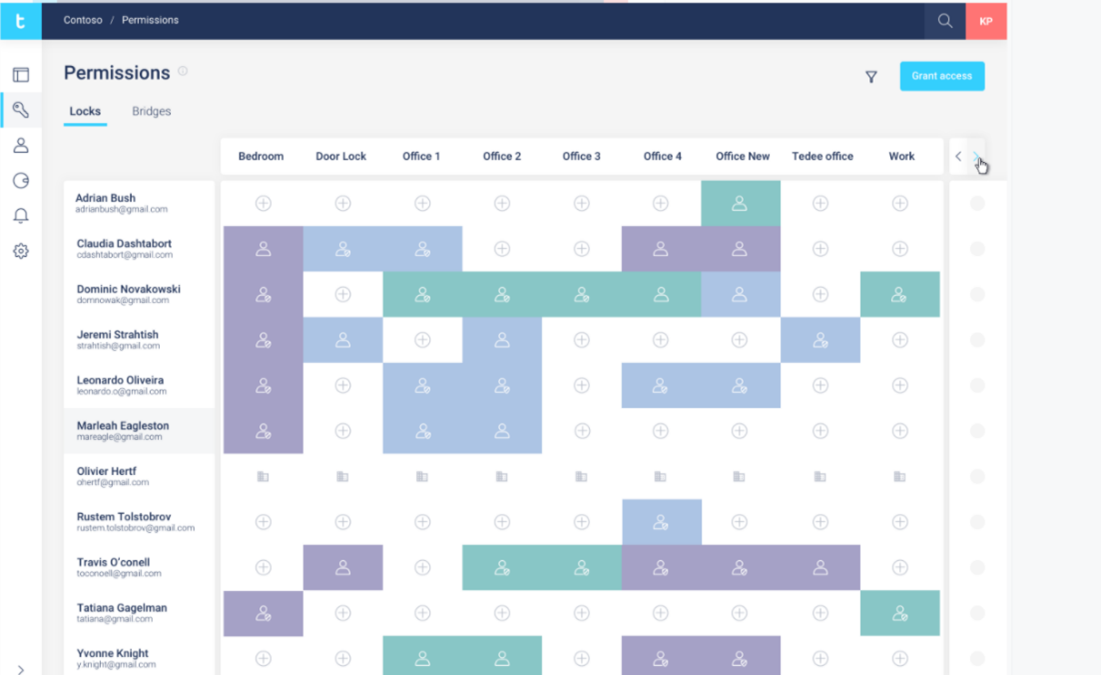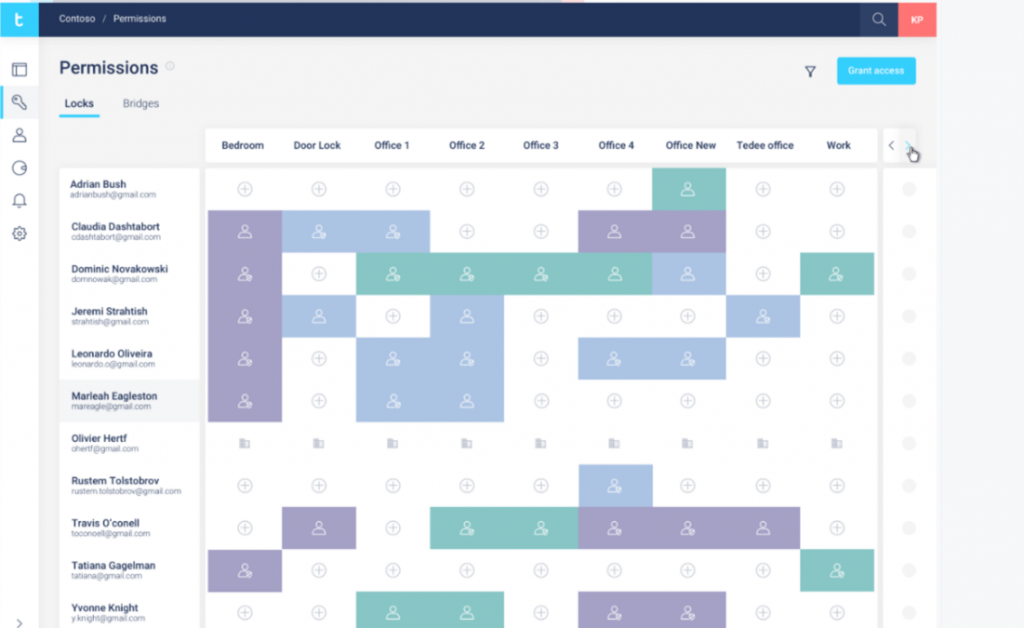 2. Managing permissions
When you're responsible for an office, you need to know what's happening. The app displays all the information you need to make sure the premises are secure.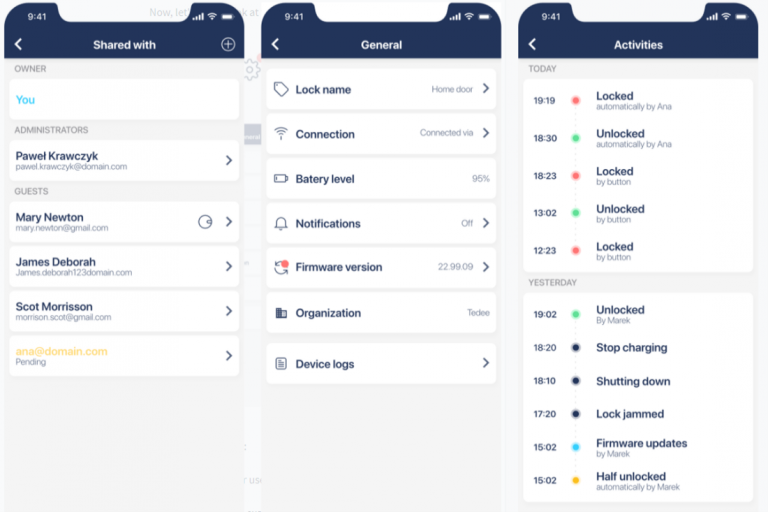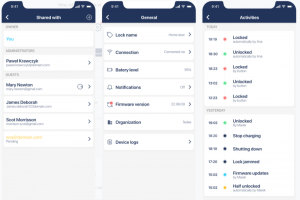 3. In-app information screens
If it seems odd to track people entering and leaving the office – this is exactly what most businesses do anyway, for health and safety reasons if nothing else. You no longer need to run around collecting signatures on an entry sheet. Plus, if you need to evacuate the building, you don't need an attendance list – it's all right there on your phone.
How to convince my employees to use a smart lock?
Admittedly, this was the hardest part of the entire process. Surprisingly, even at a tech company, people were quite resistant to switching to the app. But with some time, patience, and instructions, I managed to make it happen!
After all, using your phone for access is much easier than carrying another set of keys or a card. They tend to get misplaced quite a lot. Who hasn't had to turn back home on their way to work because they forgot their card? But no one really loses their phone, so that's one problem eliminated.
I posted a number of announcements and instructions on how to download the app. Then there was a changeover period. Every time I saw someone enter the office using the app, I asked them to return their card if they still had it – after all, they no longer needed it! And if someone was still using their card, I offered to help them install the app and show them how it worked.
Now everyone is granted access as part of their onboarding. Smart lock accounts are synchronized with our identity management system, so everything happens automatically.
If needed, I can add additional people (e.g. cleaning or security services) via our portal, where I can also set access hours. The lock can be working 24/7 but for security, you might want to restrict access – for example to office hours or weekdays.
Sure, it took some time at first. But eventually, it became practically natural. Now no one gets stuck outside the office because they've lost their key. Plus, I've got lots of time back, as I no longer have to issue new nor lost cards. Benefits all around!
What to do in case of problems?
As with anything, there were some difficulties at the start while we were all getting used to the system. For example, there were instances where the Bridge got disconnected from Wi-Fi, so a few of us got stuck outside, not being able to get in… only to realize that we can still connect to the lock from our phones via Bluetooth!
Maintenance itself is easy. I just get a notification on my phone when I need to plug in the charger. And there are no operating or software costs – just a one-off fee for the lock. There's also a service you can book to help with setup, so you don't have to install the lock yourself.
You don't need to worry about the cylinders either – we will work with you through the entire process, to make sure you have the right cylinder type for your door.
If you run into trouble, there's an FAQ accessible from the app, and we have a 24/7 support line. Right now it's available in English, but more languages will be available soon.
Having developed and used the smart lock at tedee, we've addressed most of the possible problems and scenarios. I've personally sent many bugs reports in my time! But now we've gone through the implementation, everything goes smoothly, and we can introduce improvements for all our users and customers.
If you want to get a bit more technical on getting started with a smart lock, check out this article on "How to organize access-control for small-office?". Or, feel free to contact me with any questions.