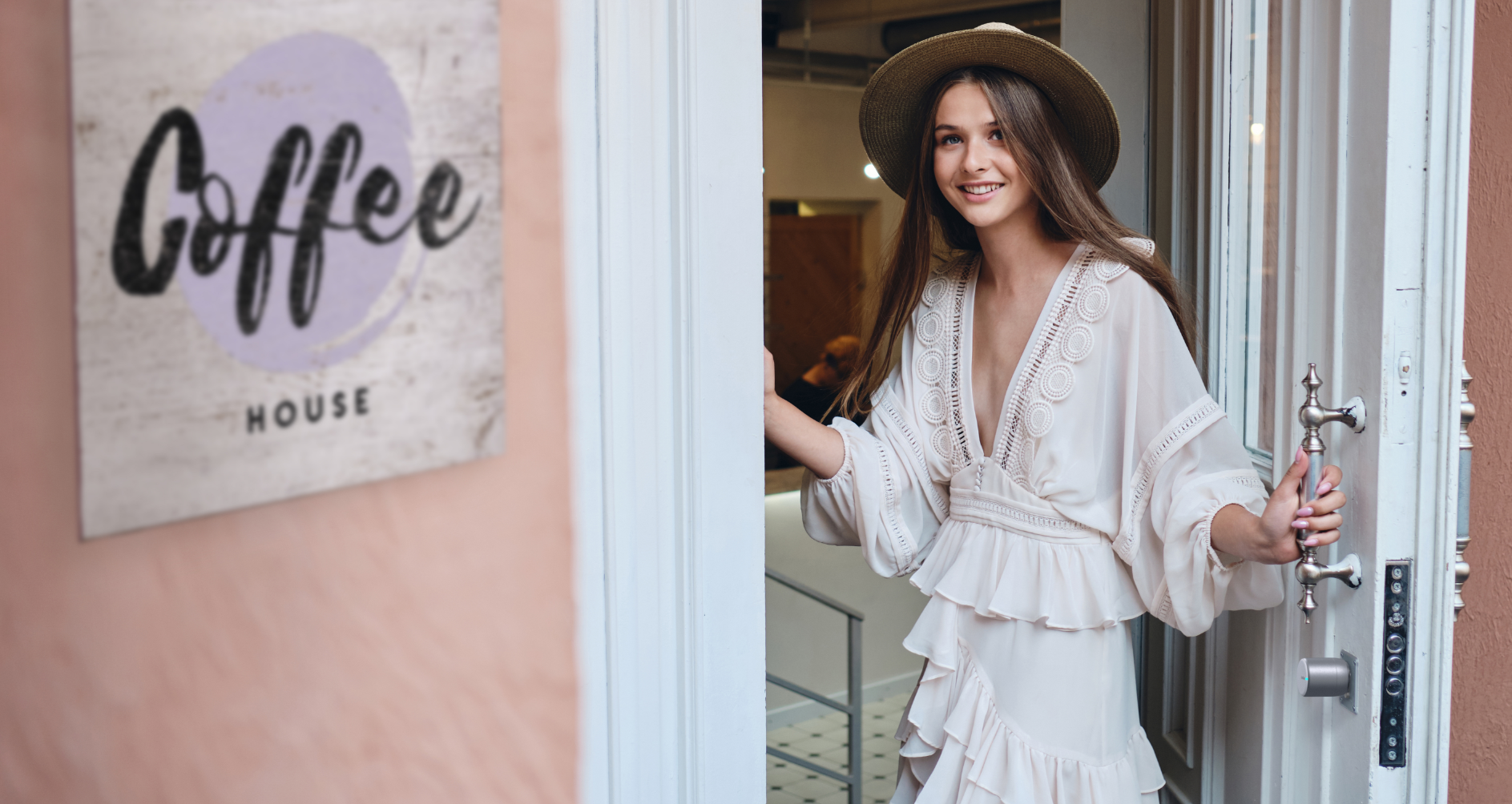 < Go back
How Smart Lock Solves Access Control at Your Business
Stiff working hours are gone. Working is more flexible now. Adapt your office to the new normal and make access control easy with a smart lock. 
Hybrid work, flexible hours, hot desks: the office is not what it used to be. With their cards, gates, and reception desks, long-established security solutions do not meet new needs. Extensive installations are also expensive – risky in these business conditions, property market, and staff rotation. 
What stayed the same is the need for controlling access to your premises: whether it's a coffee shop, real estate agency or workshop. Suppose you're looking for an easy, cost-effective and impermanent way to do this. May we suggest a smart lock?
Of course, we advise this as makers of a smart lock. But we created it equally capable not just for private homes – we even made a dedicated business app! It's an easily installed and centrally controlled solution, providing many classic security systems' features – often with much less investment.
If you're unsure what a smart lock really does, check out another blog post dedicated to how it helps all kinds of users in real-life situations. It will give you an idea, how you can benefit, too.
Researching access control systems for your business will face at least a couple of the problems below. We're confident a smart lock is a good answer – we made it that way.
Old solutions don't work at new offices.
More than ever, companies' premises are now scattered between floors, buildings, or even countries. Typically, each location would need a separate security system – synchronised with each other or not. It's a challenge to install, configure, and manage, to make work cards work at all places. 
Does anybody work nine to five anymore?
Working is not about clocking hours in; it's about getting the job done. It used to be about coming to the office at a settled time and queuing to a coffee machine. Did it benefit anybody? 
Sure, it made the security easier: controlling the door in a set time window. We don't want to be limited to that now: we don't go to the office every day, we come for meetings, not nine o'clock. Hence the employers need to adapt their security, too. 
You want steady access control but as flexible – and safe – as possible. With a smart lock, you get a 24/7 overview of your place. You can hard-lock it with a tap. Granting or revoking "digital keys" takes seconds. It's like a reception desk but in the cloud.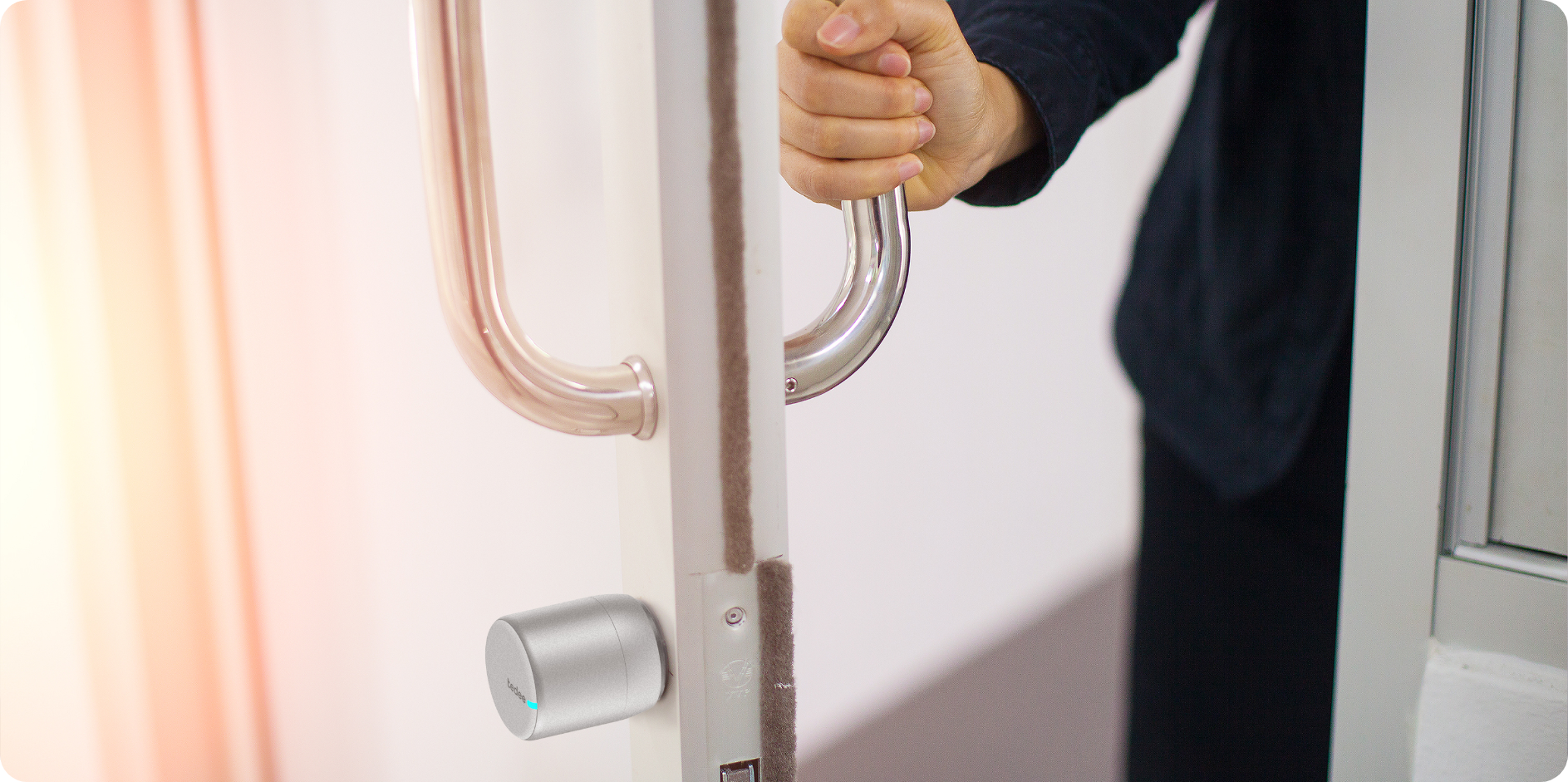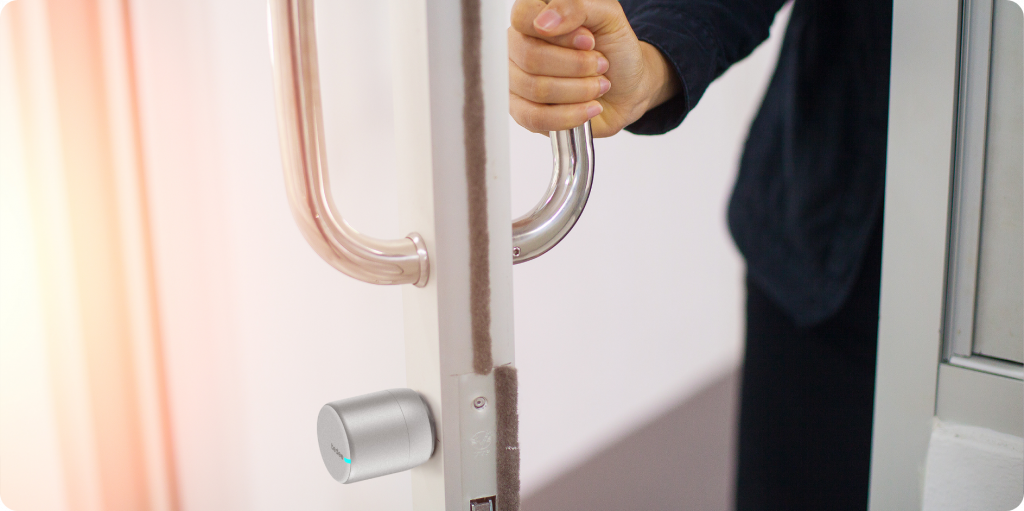 Security hardware is expensive.
Typically, you'd need gates or at least a card reader at your door, connected to the mechanism in the door itself. Then you require equipment for coding the cards and linking that with a central interface and software. Everything has its price, and maybe you'd need to pay a maintenance fee. Business conditions, property market and staff rotation don't encourage extensive investment in settling down, either.
Smart locks require just a one-time expense for devices and hardware of your choice. You can customise it to your needs and take it with you if changing places. Using dedicated software – on mobile and desktop – is free, and there are no maintenance fees.
On- and offboarding are time-consuming.
New hires should ideally move to their role or training as soon as possible. When parting ways, both employees and employers appreciate a smooth situation, too. This might not be a huge problem if your team is tight and permanent – but what if your company quickly expands or you engage temporary workers? On top of that, add cleaning services, deliveries etc.
With a smart lock, you grant or revoke their access with a tap. Done. 
You need to keep the circle close.
Making extra, handling and collecting keys or cards is a hassle. It's not that safe either – chances of them getting lost or duplicated increase with every set. 
All of that doesn't apply to smart locks. Smartphones are also protected with fingerprints, face scans or PINs. The access can be revoked anytime with a tap on the app.
Monitoring is important.
Document archives or storage rooms might be the areas where just a standard lock on the door is not enough. You might need to keep a complete history of who and when has entered – or even real-time alerts about every door use.
While history logs might be featured at classic control systems, mobile notifications are not standard. With smart locks, it's smooth. Some smart locks would also log the access even when it's opened with a key.
If a smart lock is attested and used with proper hardware, it doesn't impact the security of your door. Although if a premise you're securing contains precious goods or documentation, it might be worthwhile to discuss that with a security professional. You may need to look for high-security access solutions – just as you would with non-smart protection.
How to start your smart lock access control:
Prepare a list of doors you need to control, monitor or secure – that's how many smart locks you'd need to buy.


Decide if you need to change lock cylinders or you'd rather – or need to – keep old hardware. Maybe you use a Master Key system? All that influences if you'd need new cylinders or adapters. You can find more information on how to decide here.

For the most advanced operation, you'd need smart bridges – little devices connecting your smart locks to the internet. You need a bridge in a 2m range from every smart lock. If installed in corridors, one bridge may link to several devices. Plan how many devices you need and read more about them here.

If you have any questions or need help planning a purchase, don't hesitate to contact your smart lock support service. At tedee, you can find us at

[email protected]




Installing each smart lock and cylinder should take no more than 30 minutes each. Smart bridges require just plugging into an electric socket. You can do it all itself, as most manufacturers provide video tutorials. Of course, you can hire a local locksmith.

A business app available on a desktop browser is the easiest way to set up the system at your place. There you can create your employees' accounts, grant access to particular locks, create routines etc. You can read more about how we provide that at tedee.

All your team needs to do is download smart lock mobile apps and create their accounts. Then they only need a tap on their smartphones to open office doors.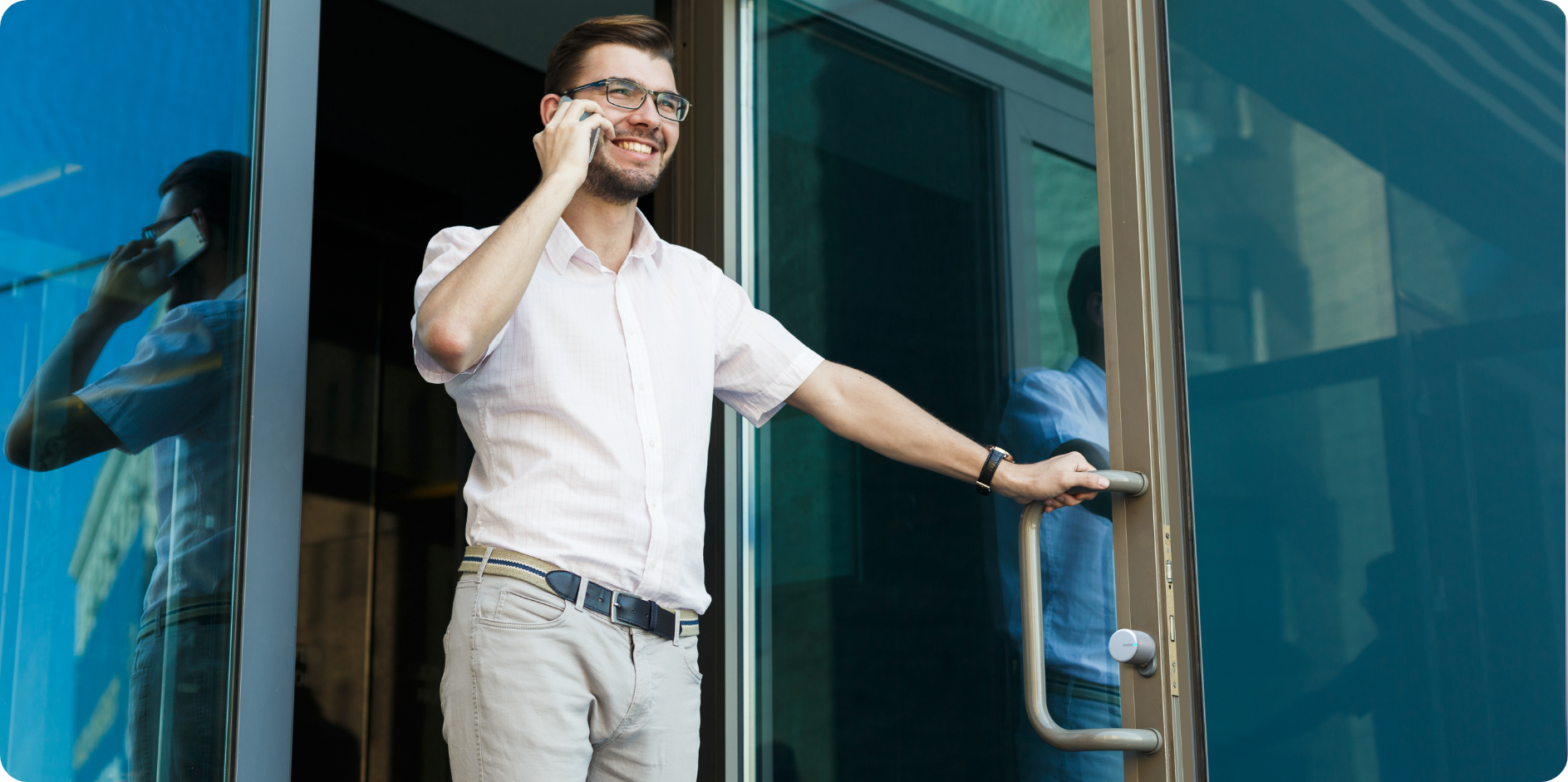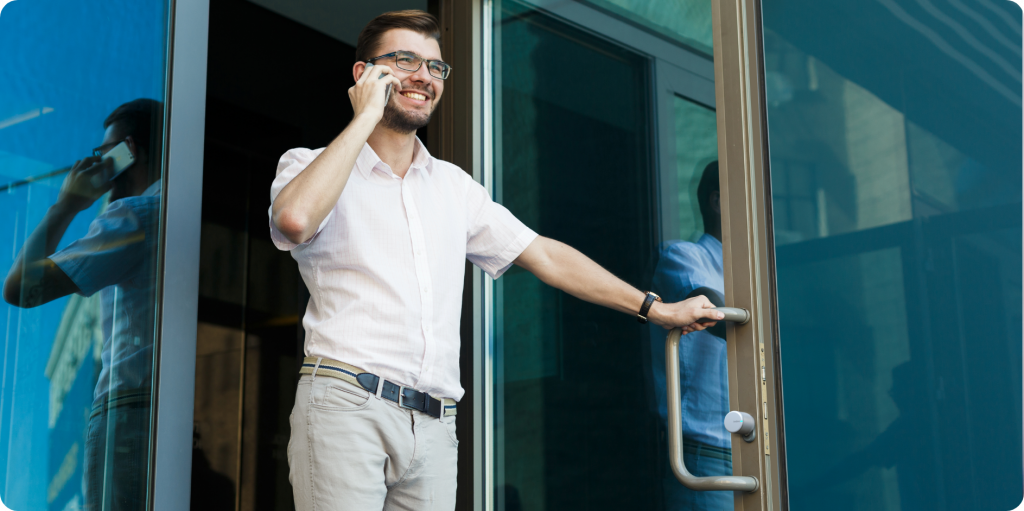 What you need to know
You can give control over access management to your office manager, security team or IT service. For example, with tedee, there are three access levels. Owners have full control over devices, while administrators can grant and remove accesses of guests – in this case, employees.
Batteries in smart locks use up. You can monitor their status in the app, and you'll get a notification when they need charging. With up to 8 uses per day, a tedee's accumulator should last up to 14 months, but remember to adapt these numbers to your office's real door use.
If you already use a Master Key system, you can install a smart lock in three ways:
Order custom-made lock cylinders compatible with your system – with tedee, you can do it by contacting us with your Master Key matrix.

Install smart lock with an adapter – on top of your existing hardware.

Choose a smart lock installed on an inserted key, such as Nuki. Make sure your cylinders are compatible.
You may need more advanced systems incorporating other devices than smart locks. There are brands offering locks operated with keypads, cameras, smart intercoms, Bluetooth fobs, etc. If that's what you're looking for, research such brands as Nuki, Gate, or Latch.