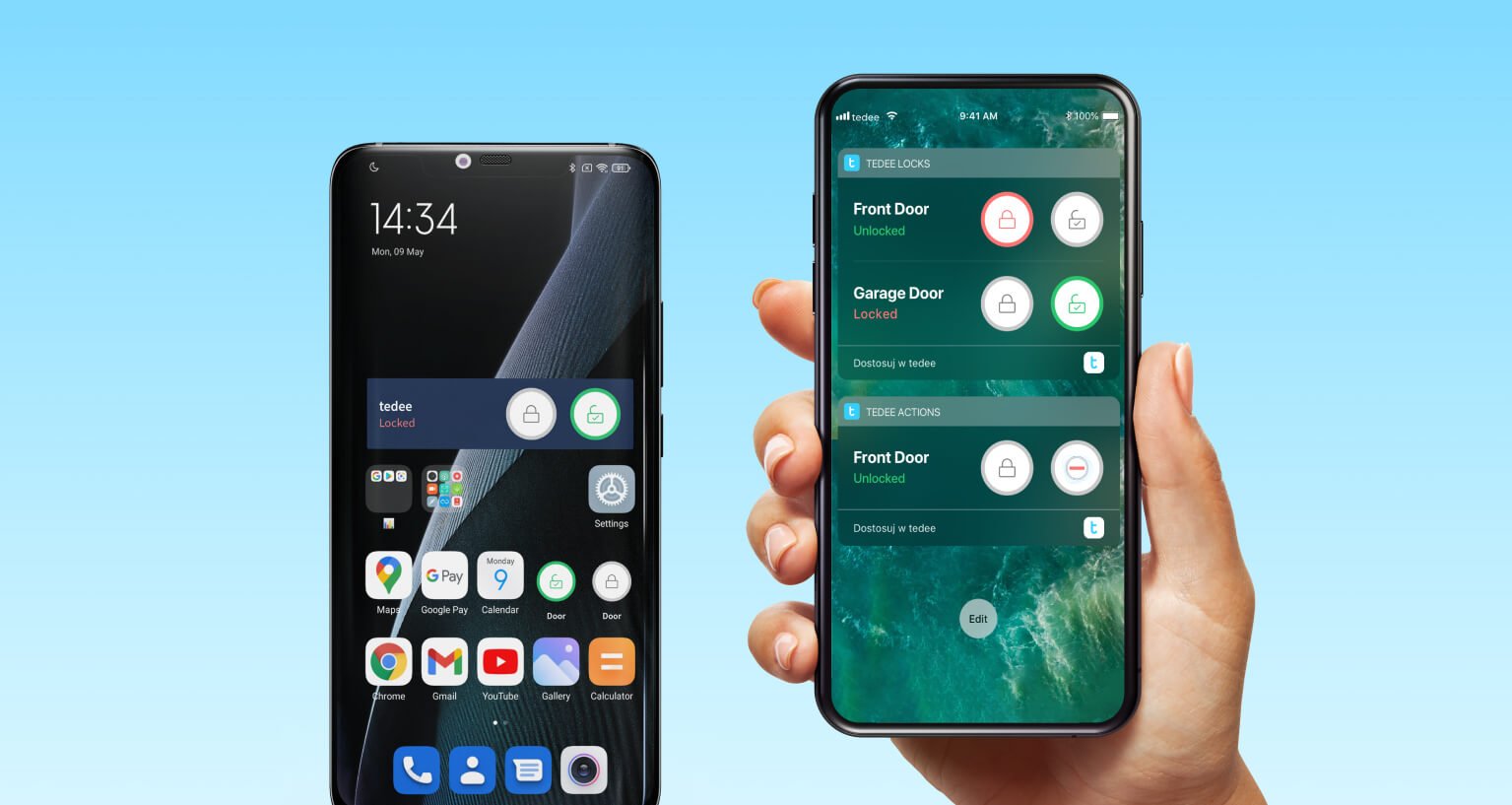 < Volta atrás
The guide to Tedee smart lock's mobile widgets
Unlocking with a tap has never been quicker. With mobile widgets, you don't need to launch any apps on your smartphone – or maybe even unlock it. And this feature is already on your smartphone.
Mobile widgets are components of default Tedee mobile apps for Android and iOS. You don't even need to download or install anything new. Learn more about them, and enable your widgets to gain instant control over your lock.
Learn more about mobile widgets for
What are mobile widgets?
Mobile widgets are "small" apps for your smartphone. What "small" means is that you don't need to launch them for them to work. They are not even required to run in the background.
They are simply buttons placed directly on your phone screen menu. When you tap it, the set-up action starts immediately.
How do Tedee smart lock widgets work?
Go to your smartphone's screen, where you've placed your widget. Home screen, widget menu, between other icons. You're free to choose where you place them.
Tap for it to work – once or twice.
How will it work? It depends on the widget you have chosen and the smart lock paired with it.
Tedee app offers two types of widgets, available for iOS and Android smartphones. You can choose from three types of actions and pair them with all Tedee smart locks paired with your account.
Two types of Tedee mobile widgets
All widgets' aim is to give you straightforward control over single, smart lock actions without launching the app. Two types of widgets make all operations available, though in different ways. Learn more below and decide which one works for you.
Locks widgets
This widget type enables you to have full control over a chosen lock. You are given its current status and have separate buttons for locking and unlocking.
Unlocking a given lock requires a double-tap. If your lock does not lock automatically, you may block with a single click.
| | |
| --- | --- |
| | |
| iOS | Android |
Is it for me?
It's the most straightforward widget there is. If you only use one smart lock and do not need the advanced automatic unlock control (read more below), it should give you all you need.
Action widgets
These widgets are single buttons, precisely dedicated to a particular action executed by a smart lock.
Unlock the back door. Lock the office. Launch the automatic unlocking of the front door. All with separate, single-purpose buttons.
Is it for me?
Single-action widgets are great if you use either multiple smart locks or launch only a single operation of one button. It lets you save space on your smartphone menu.
E.g. if you use automatic locking, probably you don't need a locking button on your phone screen. Or you may have only the "unlock" buttons, but for home, office, and garage door locks.
| | |
| --- | --- |
| | |
| iOS | Android |
The name of a dedicated lock is always written below the icon. These widgets do not give you clear status information. Still, they are active only when proper action is possible.
If the lock is locked, your locking button is inactive. If the door is unlocked, the green button goes grey.
But what does a blue button do?
Automatic unlocking widget
We call this feature the Coming Home button. It is our latest addition to mobile widgets. It gives you a chance to benefit from the automatic unlock feature, even if you don't leave the smart lock's OUT zone. Learn more about automatic unlocking here >>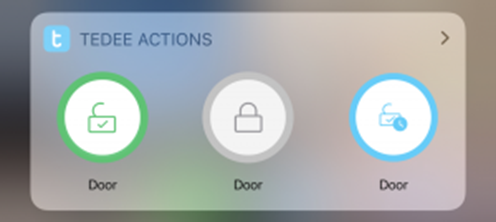 In short, for the automatic unlocking, the user must first walk away from the lock for the distance set in the app.
But what if you just go downstairs to check the mail or pop into a corner store for some milk?
The automatic unlocking would have no chance to start detecting that you're back. It's a protection measure that guarantees the lock will not unlock when you walk around your flat.
How to use it?
Tap it whenever on your way home, when you may not have left the preset zone.
Your phone will start detecting your lock via Bluetooth.
When your smartphone and tedee smart lock connect, your lock will unlock automatically. And you didn't even have to leave the OUT range.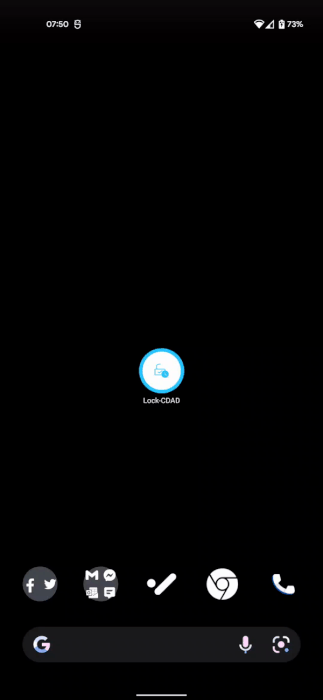 Learn how to enable mobile widgets on